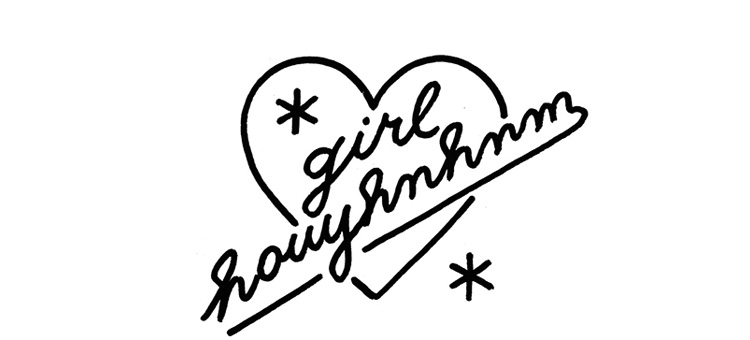 Girls Just Want To Have Fun!
What's a one hand food?
Is it possible to be eaten by a single hand?
Featuring One-Handed Food.
The very first article exclusively featuring food on Girl Houyhnhnm!
In this article, we'll introduce casual,
fast food so-called one-handed food
that you can eat immediately wherever you are by a single hand.
The editors selected the best of the best one-handed food in Tokyo,
so please check them out and definitely try 'em too!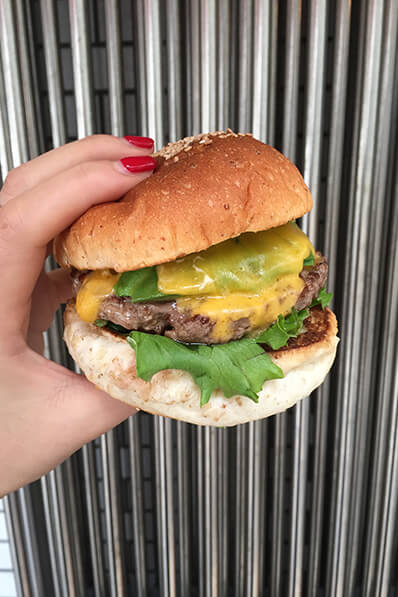 Avocado Cheese Burger (R size) ¥1.480
A very juicy burger which is comprised of the 100% Wagyu (Japanese beef). The sizes vary from Small, Regular, and Large, and I'd would absolutely recommend the R size for a girl's lunch!
GRILL BURGER CLUB SASA
2-21-15 Ebisunishi, Shibuya-ku, Tokyo
Weekday / Saturday: 11:00 - 22:30
Holiday / Sunday: 11:00 - 21:30
Day-offs: The first and the third Tuesdays of every month.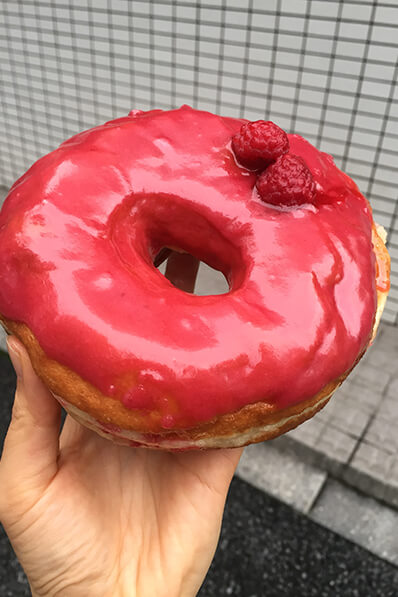 Framboise ¥370
A very gigantic yet pretty donut. The vivid framboise color grasps a girl's heart, isn't it? Despite of the size, the dough is super light, so don't worry about its volume. It's a sweet and sour raspberry flavor!
DUMBO DOUGHNUTS AND COFFEE
03-6435-0176
2-17-6 Azabu-Juban, Minato-ku, Tokyo
9:00 - 19:00

http://www.dumbodc.com/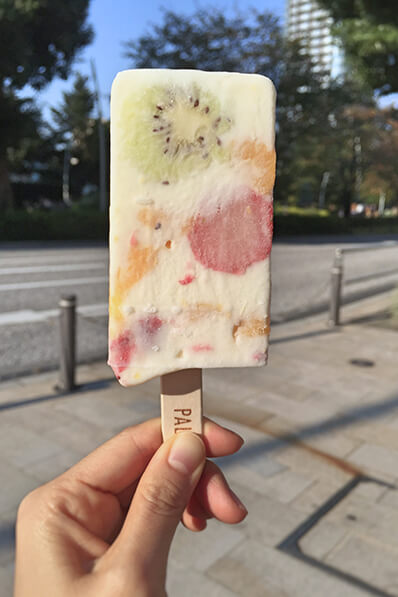 Milky Mix ¥540
An ice candy which is consisted of assorted fruits. This piece is too cute to be even eaten. The milky mix flavor obtains various fruits such as a strawberry, a kiwi, and an orange hence personally much better than choosing one particular flavor!
PALETAS
03-6447-4445
Tokyo Midtown – Galleria B1F, 9-7-3 Akasaka, Minato-ku, Tokyo
11:00 - 21:00

http://www.paletas.jp/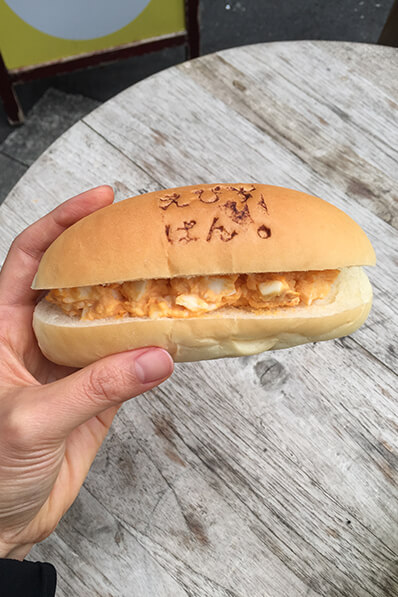 Ebisu-Koppe Tamago (Egg) ¥205
A nostalgic sandwich that every Japanese has tried at least once during childhood. A blend of the slightly sweet bread and the simple scramble egg is superb! Love the texts of "Ebisu Pan." on the bread as well.
Ebisu Pan.
03-6450-2362
1-23-16 Ebisu, Shibuya-ku, Tokyo
11:00 - 18:00
Day-offs / Every Wednesday
Plain Dog ¥780
Is it properly covered by the buns? A catchy hot dog where the sausage is too huge that exceeds a general concept of a hot dog. The look really induces me to eat it with a large, large one bite haha.
Kujira So
070-3367-1113
2-13-10 Sangenjaya, Setagaya-ku, Tokyo
Hot Dog / 12:00 - 22:00
Day-offs / Thursday

@kujiraso_kana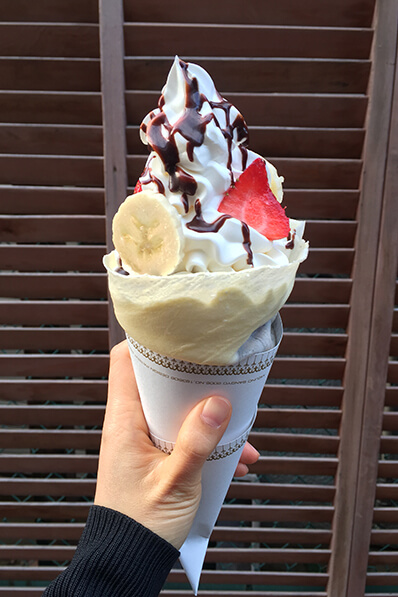 Whipped-Cream Chocolate Banana Strawberry (+Mega 1 whipped cream) ¥550
A must-bite for a whipped-cream lover! In the store, you can select the amounts of whipped-cream from Mega 1 to 3, and the cream is super smooth and sweet and you're gonna unquestionably love the crepe dough as well!
ORANGE COUNTY
03-6382-6362
3-1-17 Soshigaya, Setagaya-ku, Tokyo
11:00 - 22:00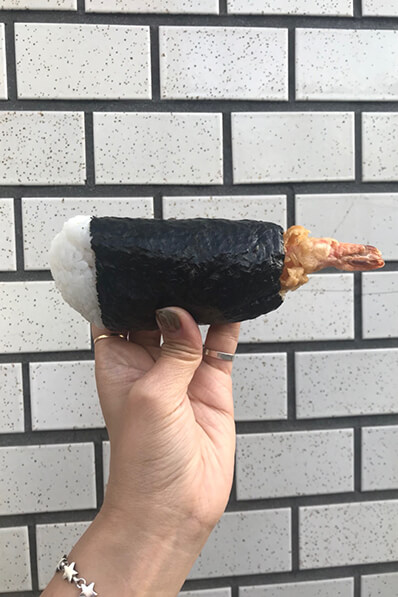 Ebi-Ten (Shrimp Tempura) ¥281
A huge rice ball where an entire shrimp tempura is included. The visual is ultimately unique! Besides the item, there is also a signature rice ball that accommodates an entire egg which is called "Bakudan Onigiri", so you must try it as well!
Onigiriya Marutoyo
03-3541-6010
The Tsukiji Outer Market, 4-9-9 Tsukiji, Chuo-ku, Tokyo
5:00 - 15:00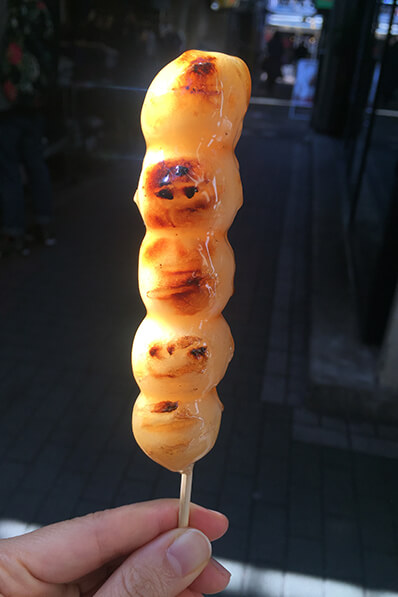 Mitarashi Dango (Rice Dumpling) ¥125
A Japanese traditional soft yet sticky rice dumpling. Mitarashi (sweetened soy-sauce) covers the baked rice dumpling that generates an awesome harmony of sweet and smoky.
Amane
0422-22-3986
1-1-9 Kichijoji Honcho, Musashino, Tokyo
11:00 - Closes when sold out
No regular day-offs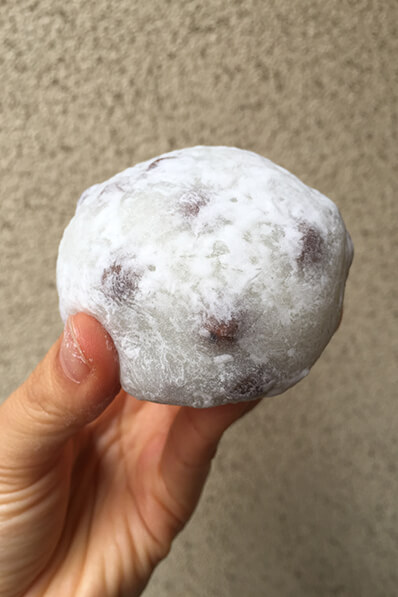 Mame Daifuku (Rice cake with beans) ¥216
One of the most renowned stores in Harajuku! The balance of its salty beans and the red-bean paste inside is fire. The dough itself is thick and tasty which make me eat more and one another.
Mizuho
03-3440-5483
6-8-7 Jingu-Mae, Shibuya-ku, Tokyo
8:30 - Closes when sold out
Day-offs / Sunday
Baked Chicken Bánh mì ¥580
An authentic bánh mì sandwich which is consisted of crunchy buns, chicken, vegies, and coriander. The taste is surely guaranteed, and the price point is so generous!
Ebisu Banh Mi Bakery
03-6319-5390
1F, 1-8-14 Ebisu, Shibuya-ku, Tokyo
11:00 - 20:00

http://ebis-banhmi.com/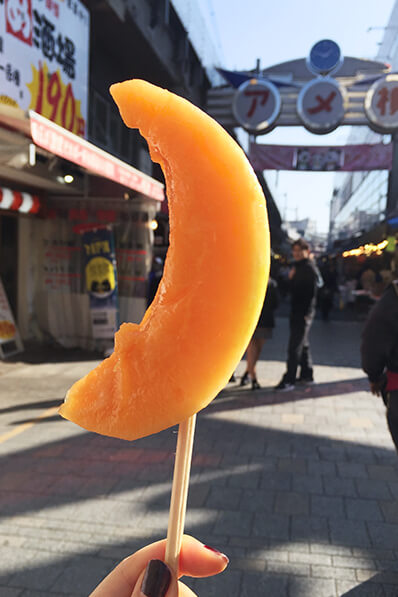 Akaniku Melon ¥200
We always wish to eat a fruit-stick even not in a day of a festival. If you go to Ame-Yoko in Ueno, you can savor it anytime you want! What an amazing day of holding this melon stick in a middle of the street.
New Fruit
03-3831-9812
6-11-2 Ueno, Taito-ku, Tokyo
10:00 - 20:30
Day-offs / Wednesday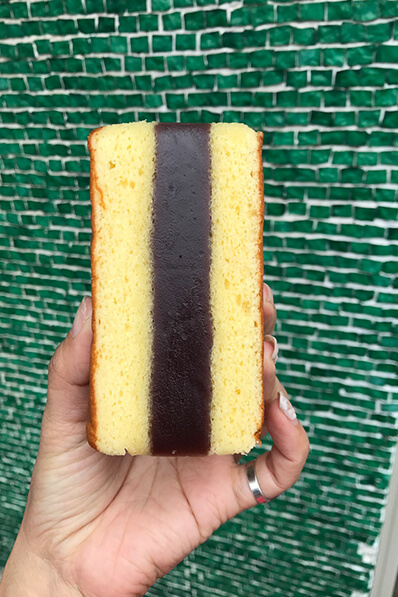 Siberia ¥220
Discovered an innovative yet nostalgic bite, Siberia, in which two slices of Castella cover the sweet bean jelly within! There also are more than 20 types of red-bean breads in the store, so you oughta visit there. A great spot for red-bean freaks!
Andesu MATOBA
03-3876-2569
3-3-2 Asakusa, Taito-ku, Tokyo
8:00 - 18:30
Day-offs / Sunday and National Holidays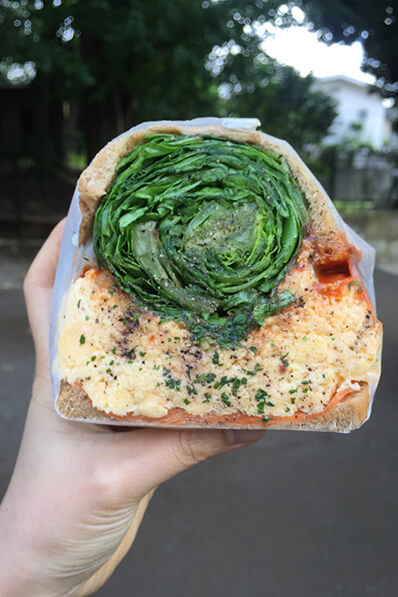 Scramble Egg & Vegetable ¥500
Is this even a sandwich? By looking at its surface, it's too impactful to discern whether it's a sandwich or something else. As you see, there are plenty of vegies and scramble eggs inside, so I'm sure it would do more than enough for your lunch!
POTASTA
03-6452-6982
2-21-8 Higashi, Shibuya-ku, Tokyo
8:00 - 18:00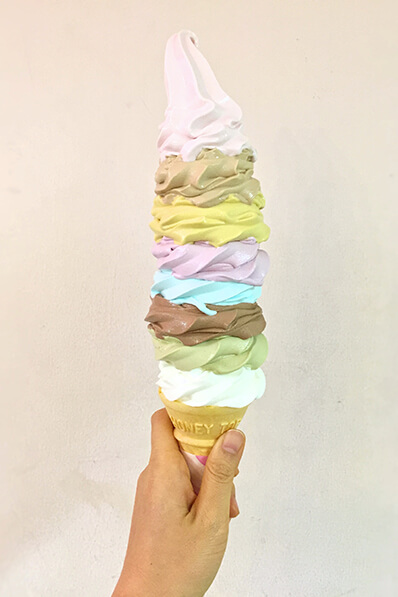 Extra Large Soft-Served Ice Cream ¥490
What we have been dreaming since our childhoods is finally here! All 8 flavors of ice creams make this awesome tower-ish creation. Yet, look at the price. It's too generous!!
Daily Chico
03-3386-4461
5-52-15 Nakano, Nakano-ku, Tokyo
10:00 - 20:00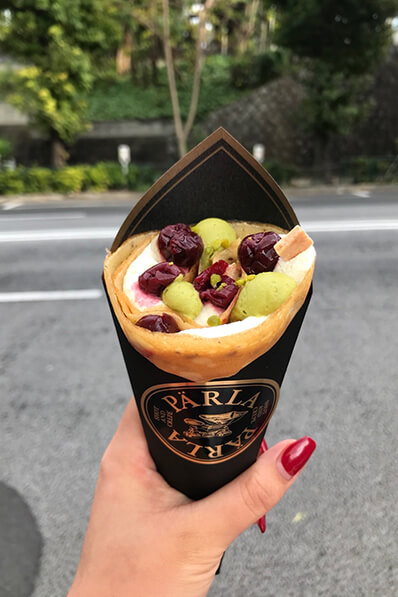 Sicilian Emerald ¥1,300
The cream of pistachio and mascarpone, griotte cherry, vanilla and honey! Consisting of all the ingredients every girl loves! It's a super gorgeous crepe and I'm sure you've never eaten something like this before.
PARLA
050-5892-7169
2-10-1 Jingu-Mae, Shibuya-ku, Tokyo
12:00 - 17:00・18:00 - 22:00
No regular day-offs

http://par.la/gaien.html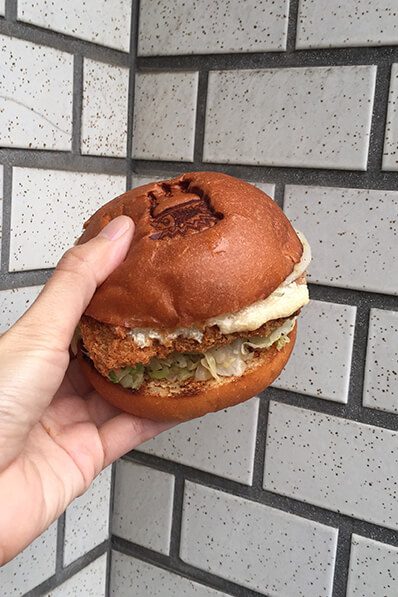 Konbu-Jime (Kelp) Fish Burger ¥950
I've never tried a hamburger as a gentle flavor as this acquires! It's an absolute Japanese-flavored burger in which the fish-based broth got me. Wanna recommend it to my foreign friends so bad!
deli fu cious
03-6874-0412
1-9-13 Higashi-Yama, Meguro, Tokyo
12:00 - 21:00
Day-offs / Wednesday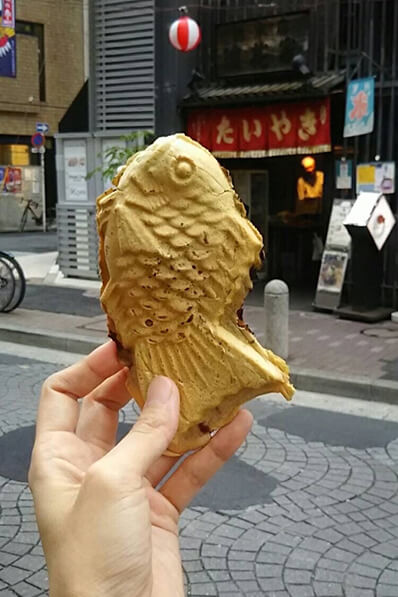 Taiyaki ¥150
More than a century long-established Taiyaki store. The composition of the thin smoky dough and the sweet red bean paste is a masterpiece. Gotta try the made-fresh piece at the store!
Naniwaya Sohonten
03-3583-4975
1-8-14 Azabu-Juban, Minato-ku, Tokyo
10:00 - 20:00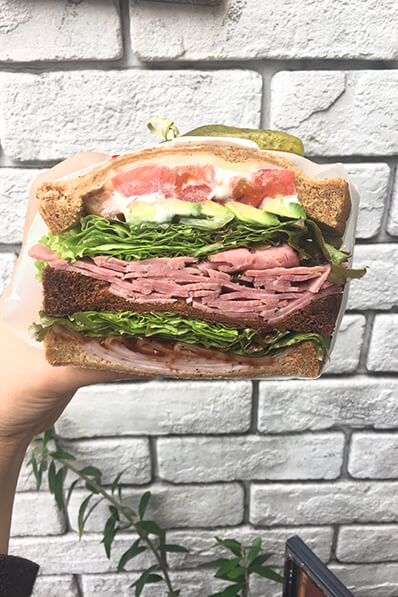 Hungry Ewan ¥1,900
Look at this! The surface is a mere piece of an artwork. The ingredients such as pastrami and avocado exquisitely match with the BBQ sauce, and I could just say it's such as an art.
King George
03-6277-5734
2F, 11-13 Daikanyama-cho, Shibuya-ku, Toyko
Weekday / 11:00 – 21:00
Saturday / 11:00 - 22:00
Sunday & Holiday / 11:00 – 18:00

http://crownedcat.com/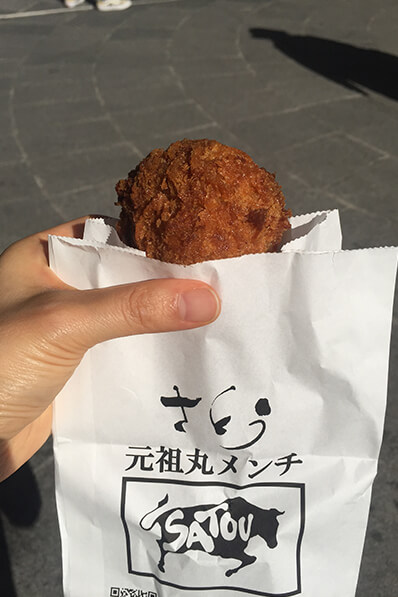 Original Maru (Circle) Minced Meat Cutlet ¥240
A minced meat cutlet at Steak House Sato, a very popular butcher, in Kichijoji. It's what a rich time to savar the fresh cutlet right in front of the store! When bite it, the gravy comes out and conquers your mouth with full of refined meat flavor.
Steak House Sato Kichijoji
0422-22-3130
1-1-8 Kichijoji-Honcho, Musashino-shi, Tokyo
10:00 - 19:00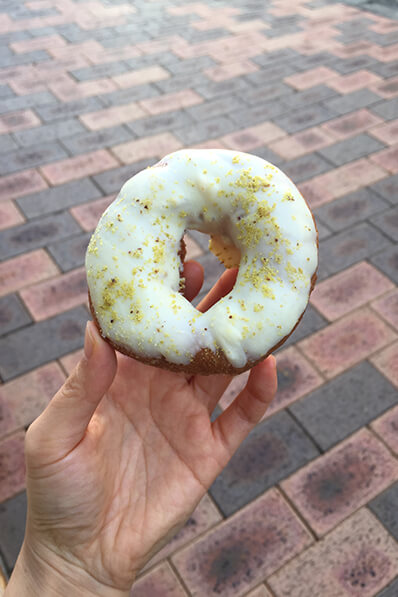 White Pistachio ¥324
The dough-texture is so soft and springy and the flavor is also very healthy! On top of that, it's comprised of nutritious ingredients such as soy-pastes and millet powders. A superb mixture of pistachio and white chocolate flavor!
CANVAS TOKYO
03-6432-5700
5-19-6 Hiroo, Shibuya-ku, Tokyo
10:00 - 19:30

http://www.canvas-tokyo.com/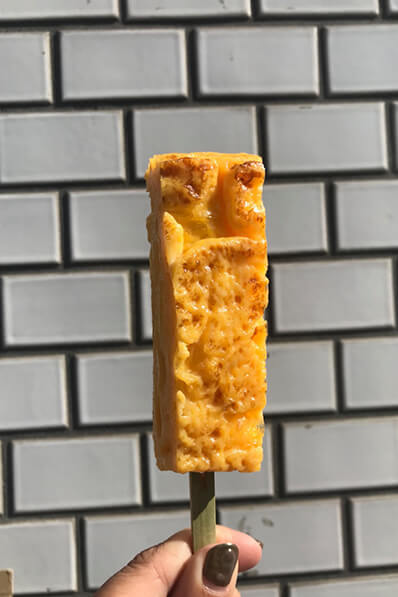 Egg Stick ¥100
A simple yet tasty one-handed food – an egg stick. In general, there always are two types of people who either prefer a salty or a sweet egg, but you can choose whichever you like in the store! Could be even better trying both of them.
Tsukiji Yamanaga
03-3248-6002
4-10-10 Tsukiji, Chuo-ku, Tokyo
6:00 - 15:30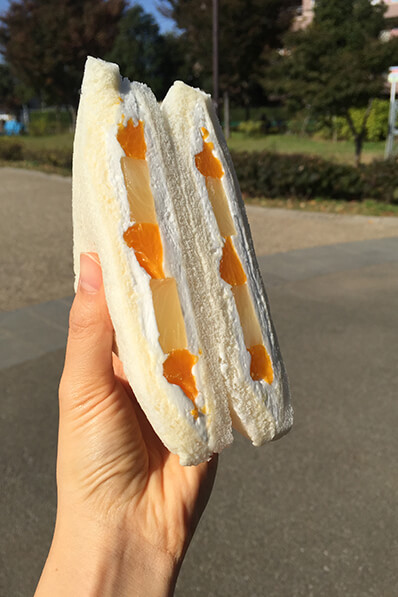 Fruit Sandwich ¥230
Recently, there have been a lot of distinctive and innovative sandwiches, but I always loved the classic triangle sandwich just like it. These old-fashioned cream and fruit sandwich always makes me smile when I'm down!
Karina
03-3301-3488
5-19-6 Igusa, Suginami-ku, Tokyo
6:00 - 14:00
Day-offs / Monday & Tuesday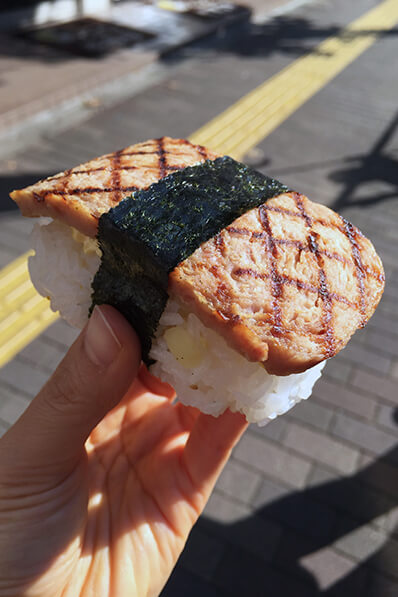 Original Spam ¥360
This is a rice ball, not a sushi! The gigantic slice of spam invades your mouth. Additionally, a yellow pickled radish is hidden in rice which is super yummy!
ALOHA FARM CAFE
03-5422-7229
5-15-22 Minami-Azabu, Minato-ku, Tokyo
Weekday / 8:00 - 17:00
Saturday & Sunday / 9:00 - 17:00
Day-offs / Monday

http://www.alohafarmcafe.com/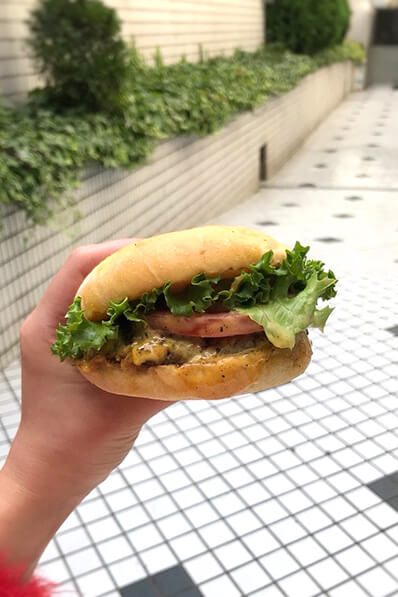 Premium Original Burger ¥880
A very popular hamburger shop in Hawaii, renowned for its medium-rare grilled meat and the soft buns. The original sauce is so good too in which everything here is addictive!
Teddy's Bigger Burgers
050-5890-9312
2F, 6-28-5 Jingu-Mae, Shibuya-ku, Tokyo
11:00 - 23:00

http://teddysbiggerburgers.jp/