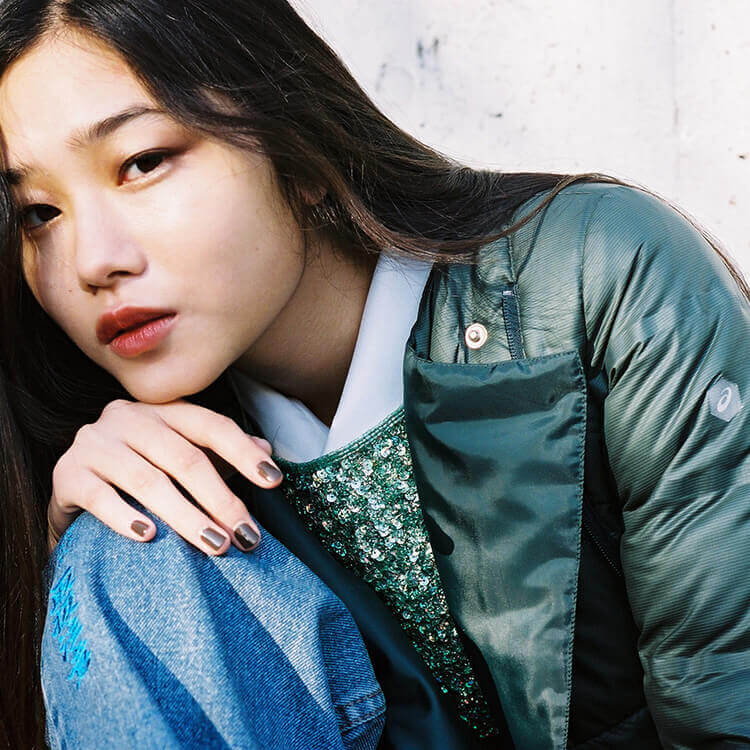 ADAPTABLE.
More than just a training-wear from ASICS.
Photo_Takuya Nagata 
Styling_Masako Ogura(Y's C) 
Hair & Make-up_KATO
The conventional custom of separating our clothing for sports or for fashion is no longer meaningful,
so why don't we wear something cool for sports "and" for fashion at the same time?
Check out how three active girls put on training-wear from Asics which can also be worn as our daily outfits.
KAKO TAKAHASHI
wears LONG DOWN COAT

What's your occupation?

I'm a college student and also a model.

What's your current interest?

I study film at my school, and I'm currently researching about 1960's Shinjuku which is really intriguing. Well, I definitely love to go there and have fun too though. I'm probably fascinated by its mixture of retro and modern creations, and I really like bringing myself to old-fashioned theatres and cafes in Shinjuku.

Are you currently enrolled in any sports?

I've been doing hot yoga since a half year ago. In fact, I'm not really a sweaty person, but hot yoga makes me sweat hell a lot haha.

In the past, which club were you enrolled in your schools?

From my middle to high school, I was in a rhythmic gymnastics club. Among the entire events, I did not excel at the ball, but I liked the hoop most. Since I'm relatively tall, many people guess I was in an athletics type of a club, but I personally prefer an indoor sport.

By the way, how was a fit of the down you were wearing today?

When I just put in on, it was too light in its weight, so I was like "will it really be warm enough?" Yet, it instantly made my entire body warm and retained it well within.

Do you incorporate sporty items in your daily outfit?

Well, sneakers are my absolute footwear. Besides that, I wish to incorporate more track tops into my style.
<Asics> Long Down Coat ¥21,000+TAX

<BlackEyePatch> Shirts ¥23,000+TAX, Denim ¥25,000+TAX (Concord 03-6434-7136), <Used> Vest ¥6,500+TAX, Sandal ¥5,300+TAX (OTOE 03-3405-0355), Socks (Stylist's property)
AOI YAMADA
wears TRAIN KNIT PANTS

What's your occupation?

I'm a high schooler and a dancer.

What's your current interest?

Besides dancing, I like researching about Japanese people from Shōwa period (1920's-80's) such as Sayoko Yamaguchi or Shuji Terayama. Especially, Ms. Yamaguchi was a model yet a versatile performer at the same time in which I really respect what she had done. Actually, she is my long time goal who I wish to be in the future.

What was a catalyst for you to start dancing?

When I was 6, my mom told me to start doing something, and dance was what I spontaneously encountered then. When I started dancing, it was too much fun and I was instantly addicted into it. When I was 11, I watched a video of my current high schoolers' dancing, and I then determined to join my current school no matter what.

How did you establish your dance style of today?

I had been street dancing for a while, but I was feeling that wasn't really a match for me. At such time, I encountered Dumb Type, an artist group, which changed my entire life. My current style is the mixture of dance and martial arts such as Aikido or Karate.

So, how was the pants you were wearing today?

Honestly, my daily outfit and clothing for dancing are not that different. My bottoms are most likely leggings, and the pants that I was trying today was a bit looser than leggings in which it was sufficiently comfortable as well. I think it's exceptional pants, especially, for dancing!
YU FUKUSHIMA
wears WIND JACKET and GEL-KENUN

What's your occupation?

I'm a shop staff.

What's your current interest?

Most people feel awkward about it that I actually like watching people who are eating food on YouTube haha. Especially, I love the sound when a person bites a fresh fried food. Sometimes, I even watch that kind of videos for three consecutive hours.

What sports do you usually play?

I'm not doing anything currently, but I wish to start surfing next summer.

What did you think about the jacket and the sneaker you were trying today?

The wind jacket was super light hence very comfortable to wear! I like that kind of material from before that protects our body from winds outside but keeps warmth inside. Definitely, it will be nice to wear it inside a coat as well. For sneakers, the fit was too perfect that I didn't even sense if I was wearing anything on feet.

When you incorporate sporty items into your daily wear, what would you usually wear?

I often focus on a simplicity and a mobility, so I incorporate at least one sporty item in my outfit. Such like today, my style is often based on a sporty top and a denim or a corduroy pant with a sneaker on feet.