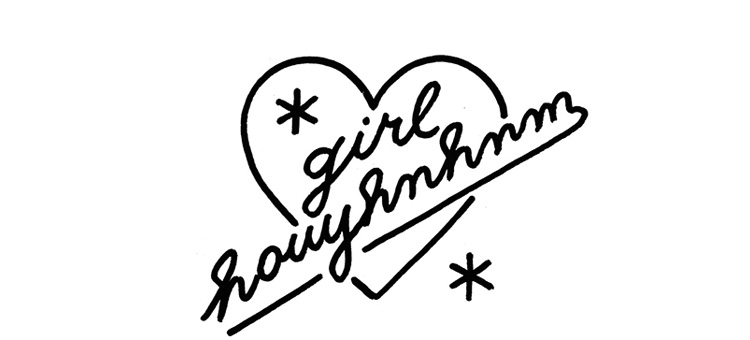 Girls Just Want To Have Fun!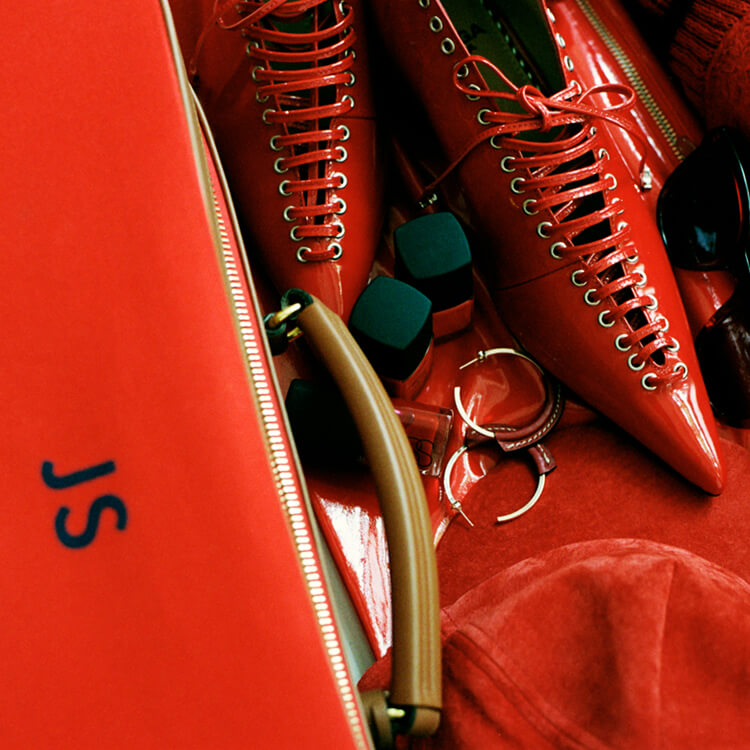 Cruising the RED.
Examination on red. Why does it elevate our emotions?
Photo_Kazumasa Takeuchi (stuh) 
Styling_Yuka Akaishi (Tsuji)
Personally, I don't wanna describe it as the color of this season,
but it certainly is.
Red obtains something that grasps girls' hearts.
Yuka Akaishi, a stylist, selected 31 new red items where she shows us her strong passion on red!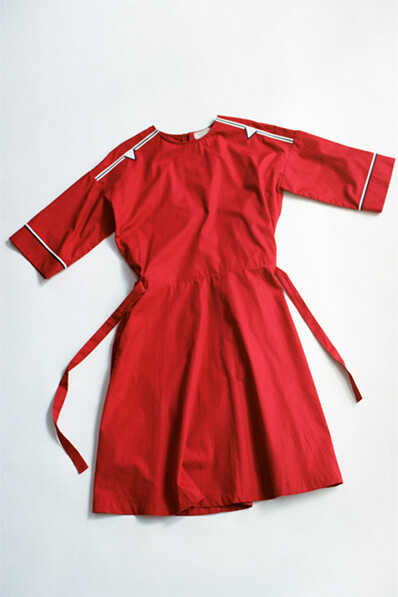 Maison Kitsuné in this season is getting to be more "American" than ever before. The cotton dress absolutely acquires an elegance, but at the same time, the shoulder lines generate an intensity somewhat like Wonder Woman.
〈Maison Kitsuné〉 Dress ¥40,000+TAX (Maison Kitsuné Customer Center 0120-667-588)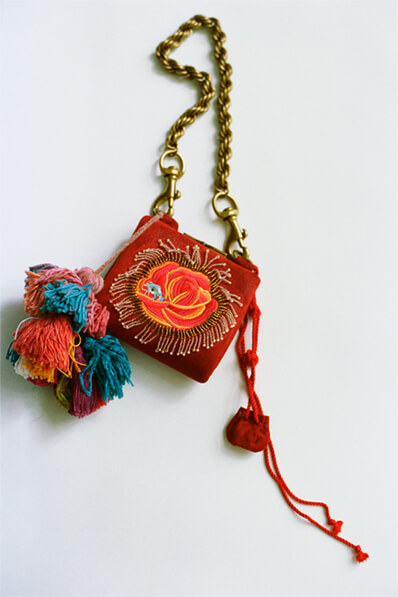 The red mini bag that seems to be worn by a Chinese kid acquires the embroidery that represents a frog on a rose which is really pretty. In the small pouch of the strap, there is "something" that surpasses your imagination. Please check it out yourself:)
〈beautiful people〉 Hakoseko Bag ¥75,000+TAX (beautiful people Aoyama 03-6447-1869)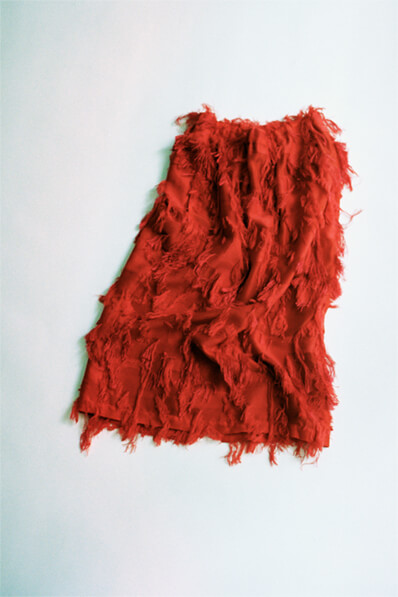 The new, fresh fringe skirt is finally out from CURRENTAGE, the brand which is just debuted last year. The blend of red and ornament makes it an exquisite figure, and thus the item should be a great buddy when you're uncertain what to wear for a day.
〈CURRENTAGE〉 Skirt ¥36,000+TAX (Brand News K.K. 03-3797-3673)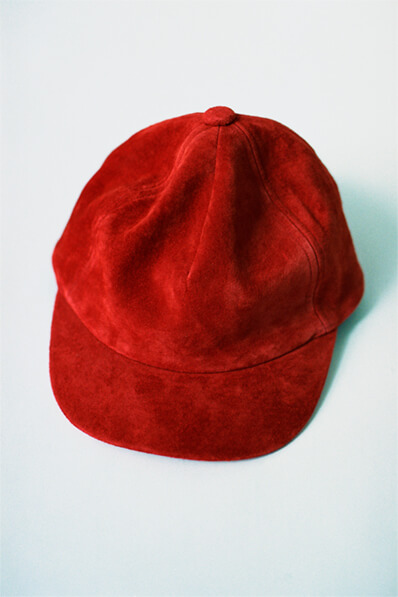 The cap from KAIKO is only purchasable at the store, Daikanyama O, that acquires a short-brim which entirely generates a rounded impression. The cap is made of suede, so the red color is nicely balanced out that should be matched with a monotone outfit.
〈KAIKO〉 Cap ¥13,000+TAX (Daikanyama O 03-6416-1187)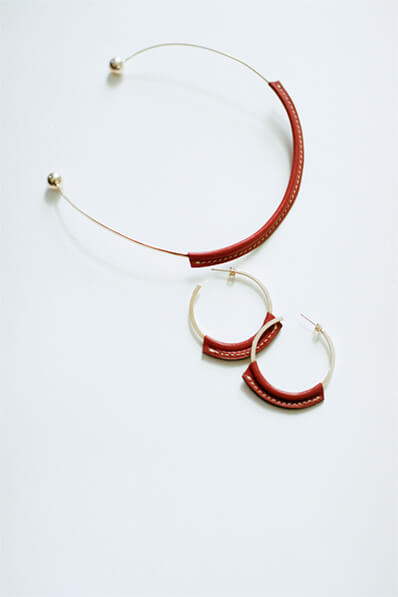 These native-like accessories are made of the silver covered by the smoky red leather. The leather is attentively handcrafted by craftsmen and the mixture of the leather with the plain silver makes it a great accessory for a simple outfit.
〈VTOPIA〉 Choker ¥29,000+TAX, Pierce ¥25,000+TAX (mother River Side BOUTIQUE 03-3780-4455)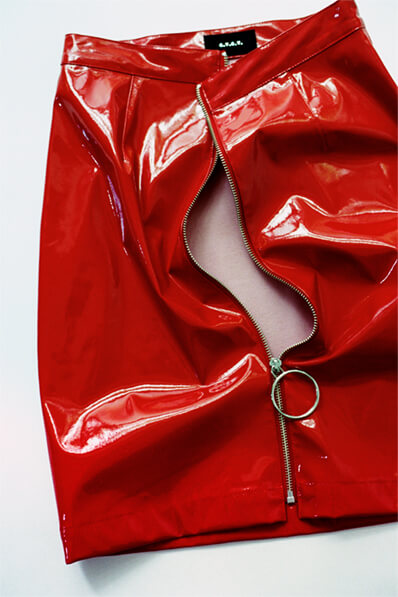 The patent tight skirt can probably turn you into a disco queen of the past financial bubble. On top of that, the zipper is located at the front of the skirt which makes it magnificently sexy! The item must be a perfect partner for a summer nightlife.
〈G.V.G.V.〉 Patent Skirt ¥23,000+TAX (k3 03-3464-5357)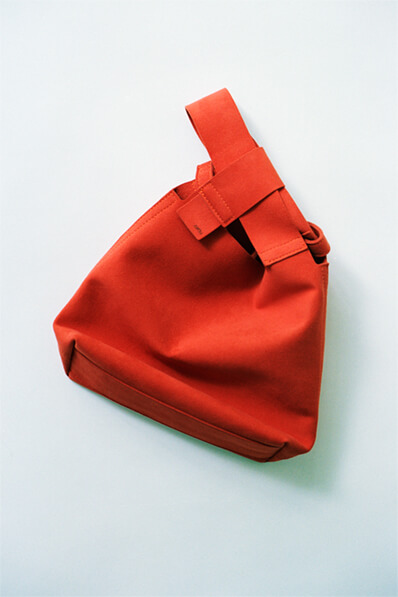 Zattu is a brand that uses all the materials except for leather that are derived from Ithelicy. CONCH is a 2-way bag with a retro red coloring which can also be used as a tote, and its thick handles are exceptionally nice.
〈zattu〉 Bag ¥15,000+TAX (EN ROUTE Futakotamagawa 03-5797-3184)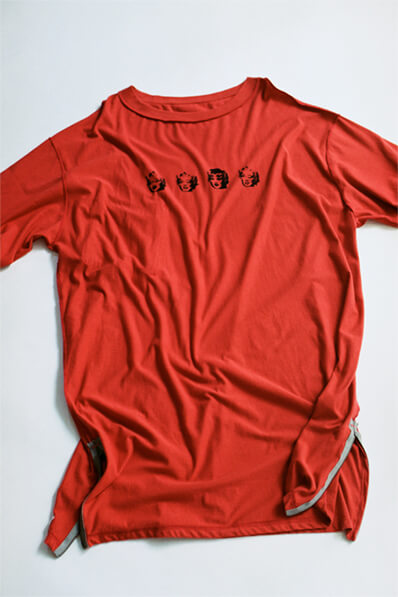 The cutsew from a men's brand, HUMIS, can become a great oversized look when a girl puts it on. It actually is reversible where one side is a plain pocket tee while the other side obtains the prints of "that" actress just as the picture.
〈HUMIS〉 Cut and Sewn Tee ¥17,500+TAX (HUMIS 03-6404-9271)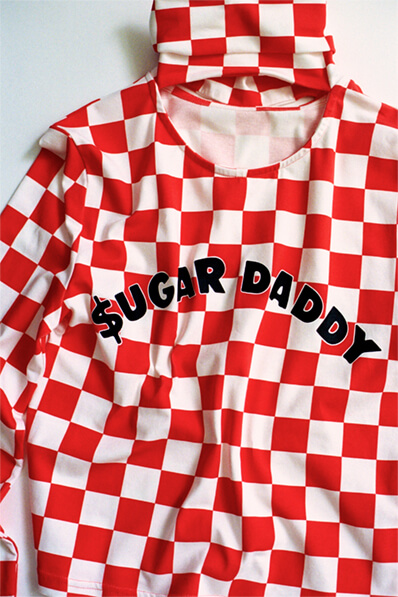 The large checkered flag pattern and the cutout high-neck design are so aggressive in a positive way. However, the most intense part is the logo "$UGAR DADDY". You know what it means, right??
〈House of Holland〉 Cutout High-Neck Tops ¥15,000+TAX (UNIT & GUEST 03-5725-1160)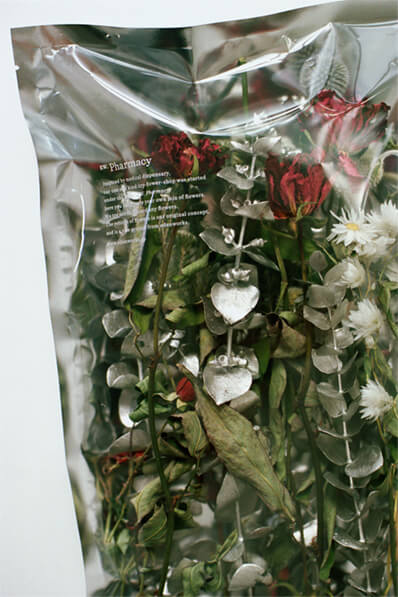 The item is from the dry-flower shop by Megumi Shinozaki of edenworks. You can select either a rose or an Andalusia in the package, which is available till August. Add eucalyptus that is coated by silver and thistle to develop the entire ambience.
〈EW. Pharmacy〉 Customized Package 10-Flower Set ¥5,000+TAX (EW.Pharmacy 03-6407-0701)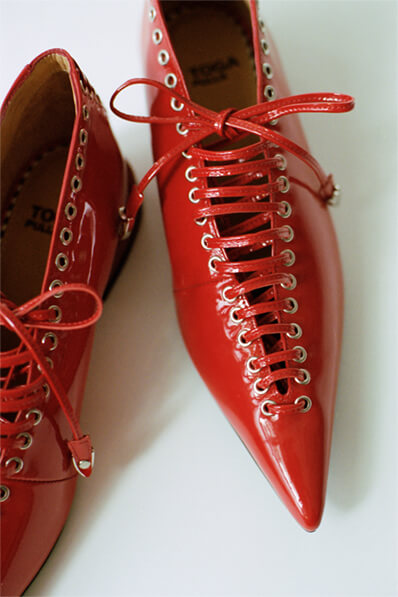 The sharp, seductive, and pointed patent shoes seem to be a bit dangerous if touches it. Just by choosing the red color, not the typical black one, the shoes somewhat acquire fetish feeling to it. The amount of lace holes makes it special too!
〈Toga Pulla Shoe〉 Lace-Up Shoes ¥58,000+TAX (Toga Harajuku 03-6419-8136)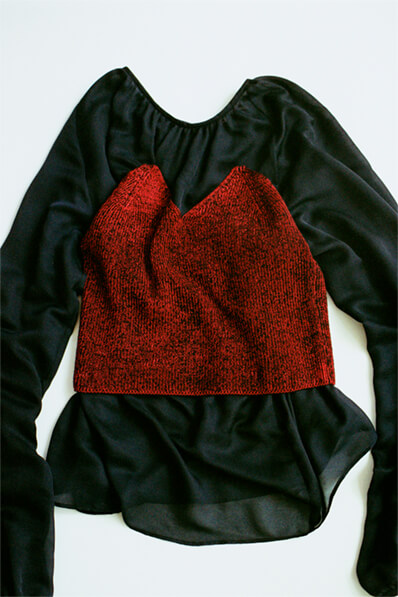 The rib-knit bustier is made of the heathery red, and what's special about this is, it has no straps. I tried it once and it fitted my body very well where I could understand straps are unnecessary.
〈H〉 Bare Top ¥16,000+TAX, Blouse ¥18,000+TAX (H BEAUTY&YOUTH 03-6438-5230)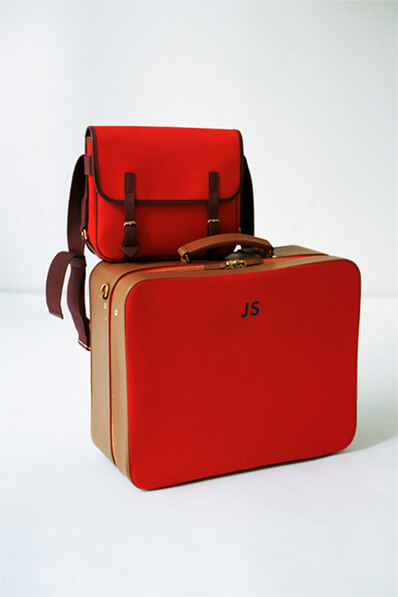 Jeanne Signoles, one of the family member of Goyard, produced a bag brand for daily usages which are made of leather and the other natural materials. You can customize an order by colors and logos, and the partition inside of a suitcase is super cute!
〈L/UNIFORM〉 Satchel Bag ¥72,000+TAX, Suitcase ¥296,000+TAX (steady study 03-5469-7110)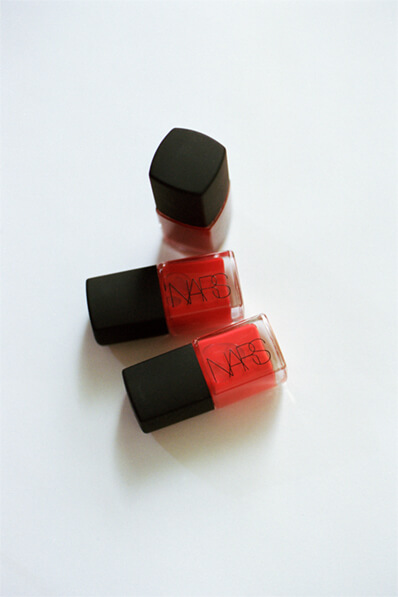 Nail polishes from NARS always impress me by its varieties of red. Indeed, Bordeaux red and orange red are completely disparate when seeing them on nails. Don't you think a girl who masters the use of those slightly different red colors can be so stylish?
〈NARS〉 (From Top) Nail Polish 3634, 3665, 3658 ¥2,000+TAX (Each) (NARS JAPAN 0120-356-686)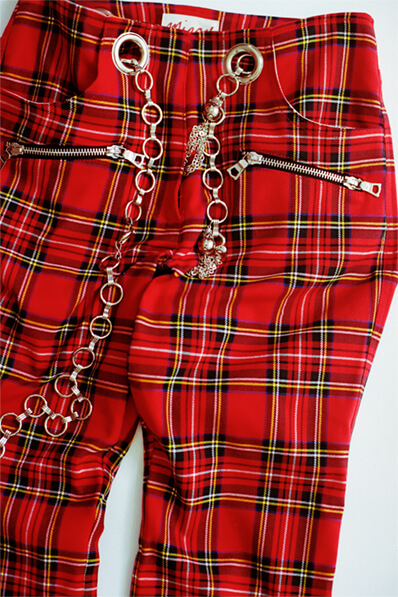 The pants entirely represent "London" which is a keyword for the upcoming AW season. Upgrading the pants with the belt, which is sold separately, enriches the retro, classic atmosphere to it. Additionally, the hems are designed as flare silhouettes which make them such offbeat pants.
〈Miaou〉 Pants ¥40,000+TAX, Belt ¥7,000+TAX (Opening Ceremony 03-5466-6350)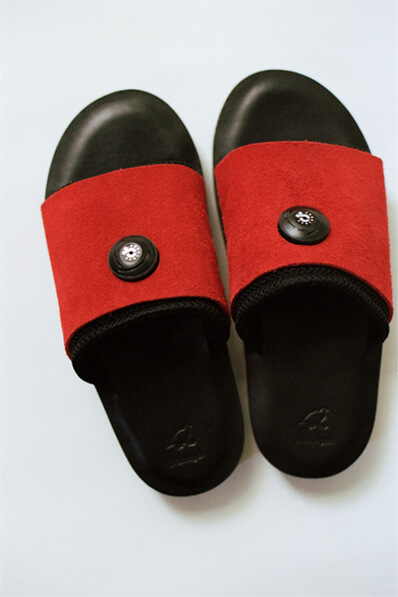 "A dial on a sandal…?" for whom thought so, well… right. It's the dial to adjust the fit of the sandal. Today, fit is not only important for sneakers, but also for sandals, especially for slippers!
〈ptarmigan〉 Sandal ¥19,000+TAX (face 03-5459-5801)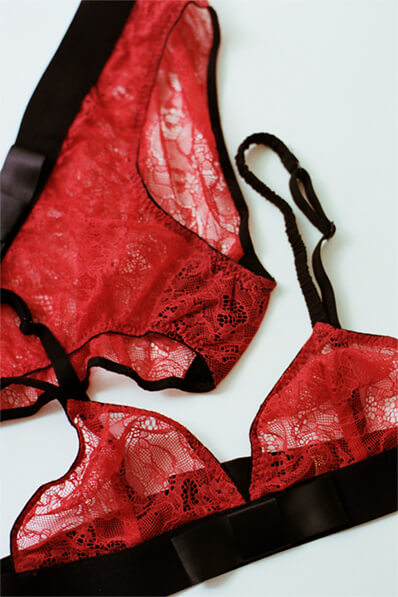 The lingerie brand from London focuses on its theme, "giving a power to women". Some believe that just by wearing a hot lingerie, they would spontaneously enhance their pheromones. "Red × Lace" is definitely a great collaboration for a fascinating adult.
〈Kriss Soonik〉 Bra ¥10,000+TAX, Pants ¥8,000+TAX (Net Living 03-6869-8672)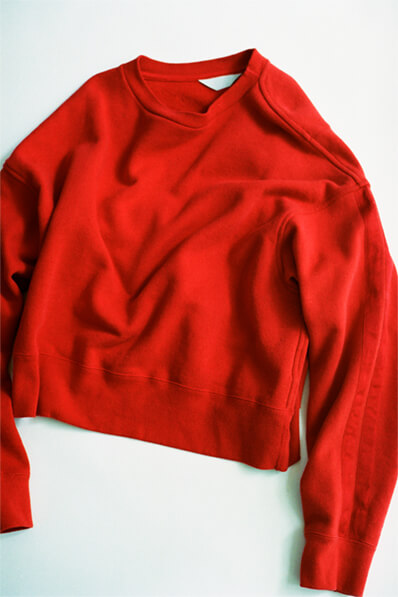 A simple yet deep brand, UNUSED. The cropped sweatshirt looks pretty simple, yet there actually are lines on its sleeves. The gradation style with the sweatshirt and Bordeaux pants on the look-book was superb!
〈UNUSED〉 Sweatshirt ¥23,000+TAX (alpha PR 03-5413-3546)
The Italian interior brand with a playful mind and a distinctive artistic taste, SELETTI, collaborated with Toiletpapermagazine. Its well-known piece of the SH◯T logo on the front teeth is displayed super nicely on this cushion.
〈SELETTI × Toiletpapermagazine〉 Cushion ¥17,000+TAX (entrex 03-5368-1800)
When you see red glasses, some of you might recall the foreign drama, Ugly Betty. Red glasses are often perceived as such fashionable items, but they can actually be matched with whatever style and fashion (since Betty was wearing it everyday.)
〈BLANC〉 Glasses, Sunglasses 25,000+TAX (EACH) (BLANC 03-6721-0390)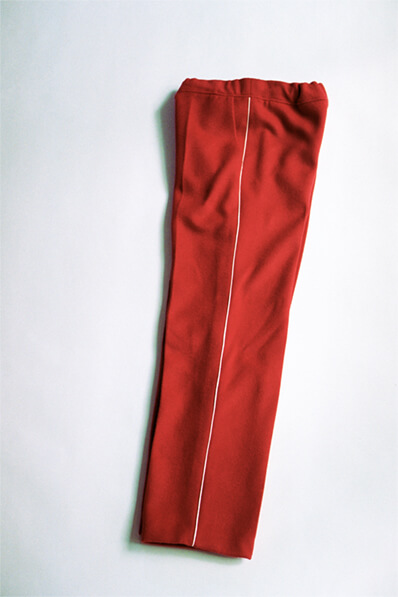 Red track pants are currently booming, especially on foreign snaps. If you want something different from the others, why don't you try the one with fleece materials? The pants are from a domestic brand that is just debuted this year, and it is planning to participate in NYFW next February. Please look forward to it!
〈R.Y/S.H〉 Pants ¥58,000+TAX (Available from August 23rd) (Isetan Shinjuku Store 03-3352-1111)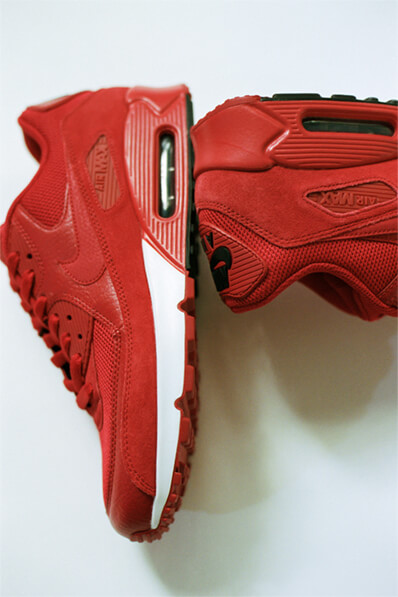 When Air Max 90 is covered completely in red even including the shoe laces, it makes me feel like I can run really fast. The sneaker is comprised of nubuck, leather, and mesh materials where these various parts achieve a spirited look to it.
〈Nike Sportswear〉 Air Max 90 ¥12,000+TAX (Nike Customer Service 0120-6453-77)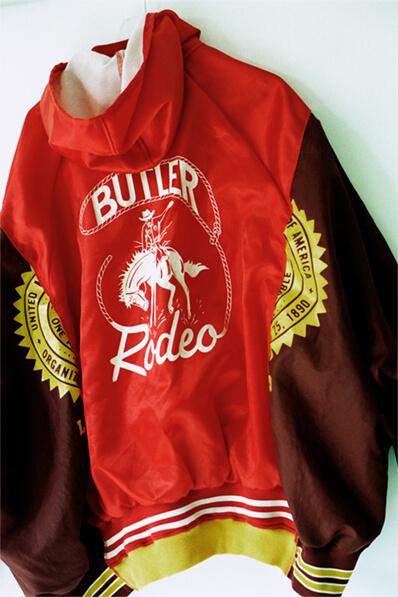 The jacket is consisted of several parts of different varsity jackets. By adding Bordeaux parts, the jacket entirely attains a deeper expression than a monotone red. Overall, the figure is oversized, so it isn't "too sporty" for anyone who doesn't like it.
〈77 circa〉 Nylon Jacket ¥32,000+TAX (77 Circa 03-6407-9466)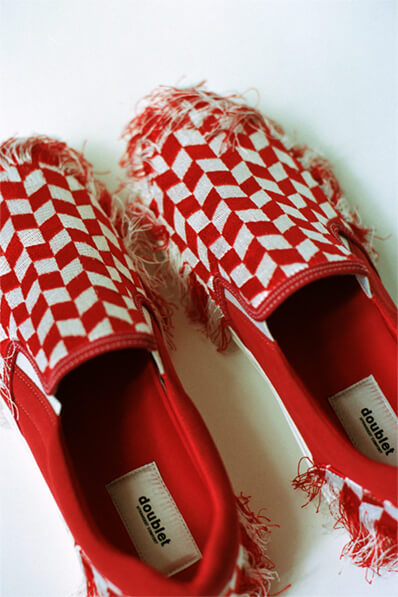 Doublet, one of the most popular upcoming men's brand, created its masterpiece which is the fringe slip-on in the red color. The shoes are usually only designed for men, but the pair is currently available for women sizing as well exclusively in Isetan.
〈doublet × NUMBER TWENTY-ONE〉 Slip-On ¥29,000+TAX (Expected to be selling since the end of August) (Isetan Shinjuku Store 03-3352-1111)