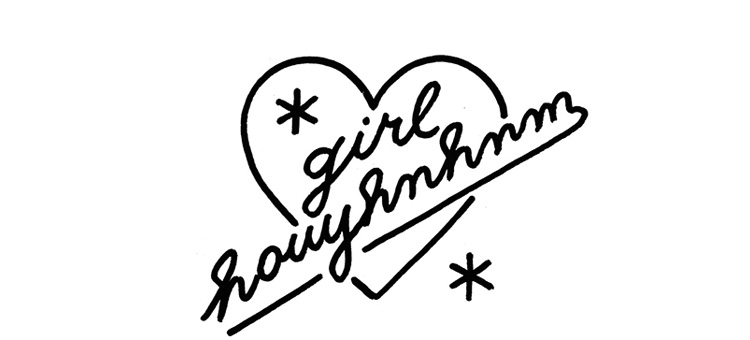 Girls Just Want To Have Fun!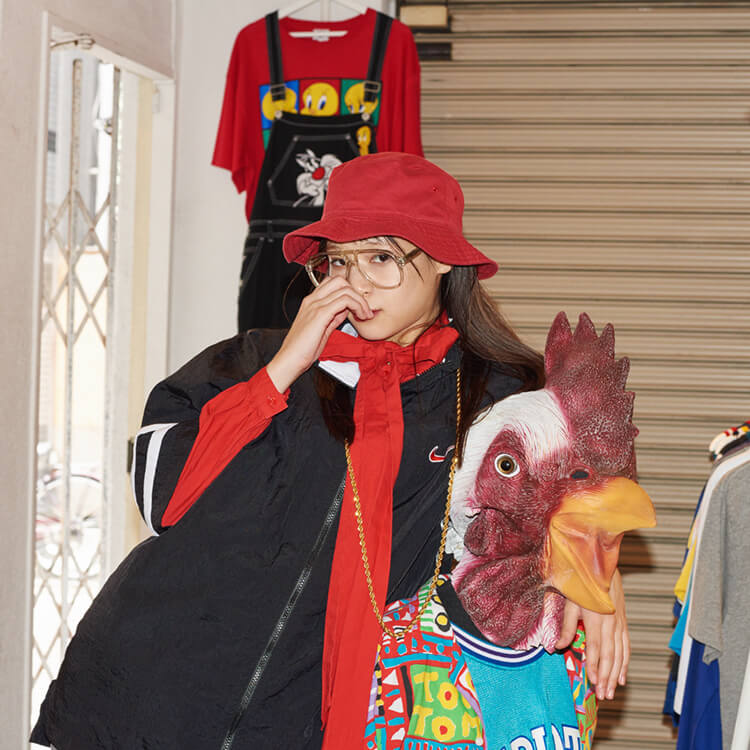 Throwback 90's!!!
The real 90's feel that you can only get in used clothes.
Photo_Yuichi Akagi 
Styling_Naomi Banba 
Hair & Make-up_Taro Yoshida 
Model_miu(NVRMND)
The keyword of "90's" is indispensable to the current fashion scene.
Though there are a number of brands presenting the collection that got this essence,
by purity they can't be compared to the real 90's items at the time.
In search of those, we visited to the vintage shop "upperupper" this time.
Mr. UG, the store manager who experienced the 90's in real time, with his reminiscences for each item!
No.1_

NYLON PANTS

The nylon pants have images that a lot of dancers wore in the 80's,
and that culture was flowing as it was to the 90's.
Sports brands made them mainly, but in terms of fashion perspective, stuffs that were mass produced
and sold in bargain price at casual department stores are also very American and interesting.
Since it is a position like a room wear rather than a sportswear, the silhouette is goony,
and rough coloring is also like the 90's, I think.
〈Used〉Pants ¥3,800+TAX、Jacket ¥11,800+TAX、T-shirt ¥3,400+TAX、Cap ¥5,400+TAX Others Stylist own
No.2_

T-shirt from Polo by Ralph Lauren

On the street in the 90's, wearing 〈Ralph Lauren〉 itself was the status.
I guess launch of the sports line and 〈Polo Sport〉 in around 1992 when the Barcelona Olympic was held
and it became popular among dancers is a highlight.
It is a time when people who don't have money wear them to show off,
so they buy cheap items that sell even at a nearby department store for the time being.
This shirt was also available anywhere in the United States at that time,
but such a big sizing one has not been distributed much in Japan.
It is truly 90's attitude that you wear elegant preppy style shirt in over sizing.
〈Used〉T-shirt ¥5,400+TAX、Shirts ¥5,800+TAX、Pants ¥6,800+TAX Others Stylist own
No.3_

Chemical Wash Denim

It was just a moment that the chemical wash was recognized as cool even in the 90's Lol.
People got bored because everyone starts wearing them all at once, then soon not-cool image was fixed.
It is an item that symbolized the culture of the 90's for better or for worse like "It's cool if you put on fashionable item".
For me, it is a bit surprising that it's on revival trend now.
In chemical wash, out of shape silhouette like 550 or 569 are seriously tacky,
but I stock only 501. While remaining the culture of 80's,
it was made at the time of switching just like incorporating the taste of 90's in color, so that taste is almost alright and cool.
〈Used〉Pants ¥6,400+TAX、Jacket ¥6,800+TAX、Hat ¥3,800+TAX、Glasses ¥5,800+TAX、Necklace ¥17,400+TAX Others Stylist own
No.4_

Baseball Shirt

In the American sports scene, slow-back boom happened in the 90's.
Uniforms of legends like Babe Ruth or Hank Aaron were reprinted
as they were at the time, with the 90's spec, bigger sizing.
Although the uniform of the 50's was made of wool, this one is made of cotton so it's nice to wear on daily basis.
Even now there is a slow-back day, and on that day, everyone goes to stadium wearing an old jersey.
Showing off to around and feel superiority like "I am a fan from old days!" Lol
〈Used〉Shirts ¥9,800+TAX、Scarf ¥6,800+TAX、Sandals ¥10,800+TAX Others Stylist own
No.5_

Big Silhouette Denim Jacket

3rd is yes, the signature jean jacket that 〈Levis〉 sells even nowadays,
this one is an ultra-big silhouette that was only made in the 90's.
Arm and body width are wide and its big size is obvious compared to the same size of current model.
Since the 80's and after 2000's become tight sizing again, it can be said as 90's feature.
At this time, by following sports boom 〈Levis〉 was doing a line called 〈Levis Sports〉
which is not like 〈Levis〉 at all so going kind of crazy.
Until a couple of years ago, there was little value as used clothes,
but on the contrary it is interesting that everyone is now looking for something of this size feeling.
I wonder why 〈Levis〉 doesn't make it now as it's likely to sell a lot, I guess.
〈Used〉Jacket ¥11,800+TAX、Jersey Tops ¥8,400+TAX、Parka ¥4,400+TAX、Pants ¥3,800+TAX Others Stylist own