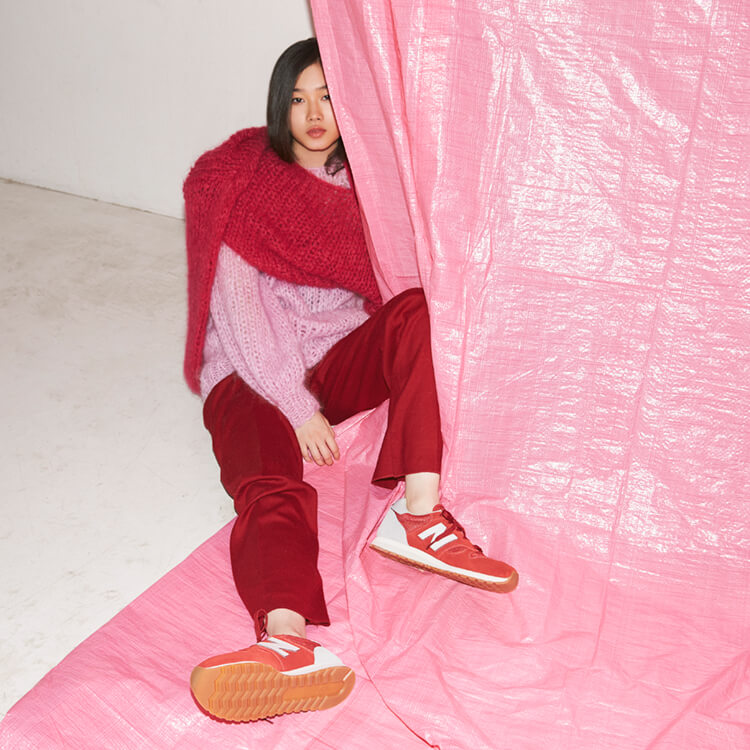 Until now,
from now on.
The evolving iconic models.
Photo_SASU TEI (W) 
Styling_Kaori Kawakami 
Hair & Make-up_Taro Yoshida 
Model_Kako Takahashi (BE NATURAL)
〈new balance〉 new iconic model "520" and "574S".
A perfect addition to any style yet includes the brand identity
can be said truly new balance's symbolic product. 
model_

574S

"574S" which had an ability to blend fashion
and functionality together perfectly,
now has been tailored to the season with suede and leather..
Traail color inspired by the beauty and challenging nature, shows you the Off-road Running Style.
〈new balance〉Sneaker 574S/MS574BG(GRAY) ¥14,400+TAX(NEW BALANCE CUSTOMER SERVICE +81 120-85-0997)

〈near.nippon〉Coat¥79,000+TAX(near. +81 422-72-2279)
model_

520

"520" reminds of you the 70's slim and sleek running style.
By replicating the logo font and adoption of gum rubber outsole,
this model will make you feel the past
and the new color of the upper leads you the classical style.    
〈new balance〉Sneaker 520/U520ATH(TEMPO RED) ¥9,800+TAX(NEW BALANCE CUSTOMER SERVICE +81 120-85-0997)

〈Maiami〉Knit¥45,000、〈Maiami〉Red Knit¥39,000(CHI-RHO inc. +81 3-3710-9696)、〈Room no.8〉Pants¥32,000(Otto design Ltd. +81 3-6804-9559)