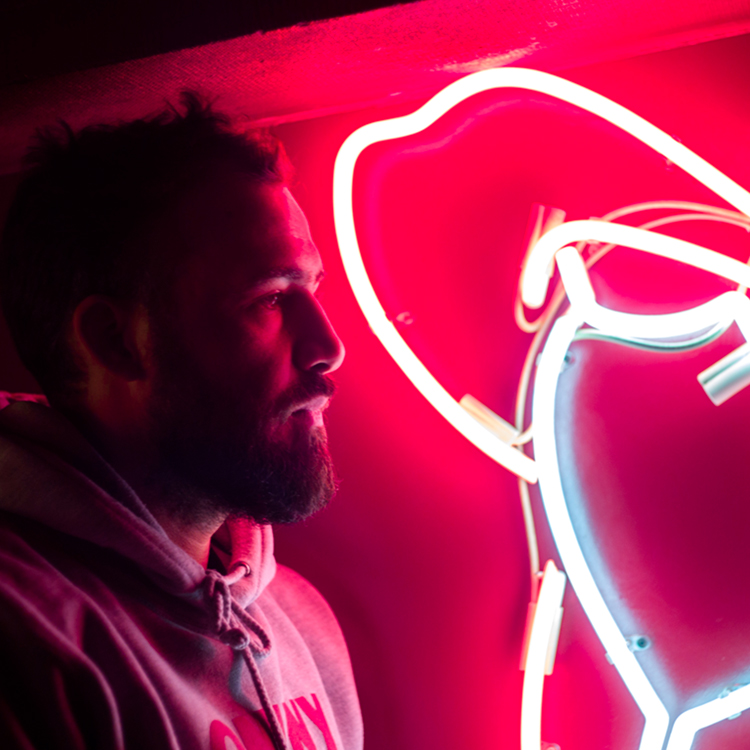 Merci à vous, Jean!
Jean Andre, the graphic artist who draws GIRL HOUYHNHNM logo.
Photo_Yuichiro Noda
Have you notice our hurt mark logo shown at top left of screen (The bottom for smart phone)?
We asked to draw this logo to Jean Andre,
the graphic artist living in Paris for launch of GIRL HOUYHNHNM.
To thank him directly, we tripped Paris to see him.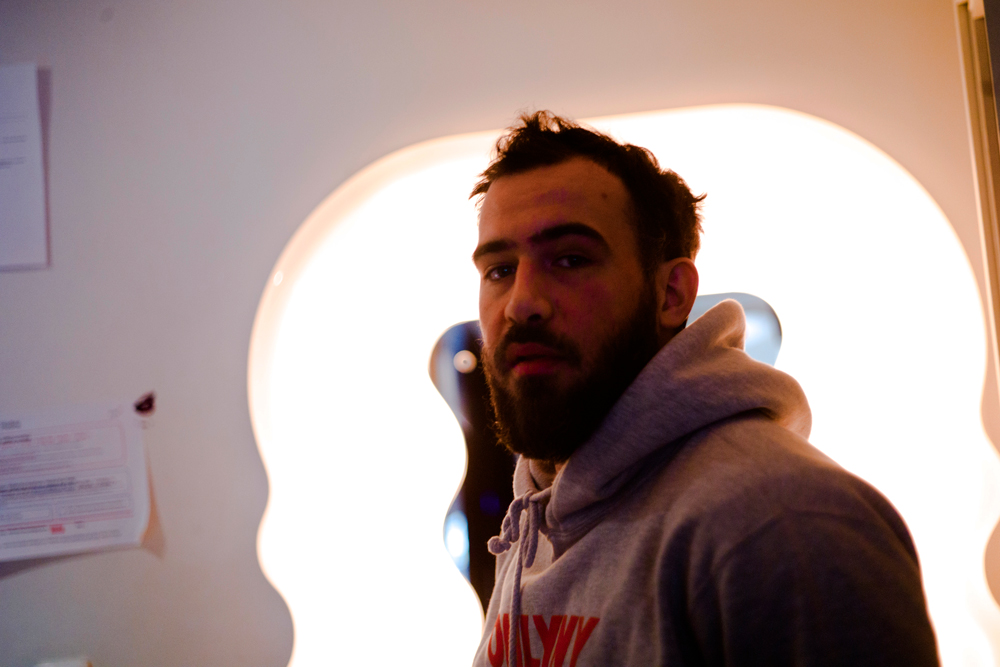 It's pleasure to meet you finally.

Thank you for coming all the way down to Paris from Japan.

GIRL HOUYHNHNM with your logo finally launched in 20th January. Have you already seen?

Yes, fantastic! When I get offer to make logo, it usually goes horizontally long to fit well, I was curious how this one is going to be used. I feel a power of young girls and mood of contents match to logo too so I'm happy.

Editor in chief of GIRL HOUYHNHNM went to the event last time you came to Japan and he is very impressed to your touch of art, that's why we asked to make our logo. We thought heart mark will come to bring your style most.

The keyword of 'Feminism' is essential to my pieces. Feminist movement in 70s brought more freedom to woman and now, they can reveal large part of skin or even being naked is allowed. Though normally it's delicate problem, I'd like to draw that essence through graphic art. Nonetheless, I'm not obsessed just archives, but also getting inspiration from everyday things of our time like Instagram and fashion.

What was opening of start drawing?

I was initially tattooing. Not learning from someone, I bought needle and tattoo myself. In steps my friends asked me to tattoo them and me starting to draw those motifs is the beginning. I took in a lot of motifs from 40s and 50s that time.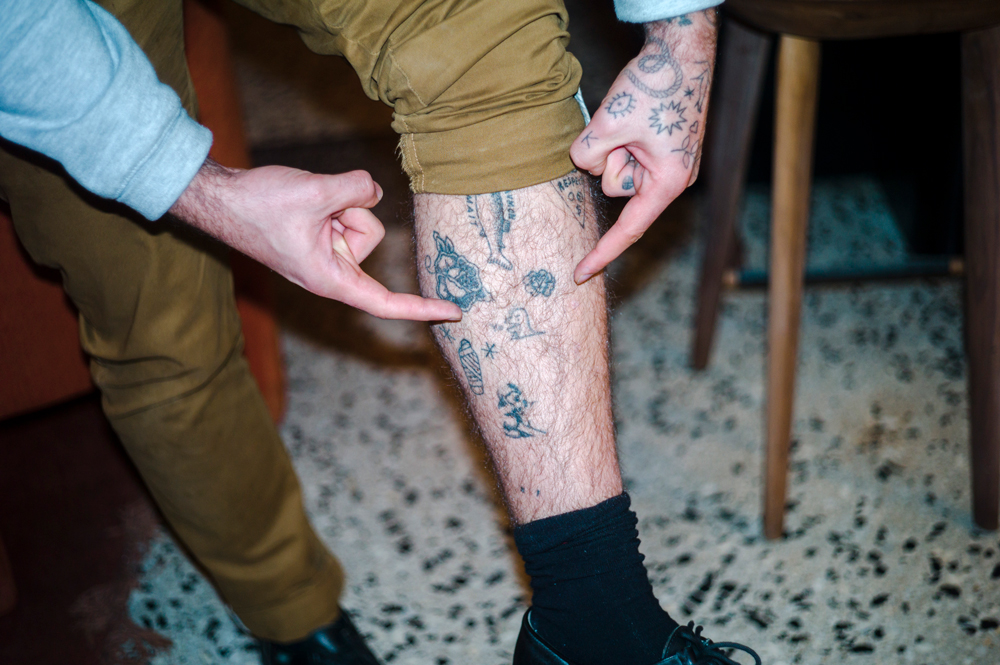 Your first tattoo still on?

GODZILLA! I think it was when I was 18 or 19.

GODZILLA! You liked Japanese culture from years ago?

Although GODZILLA is big so known internationally, Japanese culture was always center of myself from my early years. As cartoon and TV game show, Japanese graphic is very carefully drawn so I've learnt a lot from them as a graphic artist.

Your favorite cartoon and character?

I love Nintendo! Tattooing "MARIO BROTHERS" letters on my arm proves it. Lol I like other well-known ones too. 'Dragon Ball', 'The Legend of Zelda', 'AKIRA' and Studio Ghibli films.

There are a lot of tattoo on your body.

I think there are more than 100. My wife can also tattoo so sometimes she does for me.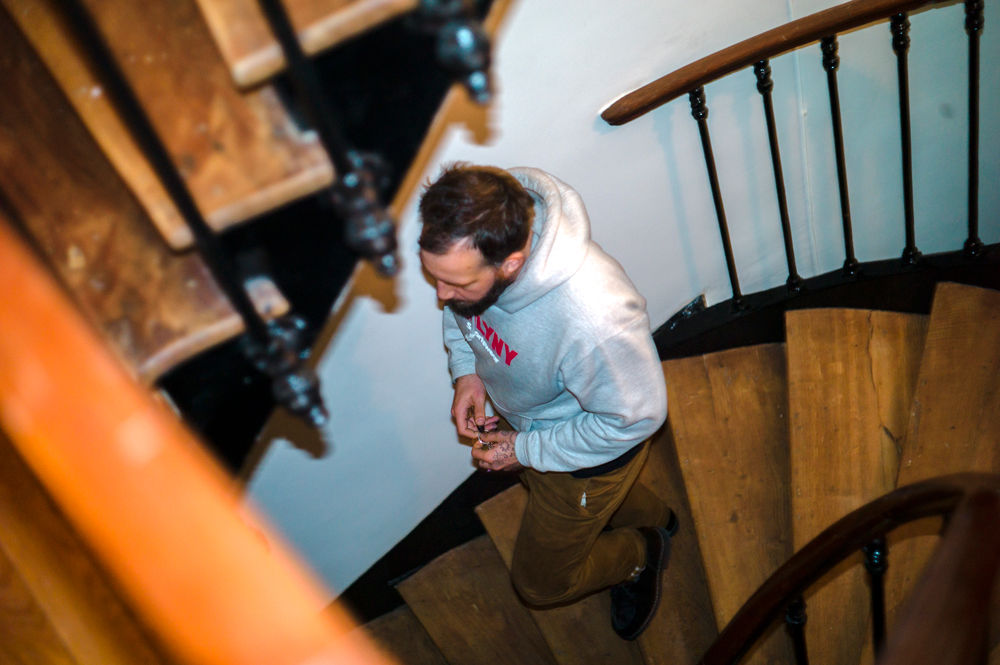 Girls to have one point tattoo of line drawing is increasing in Japan. Like your touch. Does tattoo have trend in Paris too?

Same here. Having names or favorite words in small size is popular. A lot of people favor hand drawing style rather than using machine with small needle and small size tattoo and this is unchanged since I've started drawing. But tattoo have relatively negative image in Japan, right? Does that mind slightly shift to mild?

Not really. You can't go hot springs and in some locations, tattoo is banned in gym too.

I could hardly find hot springs that allow to have me when I went to Japan,,. Though I forgot name, I finally found one near Mt. Fuji last time.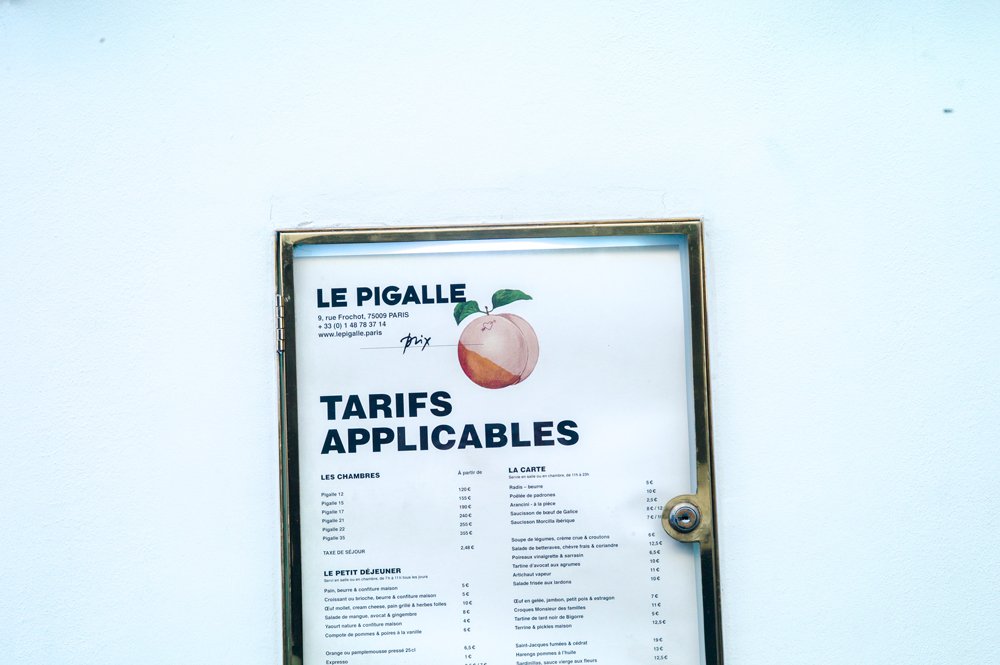 So you do tattoo as well as graphic artist activity now?

Yes, I do both.

Jean as a graphic artist, represented ones are 'Le Pigalle Hotel' where we are today and Ed Banger Records graphic, what other projects are you working on recently?

I'm working on graphic of the hotel in Southern France and night club called 'WANDERLUST' near Austerlitz station. I draw logo, poster and graphic art on wall. I also sell my pieces at EXPO sometimes. I don't do in big scale since I went to Japan last time. Working too hard doesn't fit my character so I'm like do when I get offer. Occasionally I have to turn down offer depending on the timing and content.

In what basis that judge is made?

What I care about when drawing graphic is whether people who come to see my work would feel interesting rather than client. So, I'd like to draw my graphic art to open public space rather than closed location.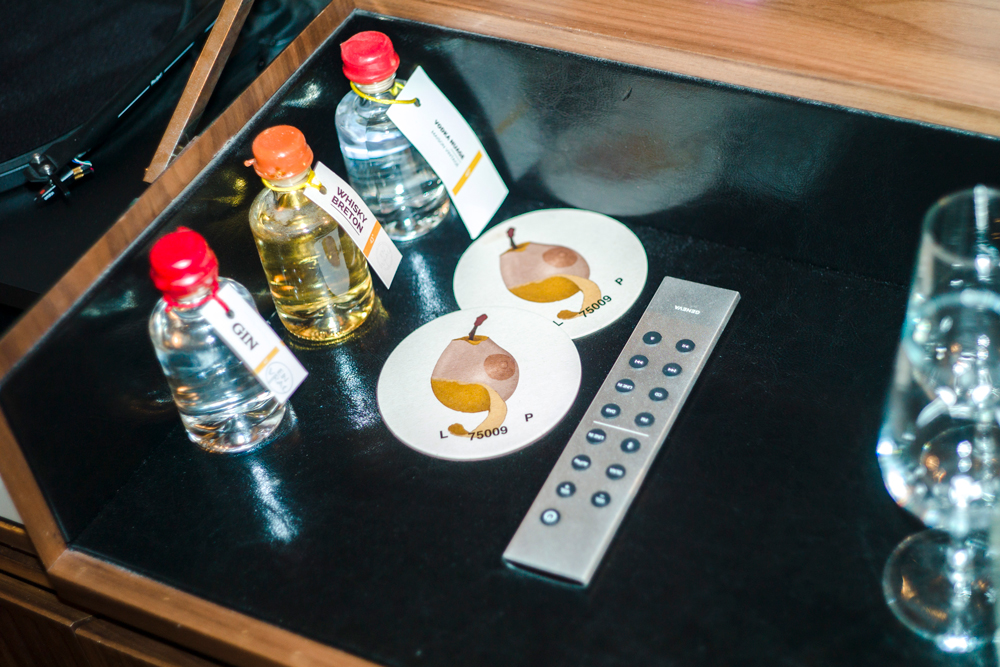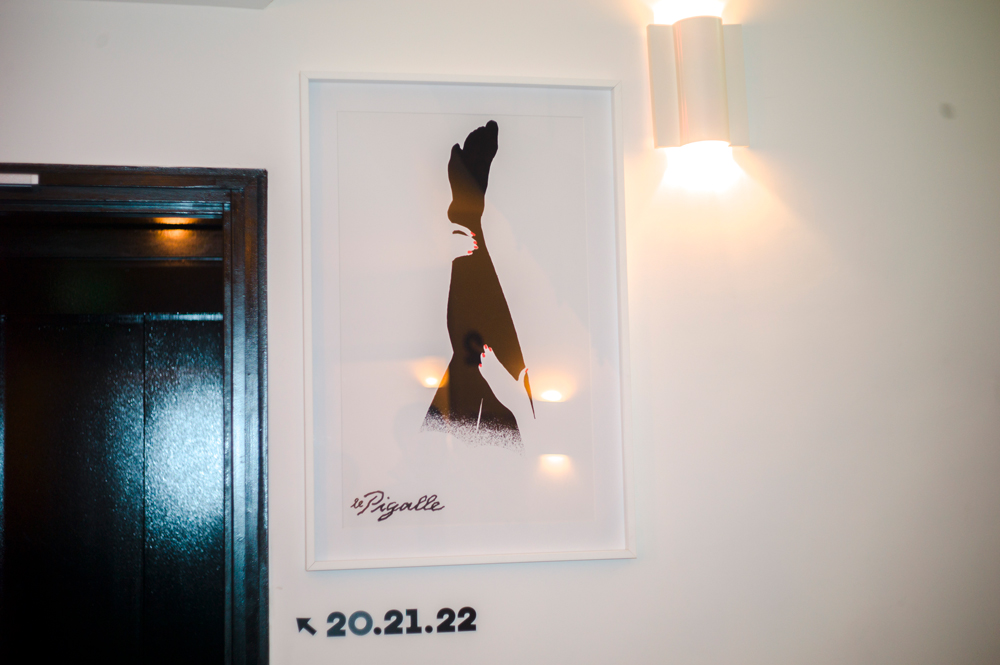 In that sense, many people including from overseas would be able to see your work in this hotel.

Illustration on menu list, neon tubes and art pieces in each room are also my work. There is a room that I shared with 4 artist friends at 4th floor and I sometimes stay over a night. This is very beautiful hotel. Just to tell you that first hotel to stay with my wife is here and where I proposed her is here too. This is special place for me and her so I was very pleased that I could be involved to the project. Moreover, there is a studio on basement and I usually tattoo here or my home.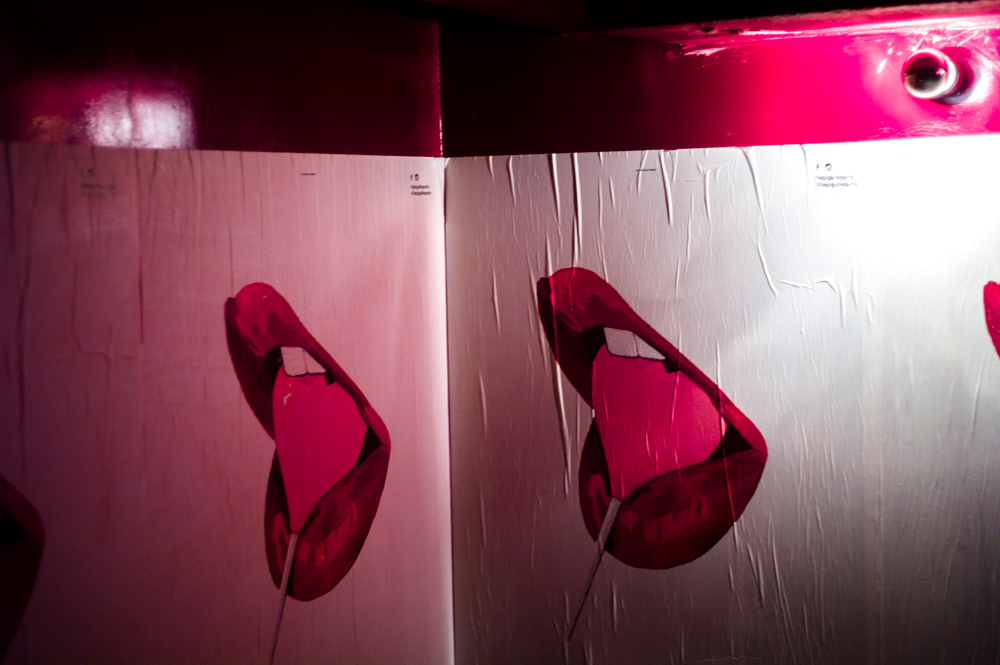 Does recent engagement with your wife made any changes on your life and creative activities?

Yes, it changed a lot of things. I've quit smoking, start sports and keep growing my hair because she doesn't really like skin-head. Lol After all stop drawing certain female pictures is the biggest. Since I met her, I embody images of female.

Do you use her as a model?

No I don't. Lol I'd like to separate my work and private. Time spending on work is changed too and I used to draw a piece per day but now I spend like 3 days. This change allows me to draw each piece more carefully and I feel positive effect in many aspects.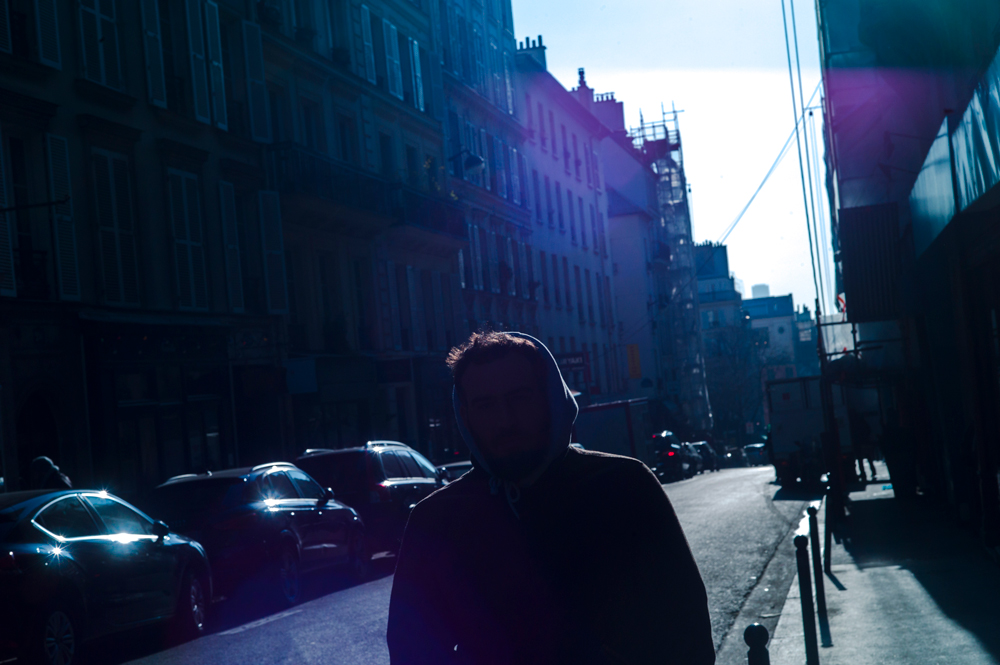 How do you feel living in Paris by having a lot of tourists from all over the world then again, negative news in some extent like terrorism and economy recession?

I reckon France had a lot of mixed races in its long history and jobless rate is high from years ago and we get used to this situation because the whole Europe is facing economy recession so it's not like something specific causes trouble. Although I try not to see only negative aspects and focus on what I have to do, sometimes I feel 'easy for living' when I visit different countries and I have many places that I want to go so to be honest with you, I sometimes feel 'I would like to live somewhere else' Lol

In Japan, we feel that media become somehow awkward by caring reaction from society too much as SNS develops. Do you ever feel in same way in France as a person who expresses one's message to the world?

Yes, moment I feel same way is increased in here too. But as you can see from strong influence of labor union within our society and having frequent demonstrations, French people make noise for anything. Even if one is accused or whatever negative thing happened, I reckon the culture of 'I would say out my opinion for sure' is rooted to our mind.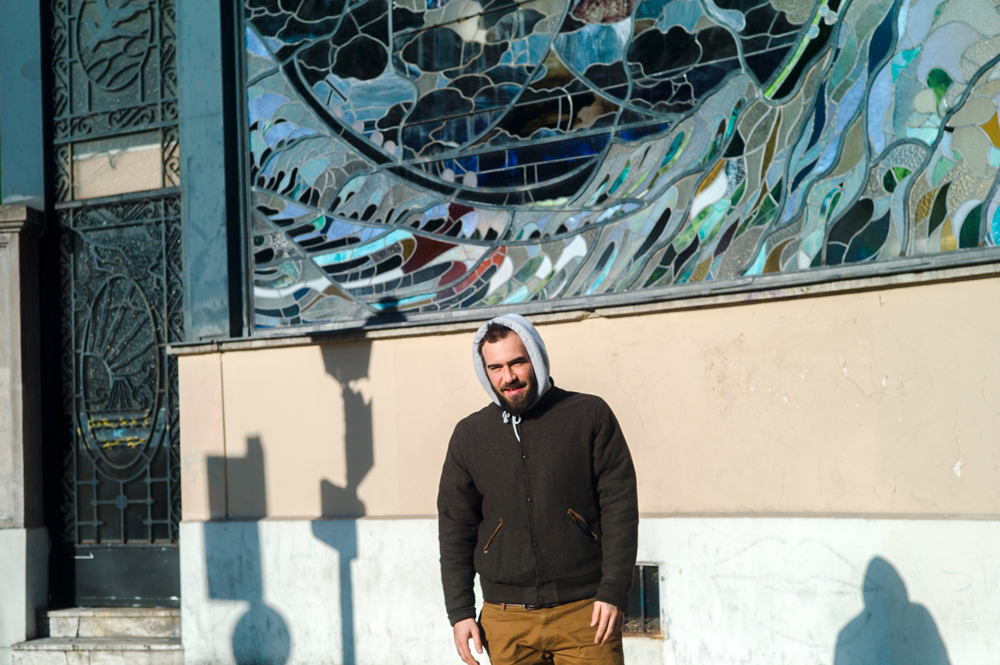 Is there anything catch your mind in Paris except for work?

I'm into cycling exercise called 'DYNAMO'. For 45 minutes, I pedal a bicycle with stand-up style without touching my hip to the seat with music rhythm at small gym club. Initially I've started with my wife and now she became its trainer so I go there when she is available. Lol And one more. Bicycle that my friend, Alex Jumelin brought from Singapore is super cool. Promotion is done by themselves and sold at 'Collete' in Paris.

When would you come to Japan next?

I'm planning to go at end of this year for EXPO. I was going to come in April but I don't think I can make it for being busy of preparing the wedding. Lol My wife used to work at Hotel in Japan and Japan is my favorite country as I feel I would like to live when we have kids so I can't wait to go.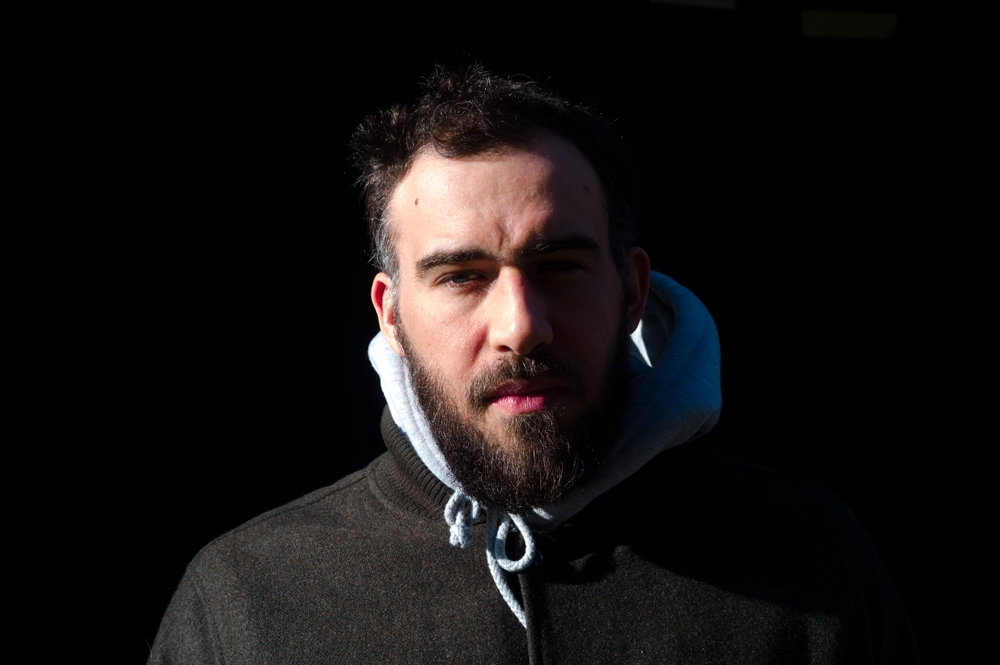 Last part. GIRL HOUYHNHNM is the web magazine for mainly 20's girls. What was 20's time like for you, Jean? And please give message to those girls.

Chaos in one word. Lol I lived self-indulgently and I didn't care myself nor people around me. Smoking cigarette a lot and eating junk food all the time. I should have input various things by travelling more and I feel regret that I should have been more aware of things happening around me. So my message is that people who living their 20's should be confident, care yourself well and give a lot of love to people around you.