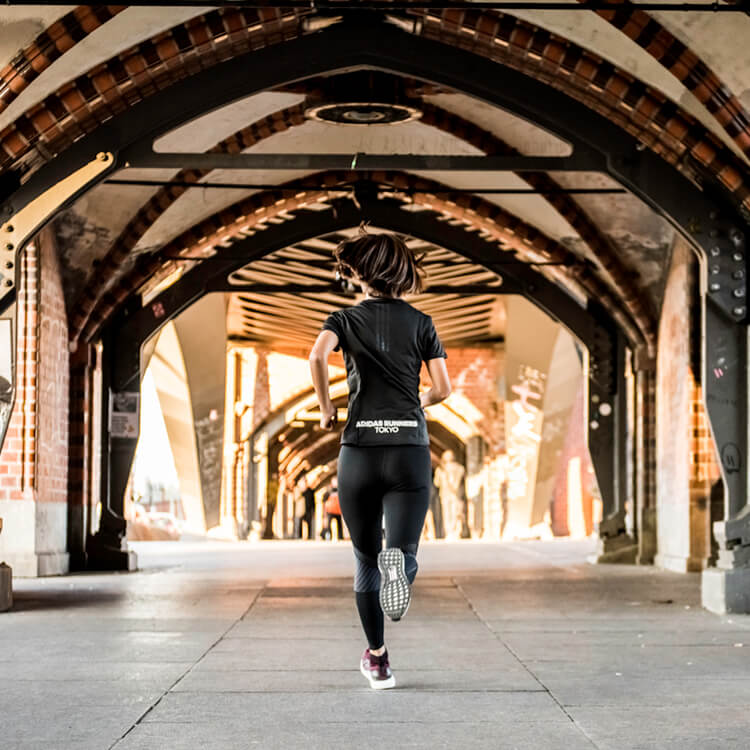 RUNNING THROUGH BERLIN.
Completion Report of the Berlin Marathon.
Photo_David Rasche 
Model_Mao Mitsui
Mao Mitsui was a model whom we've been interviewing and reporting
her training for two months till the Berlin Marathon.
And finally, she safely finished the challenge of the 44th Berlin Marathon
which was held on September 24th! In addition,
our goal in this trip was also to discover a disparate running culture in Berlin.
Here, we'll report the entire marathon trip with a lot of images, so check them out!
I didn't notice my leg was broken during a marathon last time.
Firstly, congratulations on your completion!

Thank you very much! The very last part was super tough, but I entirely enjoyed the run.

I heard that the last time you tried a marathon was five years ago. Is that right?

Yeah. Actually, I didn't notice my leg caused a stress fracture in the last marathon because of too much training then, but I wanted to try the marathon so badly, so I did. Thereafter, I was prohibited of a full marathon or whatever hard training for four years by a doctor. Yet eventually, my legs are fully recovered, and I trained well through Adidas events, so I fortunately had no problem this time to complete the run.

Tell us what you did since you arrived Berlin till the moment you started the marathon.

We arrived pretty late in the first day, so I guess we immediately fell asleep that night haha. In the second day, Shiho Iwazaki who is a captain of Adidas Runners, the other members from Adidas, and I ran about 5km around the actual marathon route. By the way, I wore UltraBOOST X ATRfor jogging on that day. Since the weather wasn't too nice, I chose the model with a stronger grip that I wouldn't slip and get injured.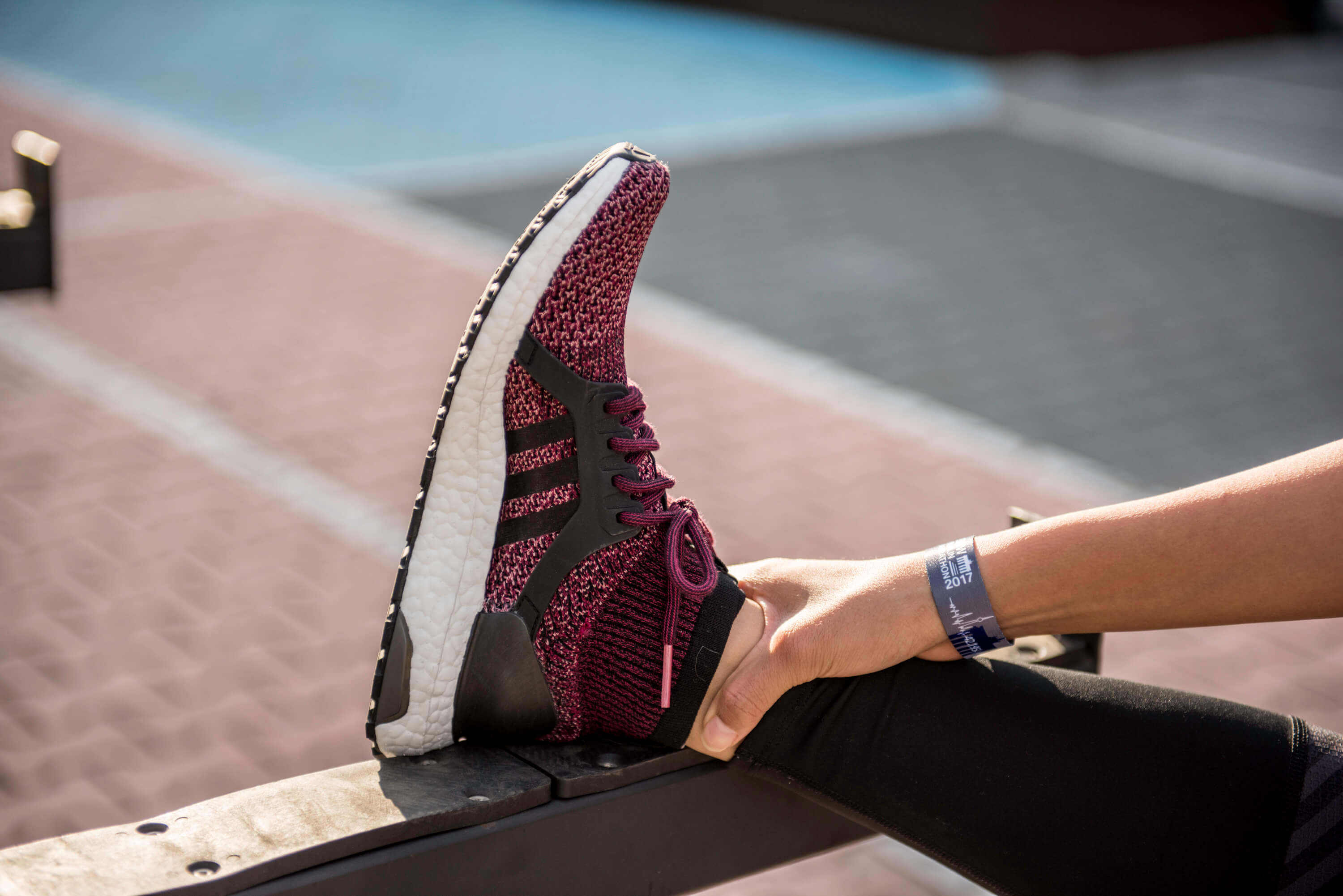 I like that model too as it holds our ankles firmly and stably.

Exactly! And, I love the design as well, so mostly I only wore them in this trip haha. Additionally, I tend to put on monotonous outfits, so the ruby color generates a great accent to my style too. In the afternoon of the second day, we visited an Adidas Runbase in Wrangelkiez where there also were a lot of stylish stores in streets such as Overkill nearby Spree River. We again did training and running there.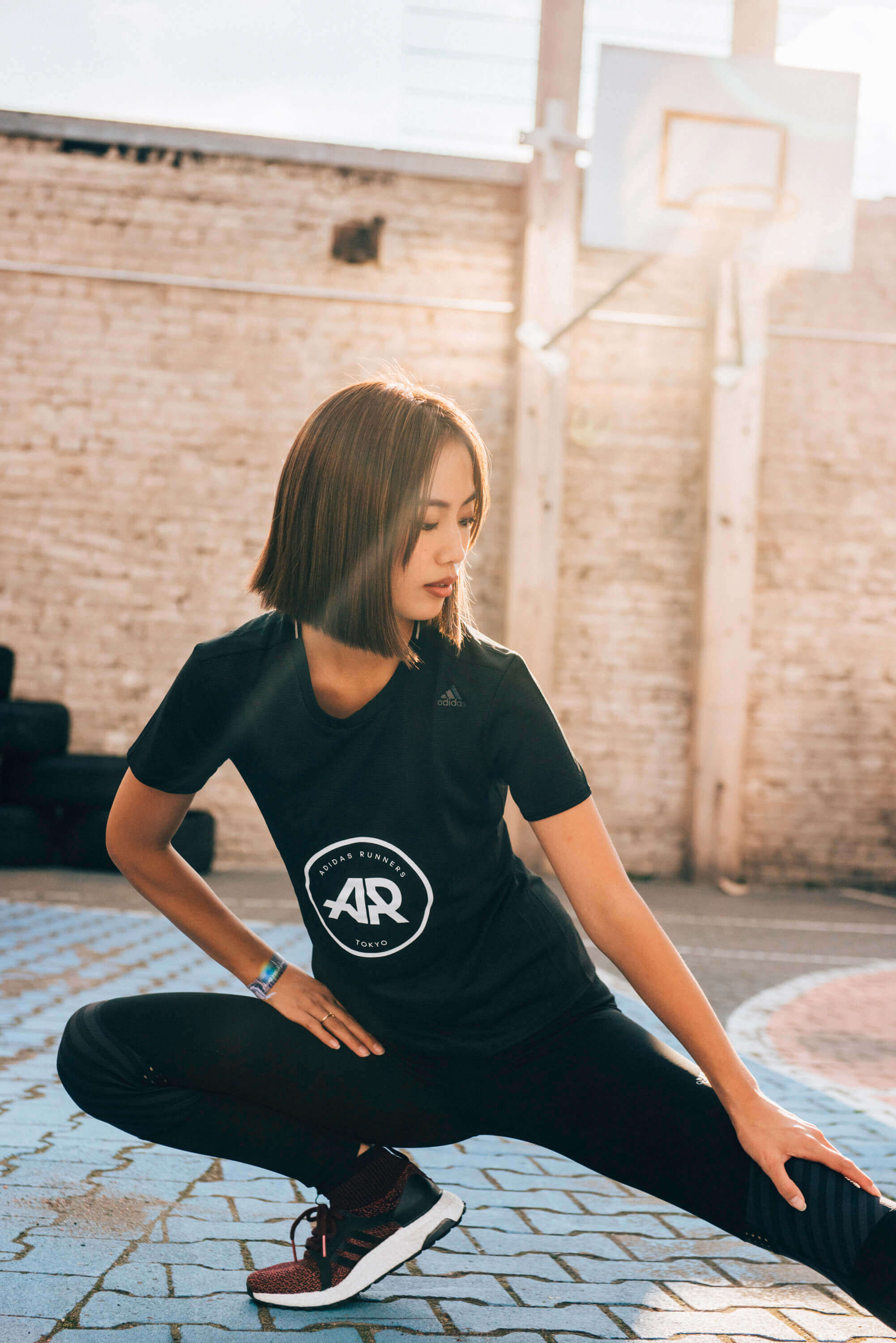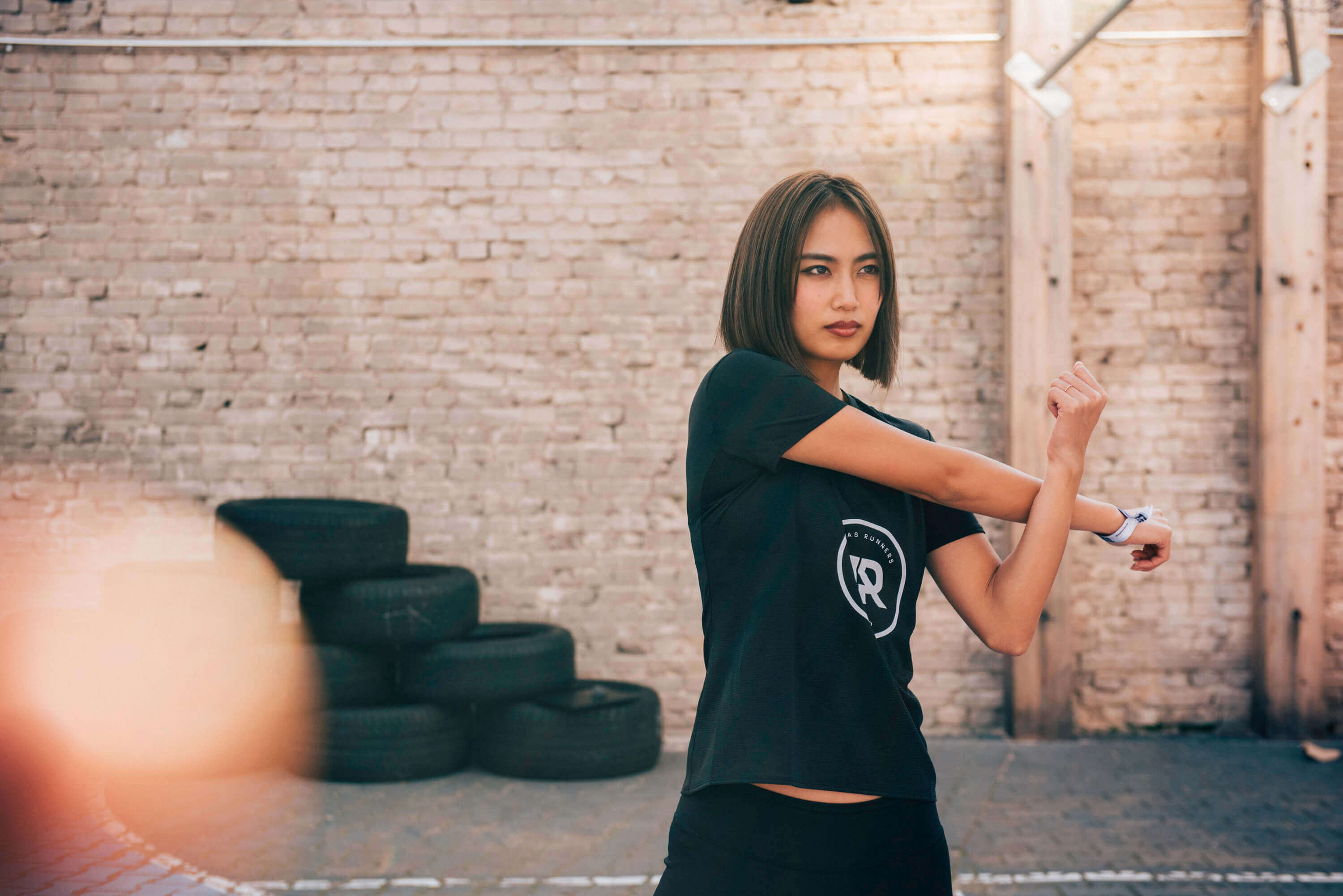 Didn't you think the Runbase was so cool?

It really was! The base was so huge and open. On top of that, it was located next to a club haha. As it accommodates a cafe inside, people really chill out after their training and running. Well, it's probably also because there are a lot of young creators around that area. Tobi, the owner, mentioned that he yearned to produce a "hub" where it can connect lifestyles, activities, and people all together. Besides running, people can also work out for various types of training as well as earning special cares for nutrition and medications. Undoubtedly, there should be something like that in Japan too!
I feel like I can run every single day if I'm in Berlin without goofing off haha.
How was Berlin for running?

My first impression of Berlin was it's full of nature and wide sidewalks! I feel like I can run every single day if I'm in Berlin without goofing off haha. Moreover, there were innumerable graphic artworks everywhere in the city, so I wouldn't get bored while running. I personally don't like running around the same course every single time, so… For instance, the 5km running on the second day morning was almost as the equivalent distance as the route around Imperial Palace in Tokyo, but I didn't get much tired running through Berlin. Well, the air was much cleaner too. One thing you gotta be careful in Berlin is the bicycle lane on the sidewalk is so hard to distinguish. I was gonna be crashed so many times haha.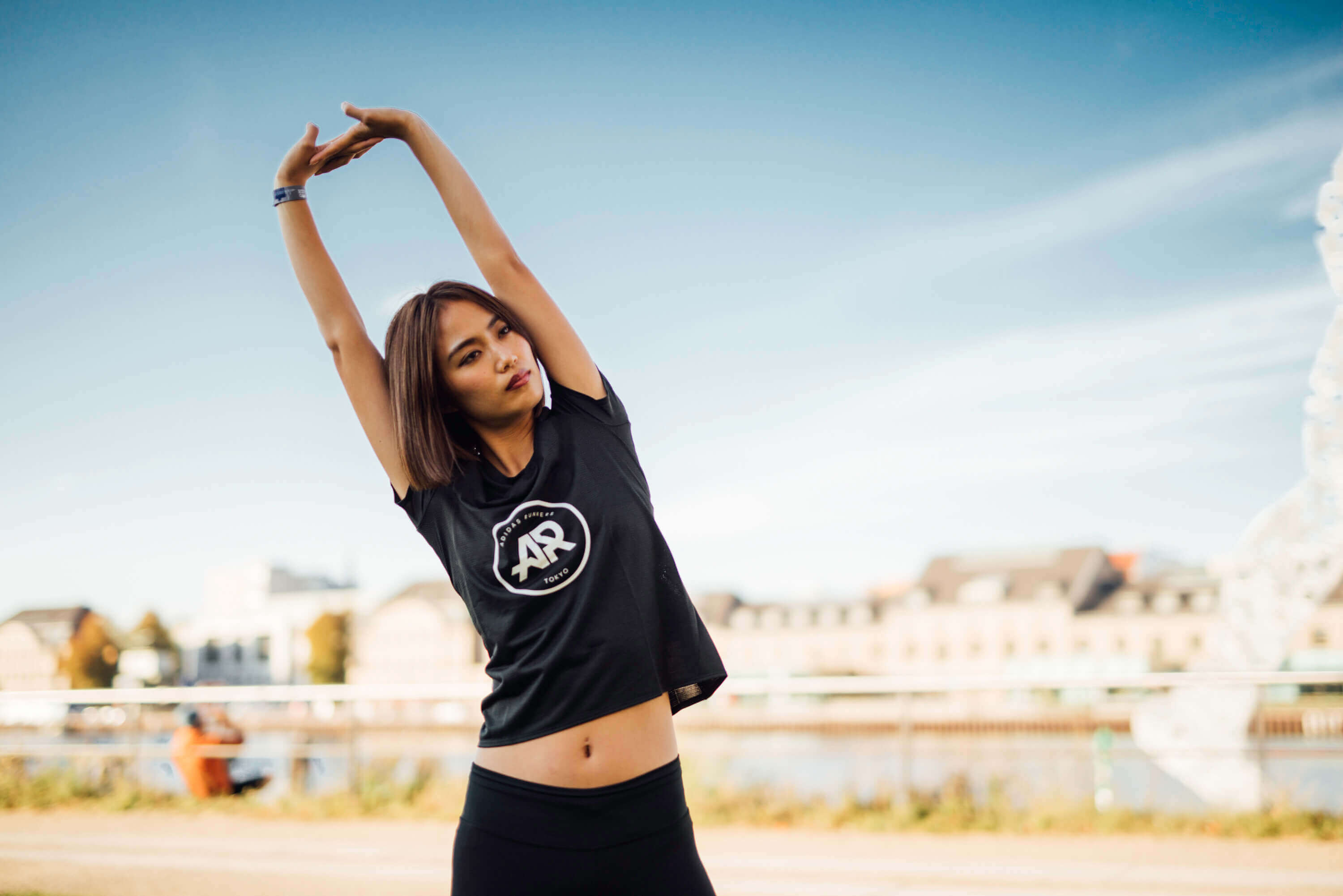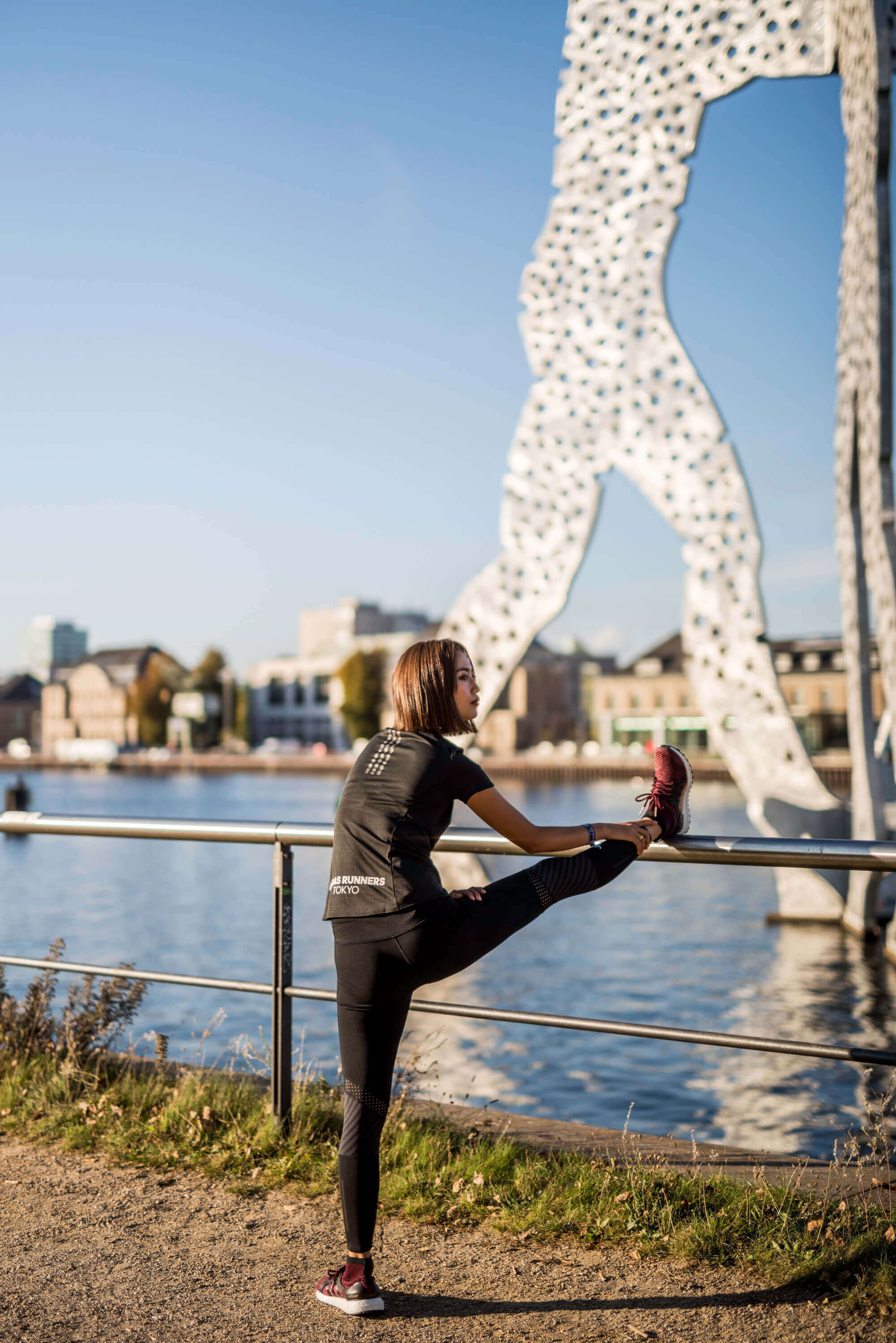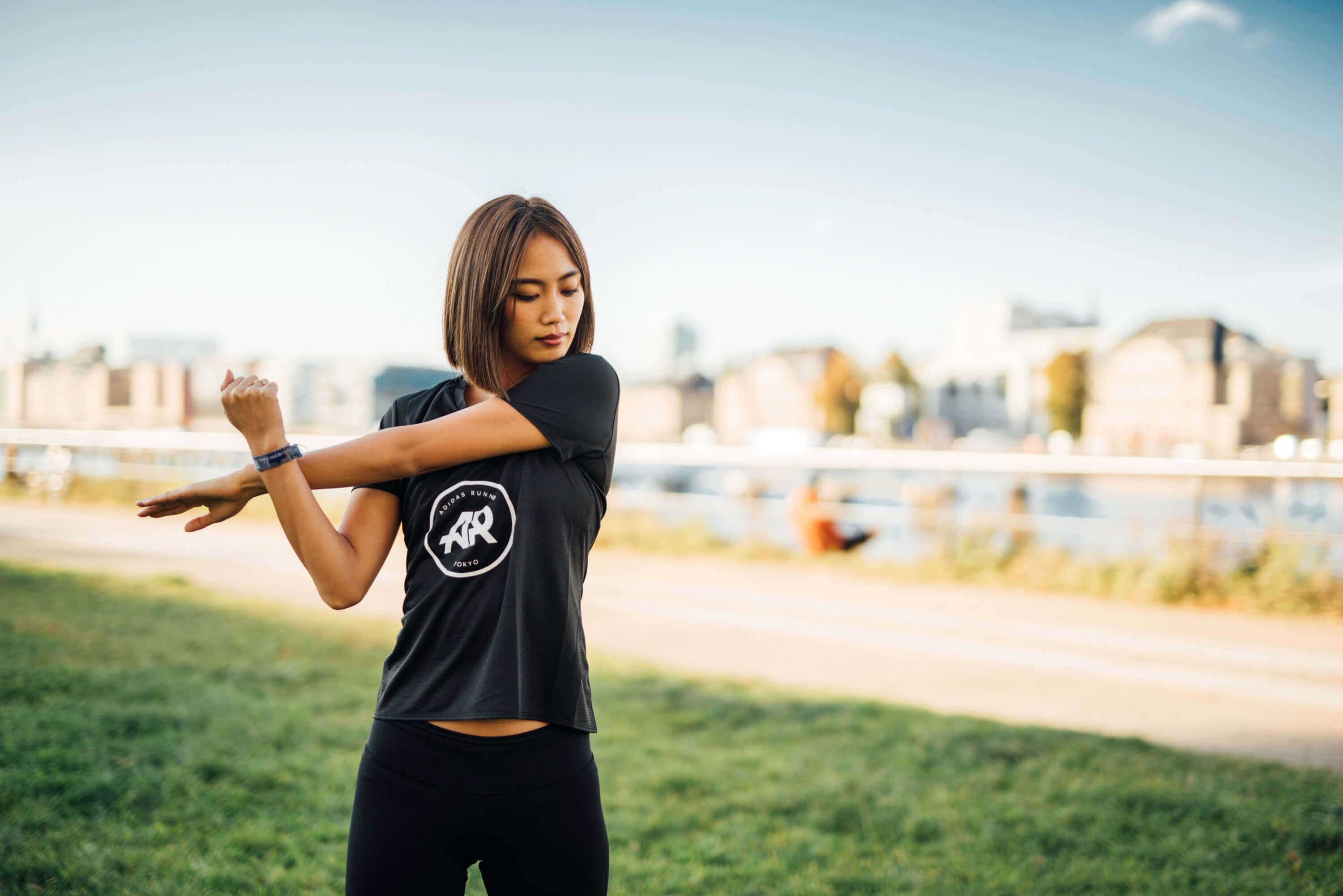 The breakfast run in the third day was something we could never experience in Japan, wasn't it?

Certainly. On the day before the marathon, volunteers of the marathon participants were gathered in Charlottenburg Palace to start running for about 6km toward Olympiastadion Berlin which was a stadium that was used for Olympics in 1936. Definitely, it was a fantastic experience that many people were wearing cosplays and some were even shouting before finishing the line. After we finished, we'd be distributed fruits and donuts for our breakfast haha. It was so new to me and I wondered if there could be something like that in the other countries as well, especially in Japan:)

How was no74, a select shop by Adidas, that we visited afternoon of that day?

Since the store was based on Adidas products obviously, there were only items with the brands that Adidas had collaborated previously such as Y-3, Alexander Wang, Kolor, Raf Simons, and etc, so that's absolutely a must-go spot for those hypebeasts! Overall, I loved its concept and the items were exceptional too. In addition, there was a street called Tauentzienstrasse (Tauentzienstraße) right south of Zoo Berlin where there were huge stores of Adidas and Adidas Originals which offered products that I've never seen before in Japan! I eventually shopped too much there haha. Furthermore, AR section was located inside of the Adidas store, and I really perceived running is a tremendous part of their lifestyle and fashion in Berlin.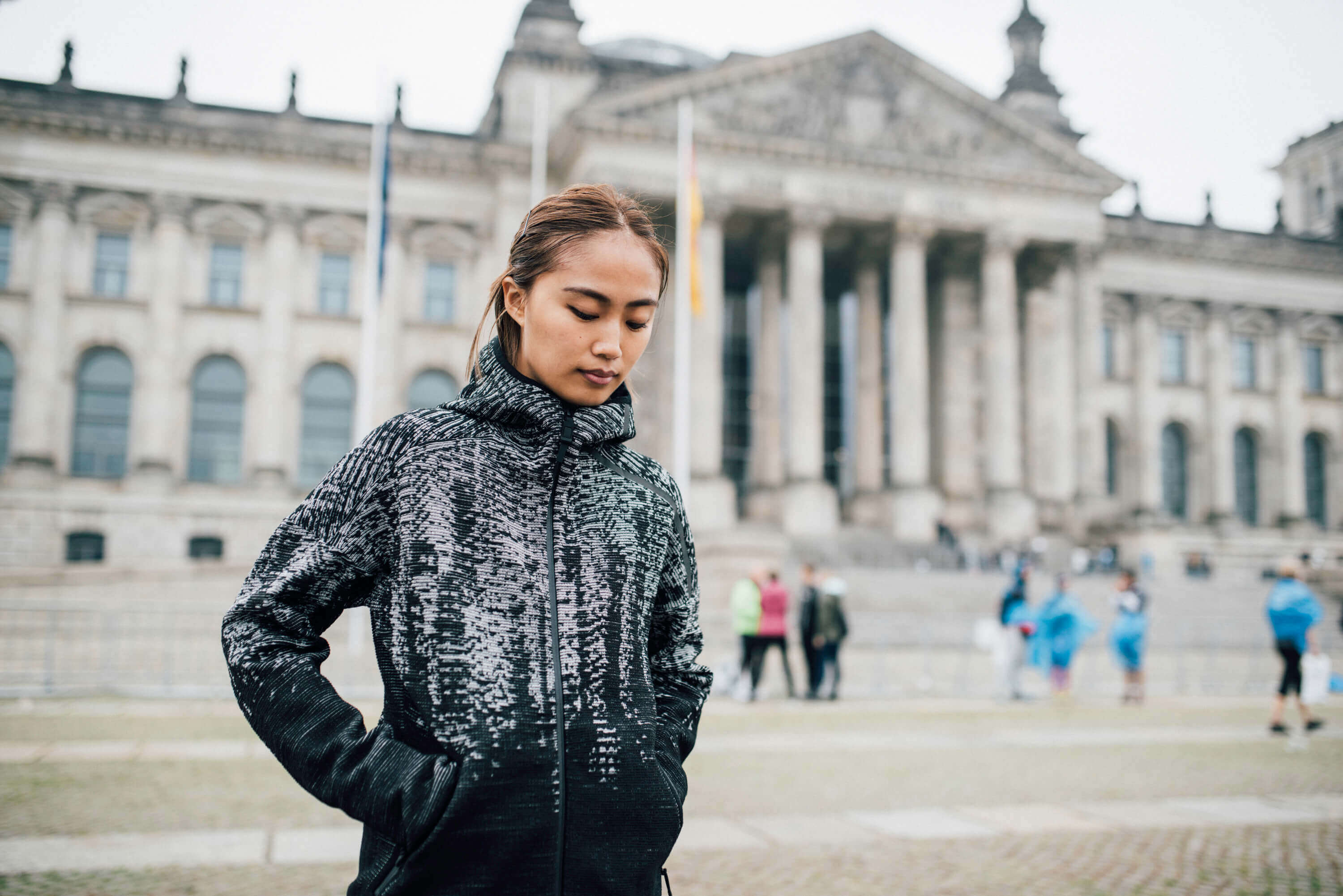 The marathon made me felt that I wasn't running solely.
So, in the morning of the marathon day, I didn't feel you were nervous. Were you?

Not at all. I was even shopping souvenirs till midnight of the day before haha. My legs obtained a bit fatigue of previous trainings, but they came out to be just fine after massaging in a bathtub. Additionally, for the marathon, I had been planned to wear a model called Snova Glide BOOST 3which fit greatly to my bloated legs, so I was very confident to confront the run. When I arrived the venue, I was overwhelmed by the number of the participants and thus I discerned why it's categorized in one of those "big three" marathon contests in the world. However, it was raining from the day before hence very cold outside, so I put on Z.N.E. Pulse Knit to protect myself from such weather. As every one of the 40,000 runners wore raincoats, the medium strip was eventually devastated with full of stuffs haha.

I heard Berlin acquires quite constant altitudes which lead runners easier to run. How did you feel that?

Certainly, it was so comfortable to run there! The course was like running around the entire city, so it was more like a nice tour by jogging. On top of that, the local people were cheering us up by the sidewalks and I was really touched by that too. For instance, kids were high-fiving with us on roads or some people shout "Go! Mao, Go!" by looking at my name tag. Moreover, there were jazz bands playing some songs at several points, and some grandpas put a table on a corner of the course where he gave away free beers that he probably purchased himself haha. Besides them, I was really encouraged by one of the members from Adidas who supported me by running together with me. Overall, the marathon made me felt that I wasn't running solely.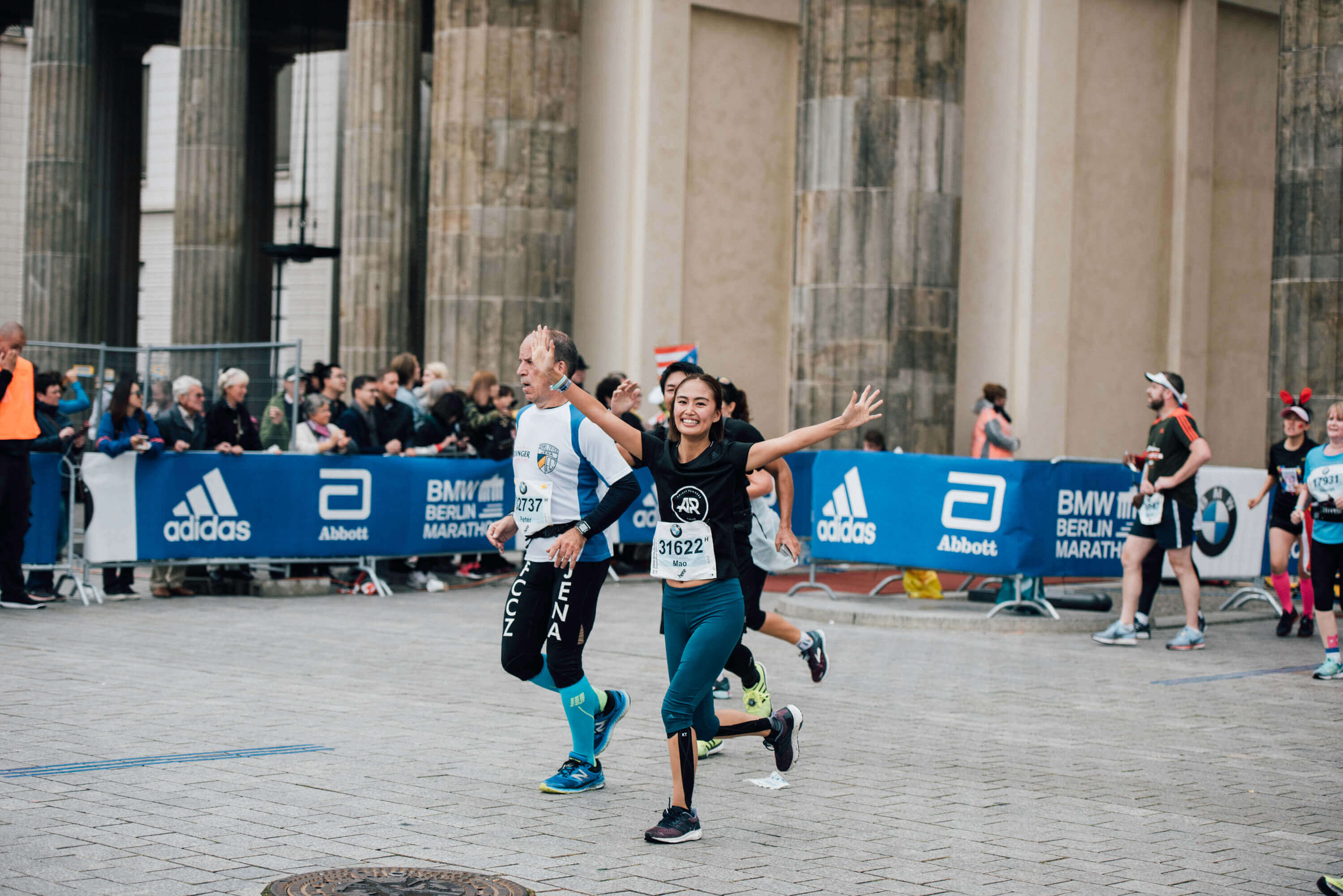 Don't you think It's so heartening when people in any ages, genders, and races cheer you up for what you're trying to accomplish?

Absolutely, yes! After 30km in the race, my legs were soured so badly, but local people's encouragement really got me to achieve the run. Generally, sports like martial arts are always competing to win and thus audiences tend to root for one party. However, for running, it's more like a warmhearted sport that everyone is rather enjoying than competing including both participants and audiences, except for those professionals who are aiming the first place. Anyway, I loved the entire ambience.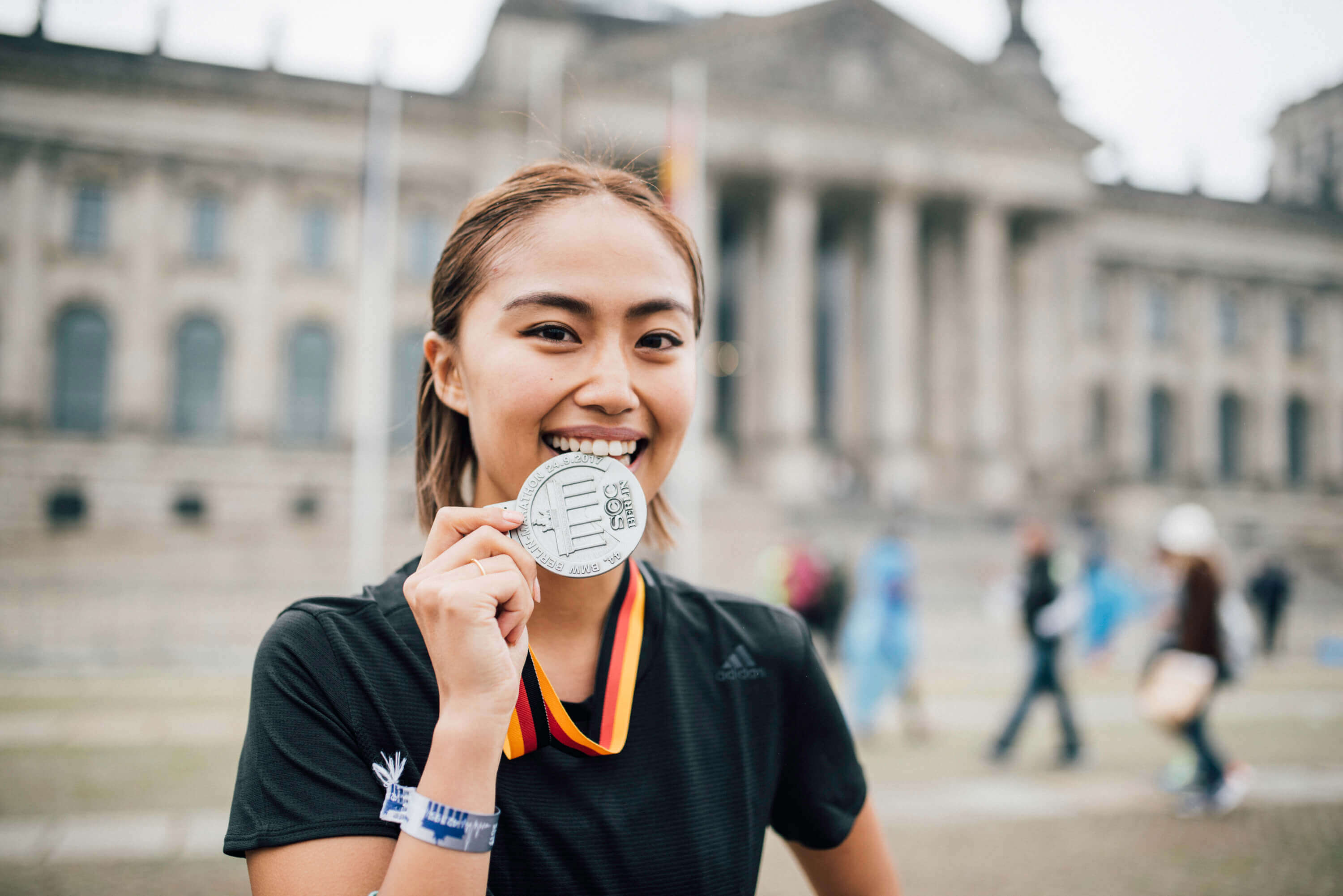 And eventually, you had finished the run in 5 hours and 11 minutes! After this Berlin Marathon, what do you think is your next goal?

Well, in Japan, most women are still not that intrigued in running in which they rather think it's for a diet or for a health, and mostly they are, in one word, lazy. Yet, I was inspired by the young fashionable creators in Berlin who were spontaneously jogging as a part of their lifestyle, and I strongly believe fashion, cultures, and sports are all related and connected to each other. Additionally, running definitely relieves us from a daily stress and sometimes even stimulates us for new creative ideas. Nevertheless, I perceive sports and cultures are still quite disconnected in Japan… Therefore, I wanna produce a pleasant yet cool community that we can merely revel in sports just like we enjoy music and arts. For example, a community we can go for drink together after running or go for jogging before we go to a club. Thus, my goal is to remove negative impressions of sports in Japan and to create a stylish sport community!

I'm looking forward to it!