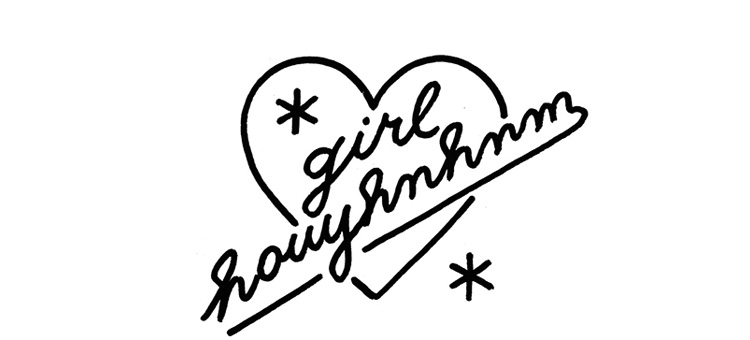 Girls Just Want To Have Fun!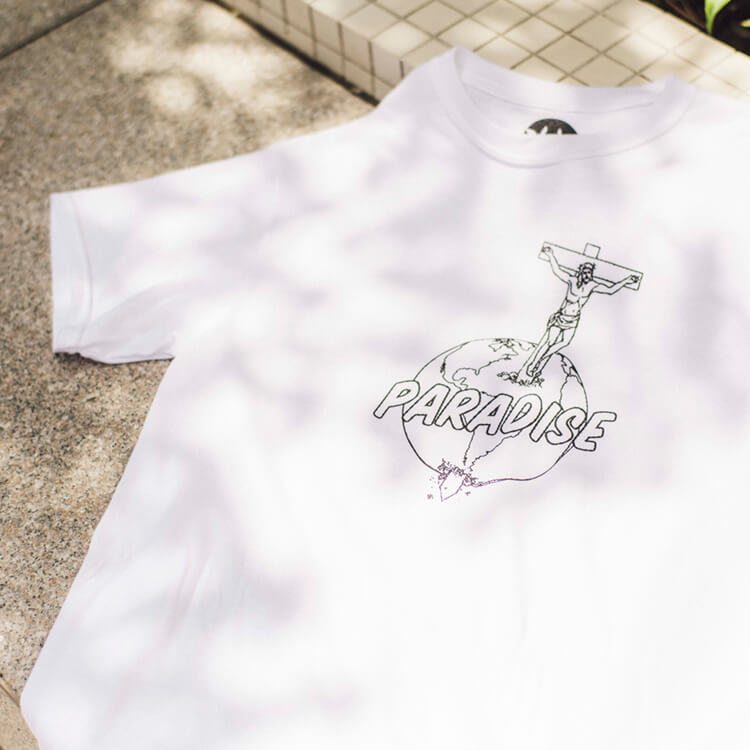 MY WHITE T-SHIRTS
All I need is white T-shirt.
Photo_Shinichiro Shiraishi
It's only white T-shirt, but it's still important.
Even if it said in a word, fabric, shape, sizing etc. are all different
and it's also possible to clearly understand his / her personality by knowing what white T-shirt
the one chooses is interesting point of this item.
So, what are dressing rules of born to be white T addicts?
We asked persistence to 4 girls who are various generations and occupations.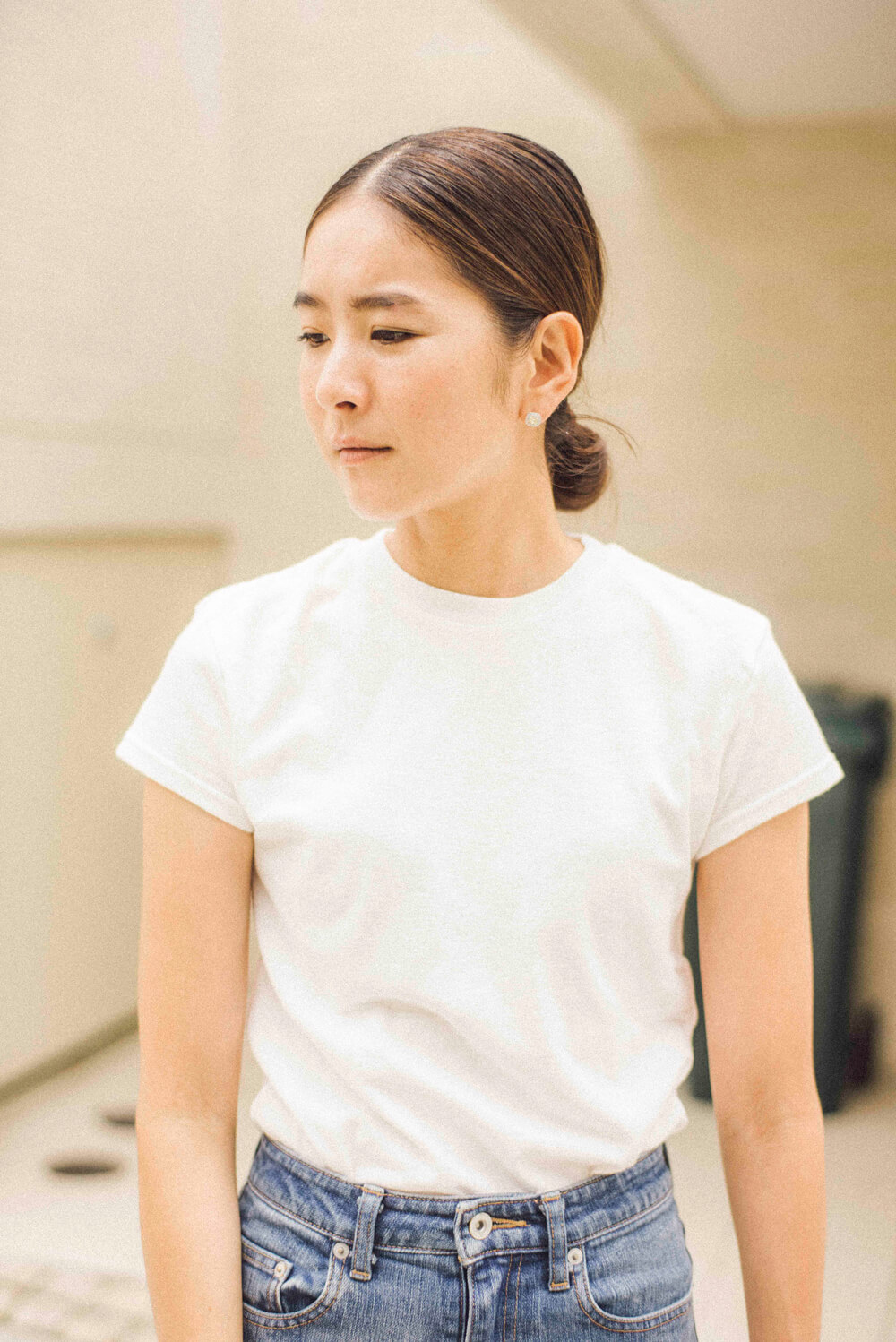 Chiharu Dodo
(Stylist)
"It's like a uniform to me."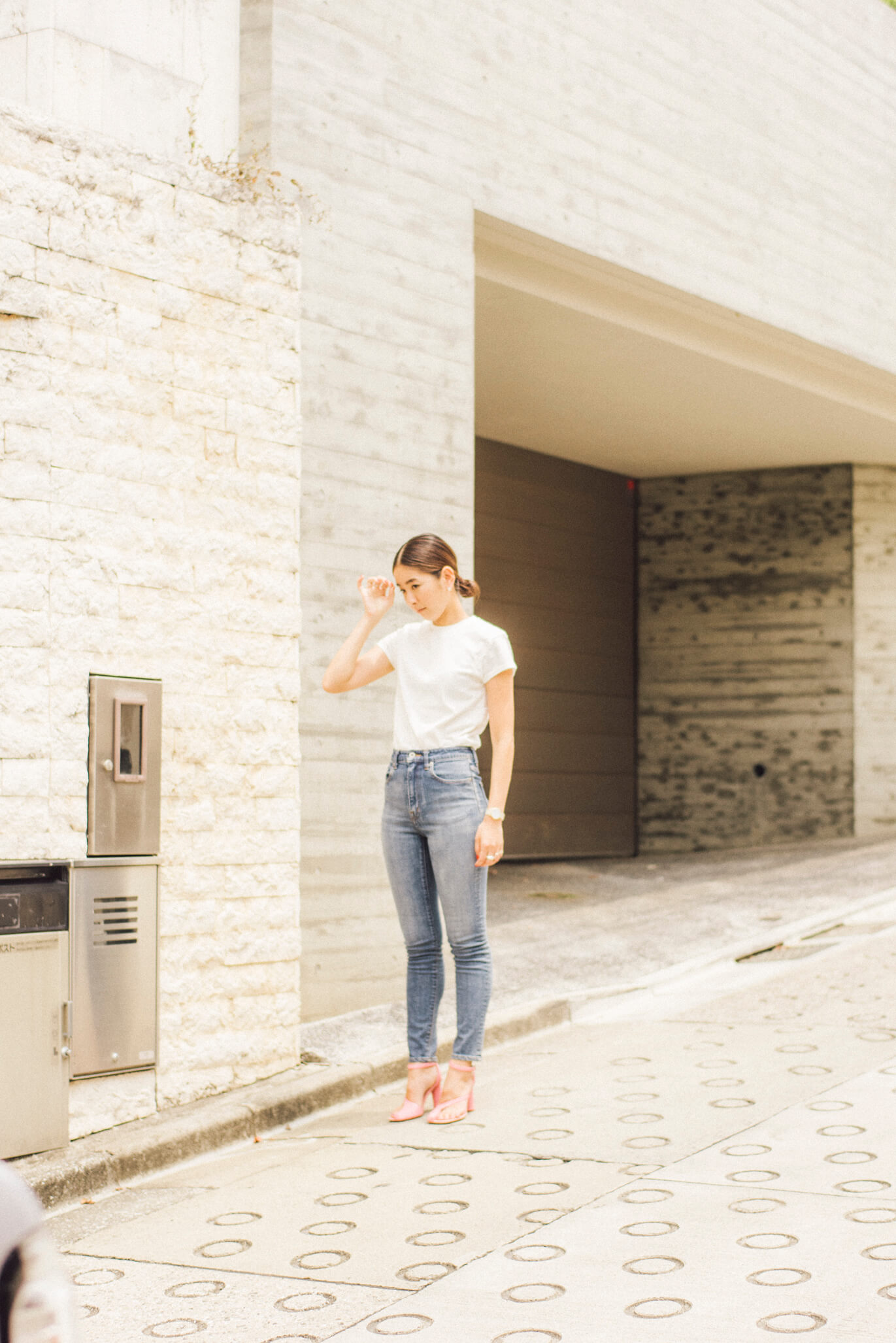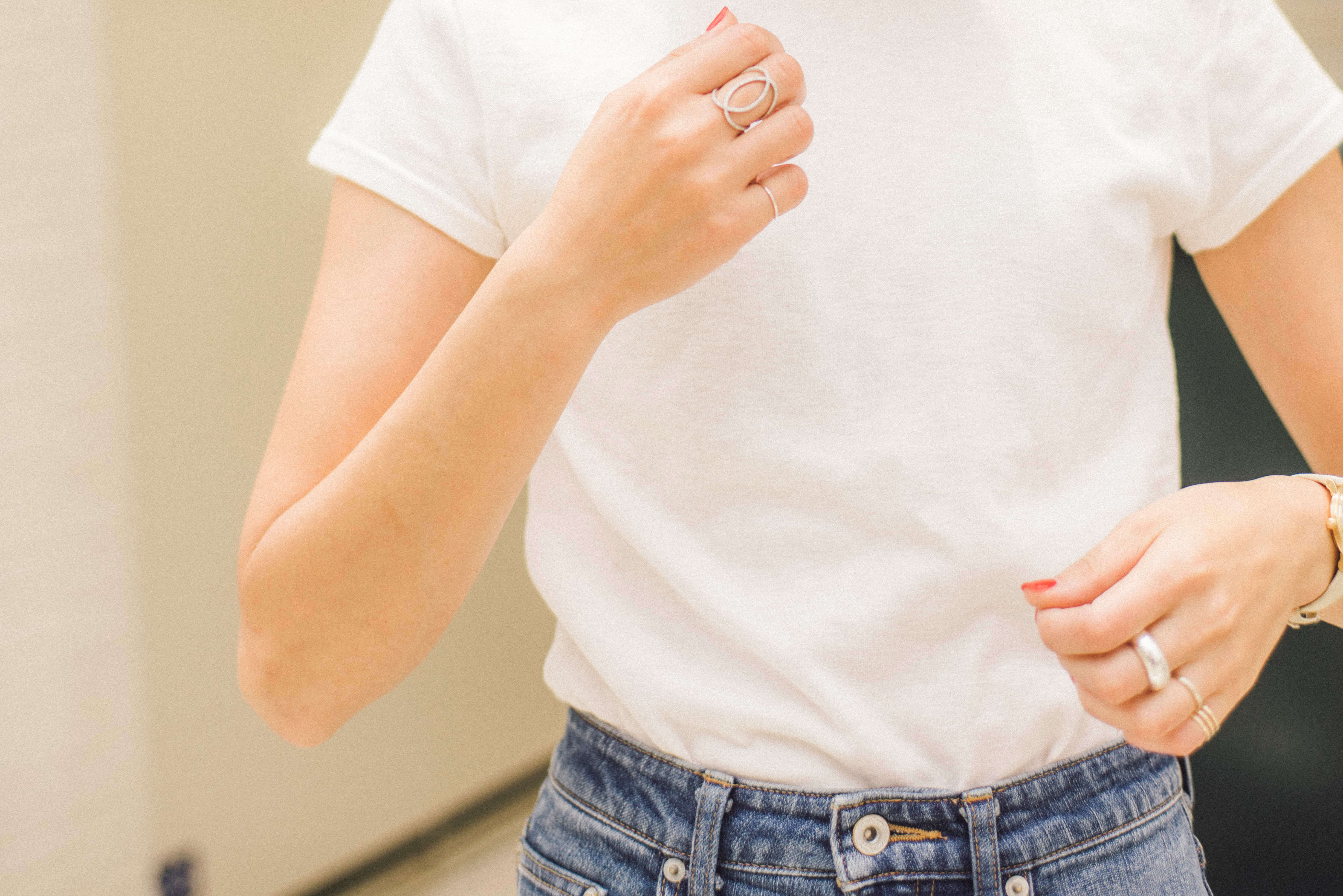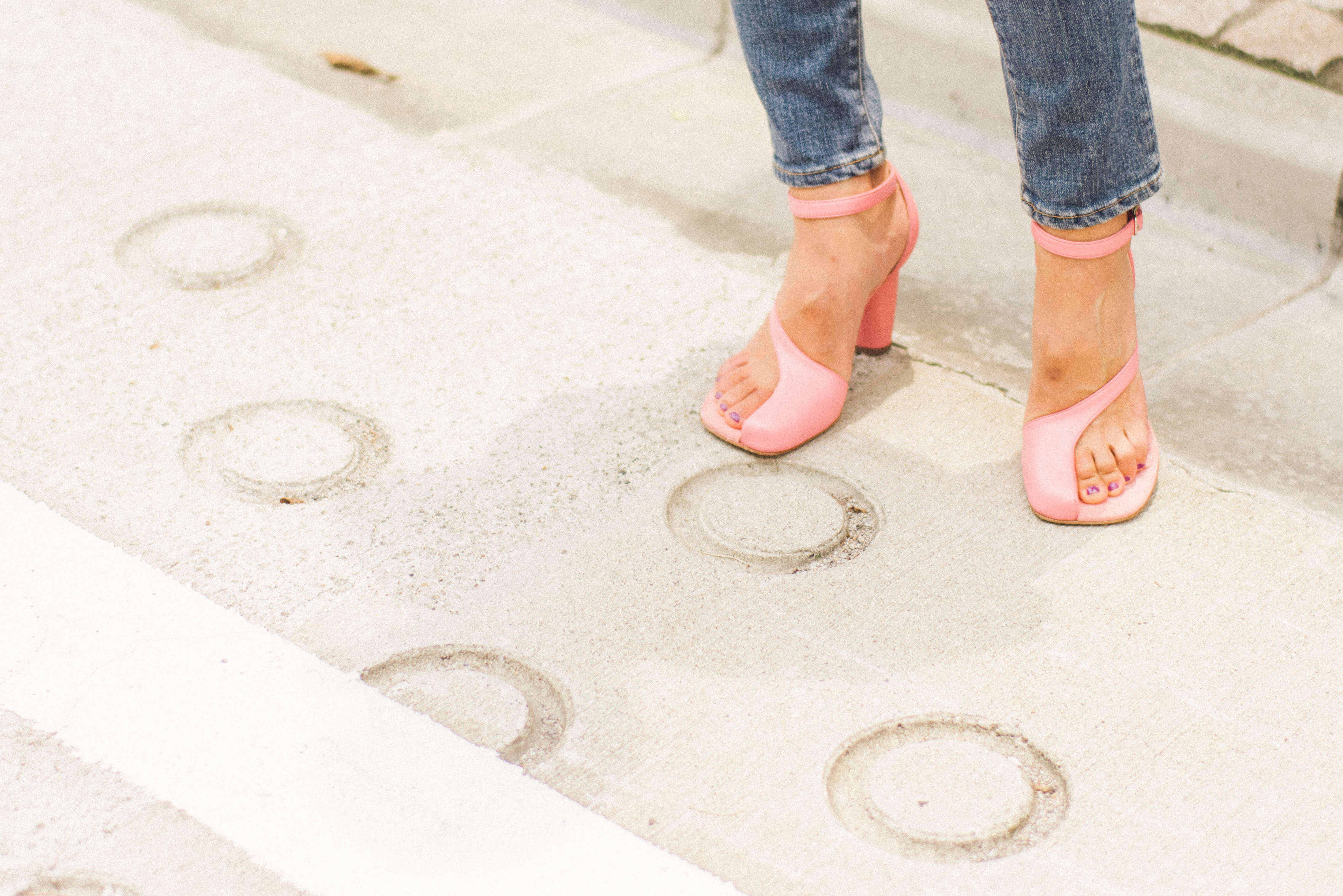 Which brand's white T-shirt are you wearing?

It's 〈JILLSTUART〉. I like it because short and tight silhouette sleeve is cute.

Is there any certain brand that you buy white T-shirt?

No, there's no "Absolutely this brand!". I buy fast fashion brands like 〈UNIQLO〉, 〈H&M〉 and 〈ZARA〉, and also high quality cut-and-sewn brand like 〈JAMES PERSE〉. I wouldn't buy extra design added ones for example, the brand tag on front. Only really simple ones.

What points are you focusing on when choosing?

Everything including the fabric, shape and color.

How many do you have?

It's like a uniform to me who is living with white T-shirt almost every day since the assistant period so a lot like I can't count numbers. I have plenty of fabrics ranging from thin to thick, from ultra-tight to ultra-big size anyway. But basically, I throw it away after wearing a whole summer because white goes to yellow quickly. Or I will use it as a duster. Lol

Please tell us your 'my rule' when dressing white T-shirt.

Because high waist taste is must to me, I usually tuck it in to bottoms. Everything will be tucked in no matter the sizes or shapes. Lol I basically only wear tight denim like today. I'm conscious of being "ordinary" always since I find difficult to dress too much as I get older.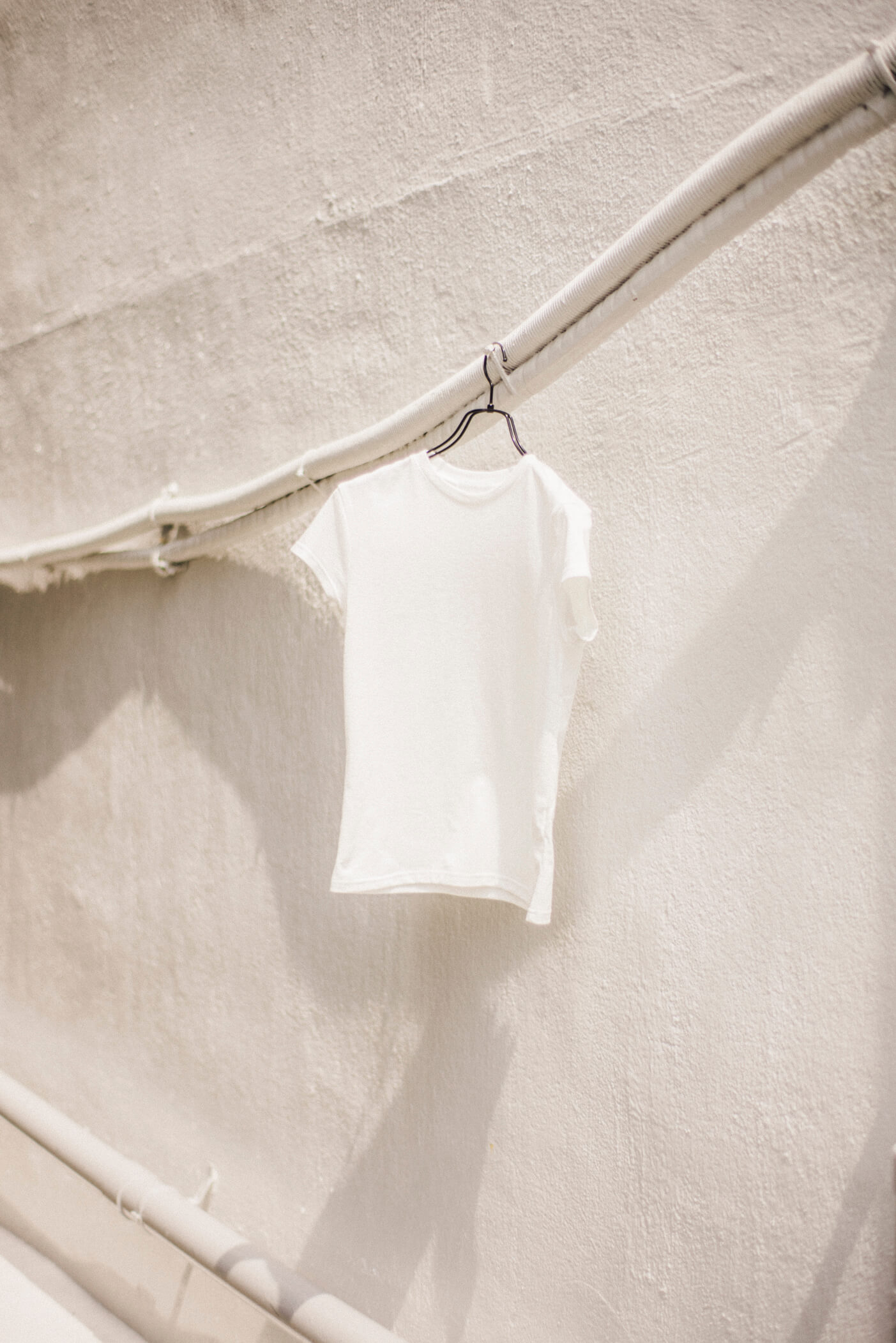 Chiharu Dodo/Stylist
Living in Britain in 2002 and since 2004, she started stylist activities based on Tokyo. She does mainly magazines and advertisements, and now she is also active as an editor in chief of "Union Magazine" and brand director.

http://dodochiharu.com/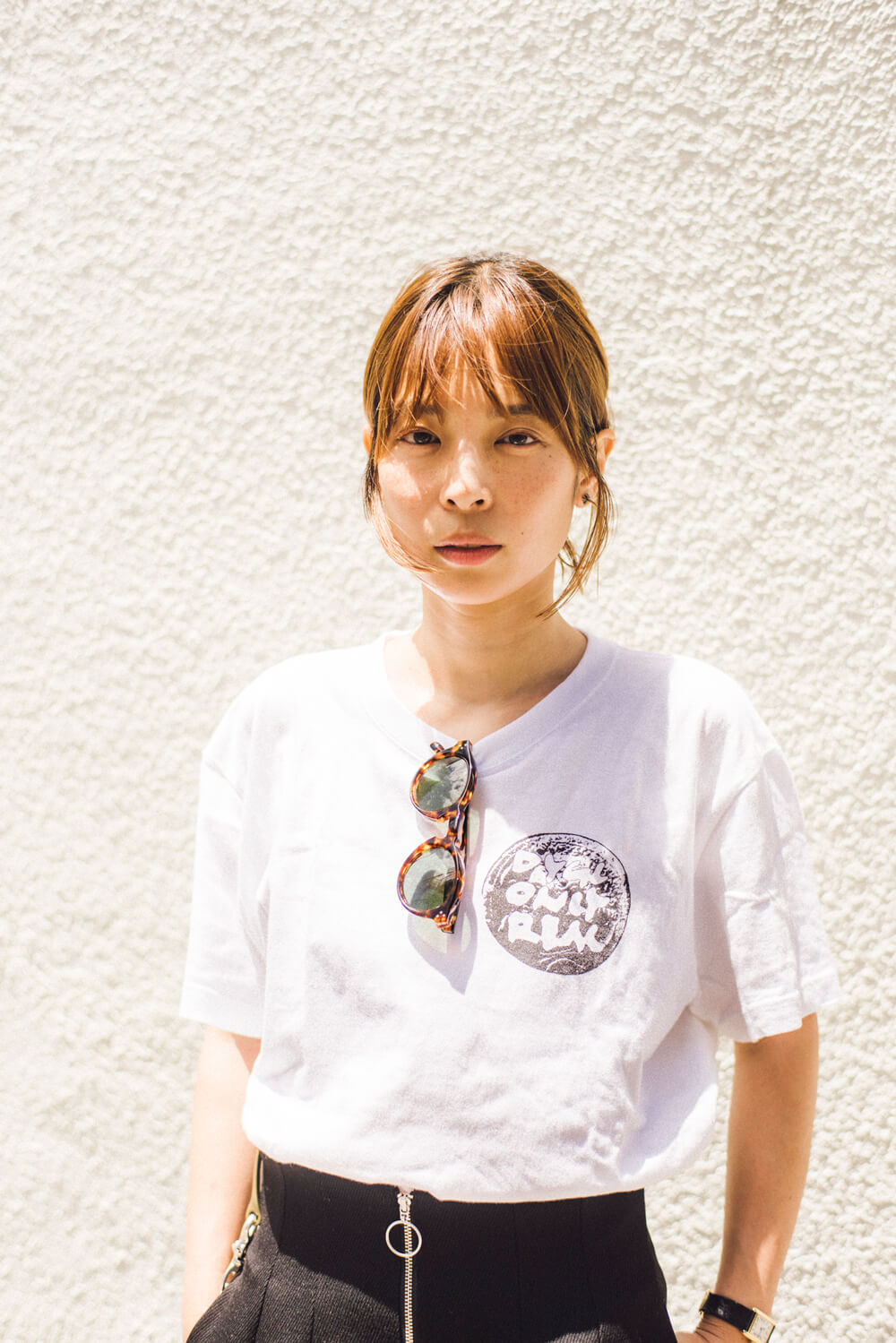 Maiko Akimoto
(Designer)
"My best white T-shirt is boys size of〈Hanes〉."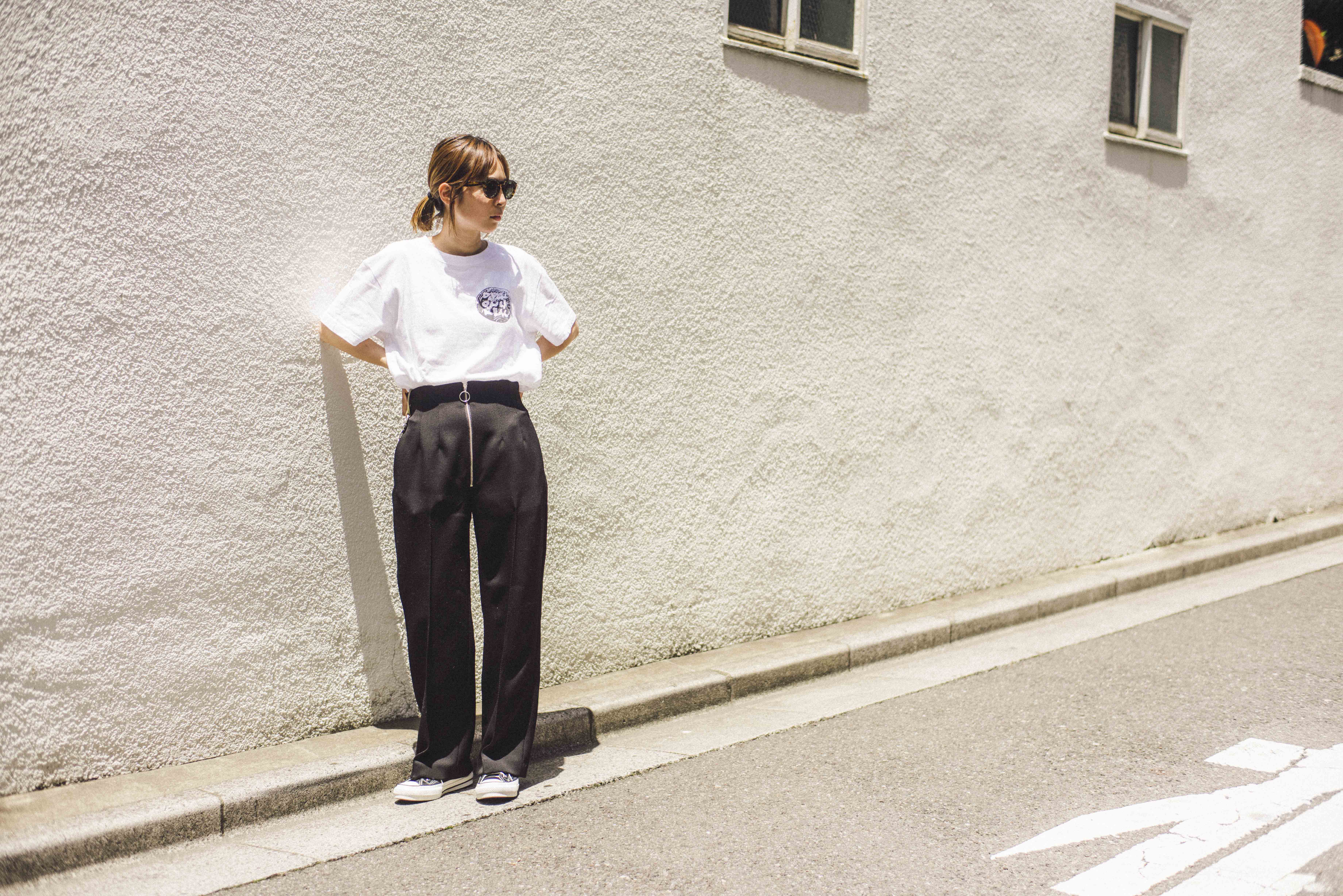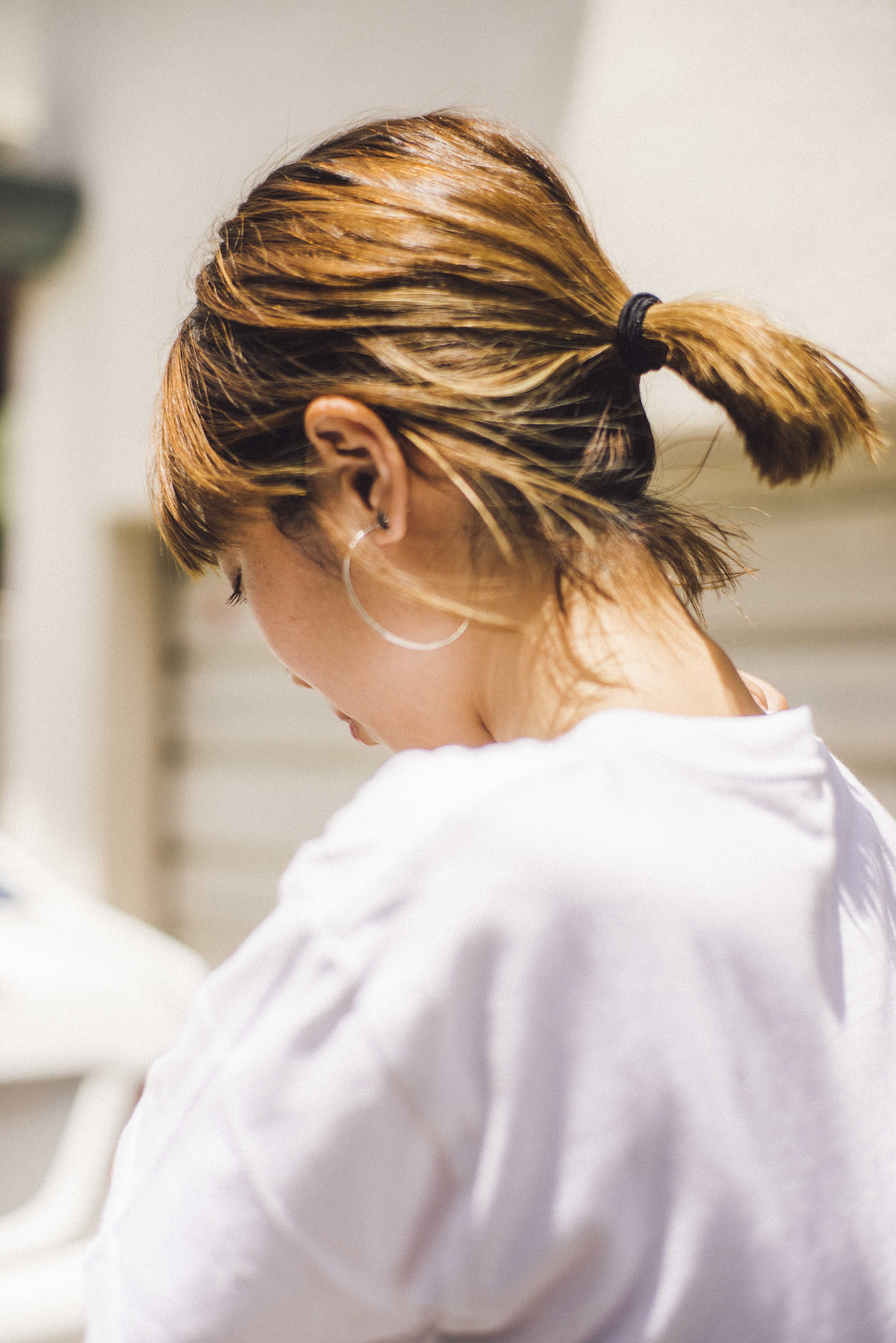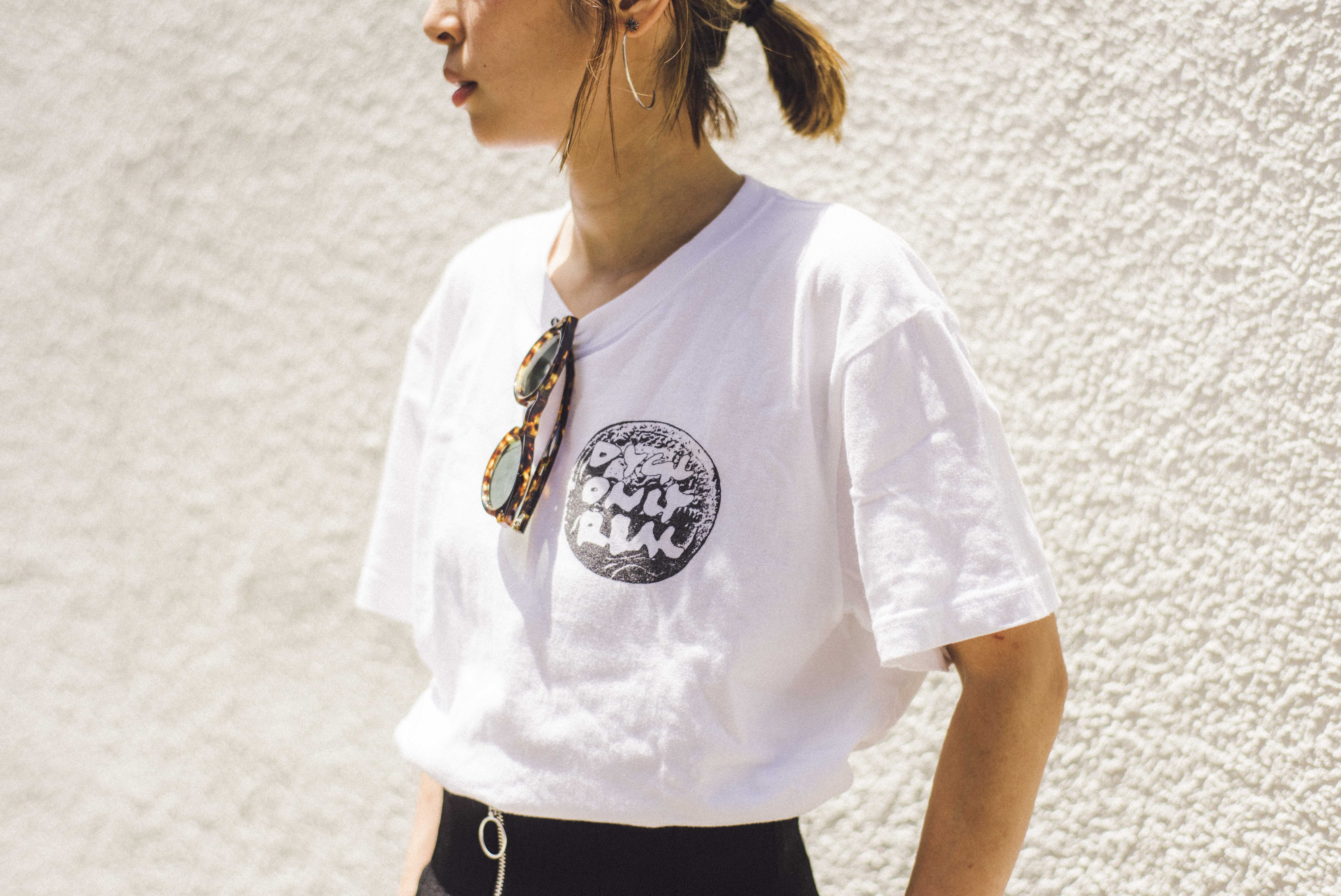 Perhaps you are wearing a DYGLT-shirt?

That's right. I bought it at the gig venue last winter. DYGL is cool, not to mention music, but also their attitude towards the goods is Americanized. This is one of my favorite pieces.

From your background, I suppose that you have considerable attention even to a T-shirt. Please tell us if there's a standard for purchasing.

The texture to skin for a first. I like dry texture and feature made from American cotton like 〈Hanes〉. The body is also important. it would be tough if fabric is too thick, but woven with a silky thin thread T-shirt become too feminine, so I'm trying to buy something just right to me.

What is your standard white T-shirt?

My best T-shirt is boys size of〈Hanes〉. I like its width that the shoulder falls a little and the just length that goes well when I tuck it in. I found out that it fitted best to my body as a result of various trying. I usually buy it at used clothing stores like "Santa Monica".

Boys size is surprising option.

Because I was originally a pattern maker, I measured the size of my favorite T - shirt before and it was about 42 ~ 45 cm shoulder width, 45 cm body width and 60 cm length. The Boys size of 〈Hanes〉 is just that measurement.

Please tell us how to dress everyday.

As I usually work in the atelier, I often combine blue denim to prior mobility. However, because I'm small height, I might be like Eisaku Yoshida of old days Lol so, I would wear black or navy slacks trousers outside of my workplace. I feel that femininity seems to be more look well by contrasting a rough body of 〈Hanes〉 with a beautiful bottom.

What is white T-shirt for you?

An item that I'd love to wear everyday regardless of location and purpose. Personally, T-shirts are not something to wear with caution, even if they get dirty or stain, I'd rather wear them with a feeling like "It doesn't matter". So usually I don't buy more than 5,000 yen T-shirt.
Maiko Akimoto/Designer of PHEENY
Graduated Bunka Fashion College. Worked as a pattern maker at N. HOLLYWOOD. She started her own label〈PHEENY〉from 2012 S/S. Pop-up shop of〈PHEENY〉will be held at "H BEAUTY&YOUTHhttp://dodochiharu.com/" from 4th (Mon) to 17th (Sun) September.

http://www.pheeny.com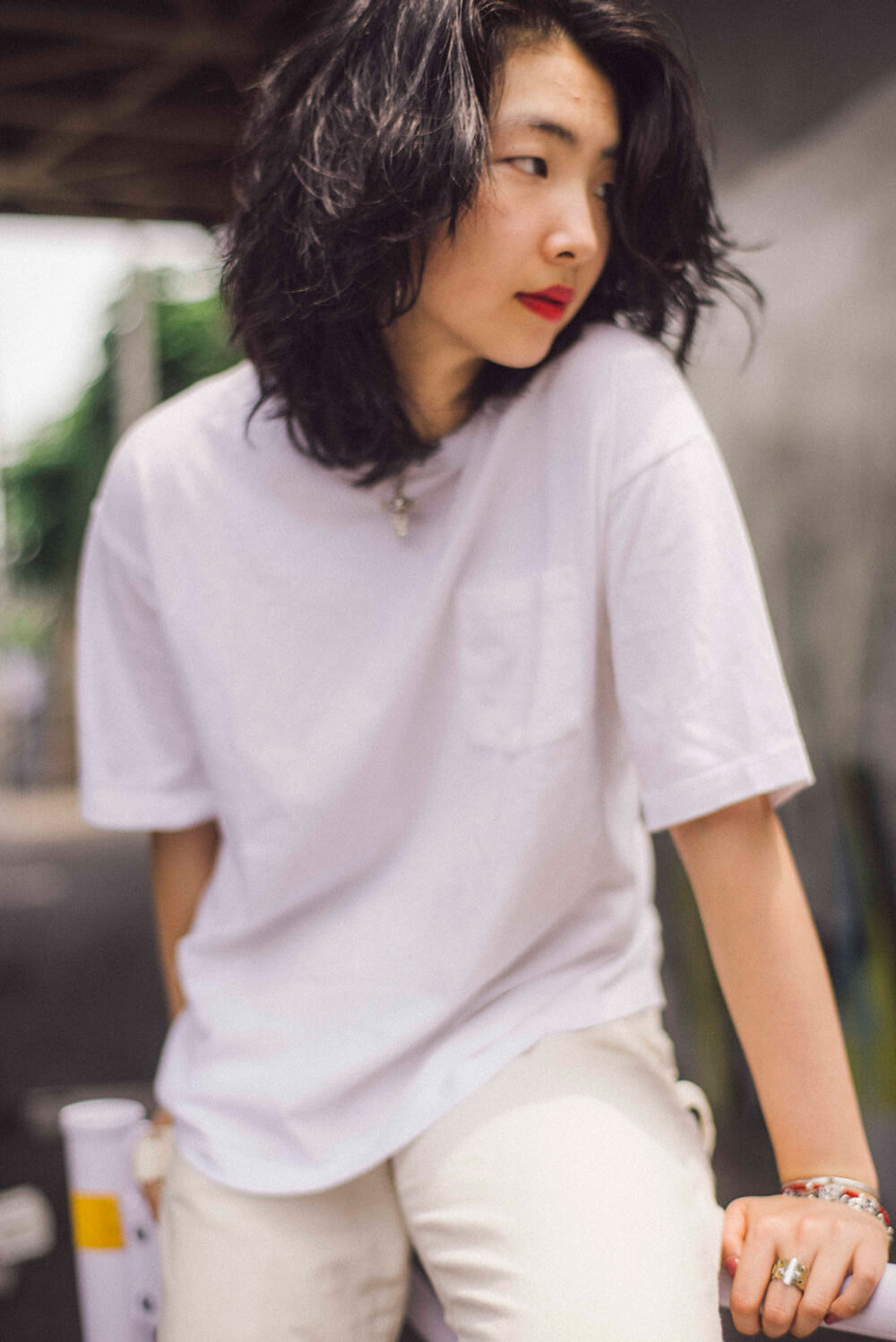 Yuri Nagamine
(Model)
"An option for balancing outfit"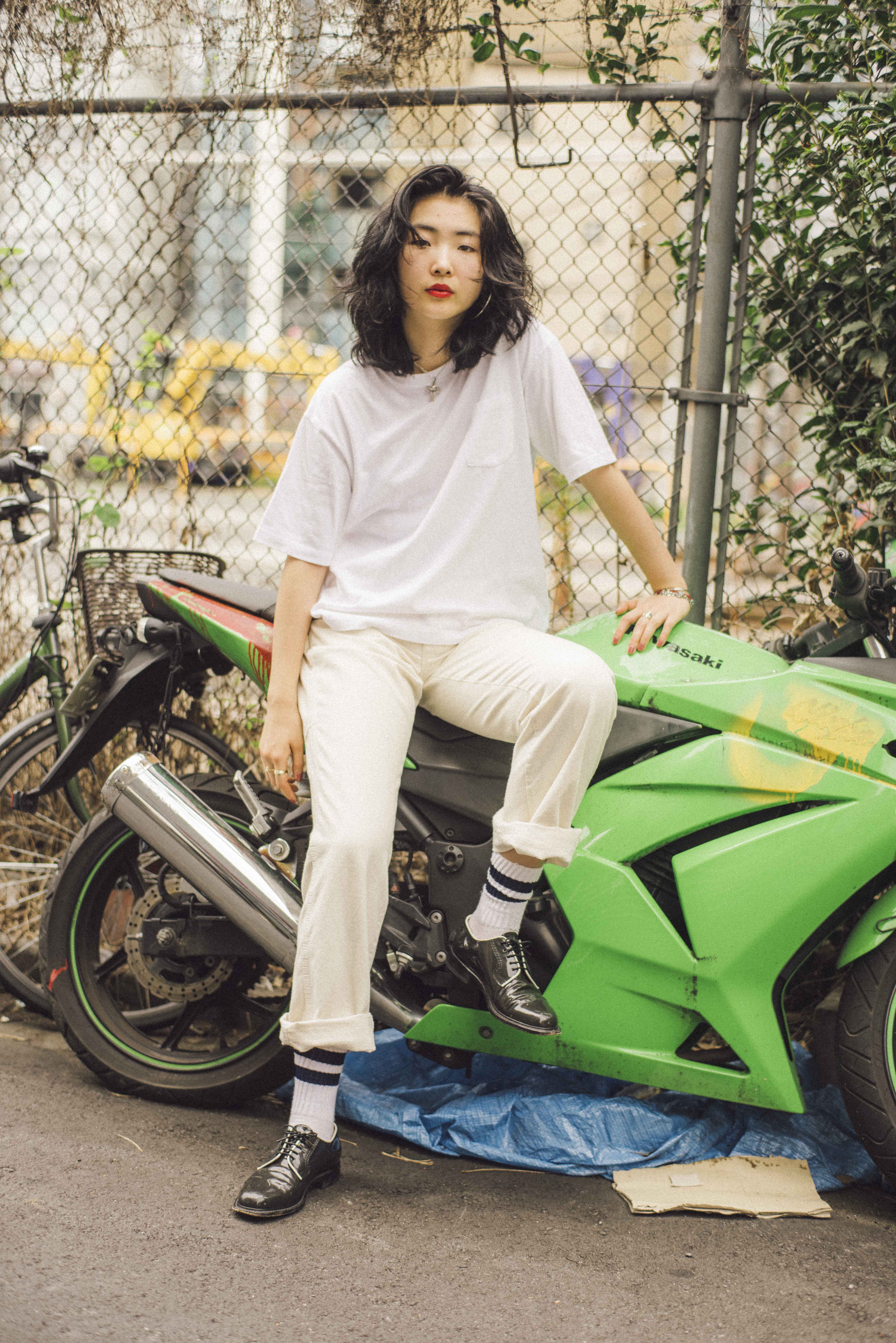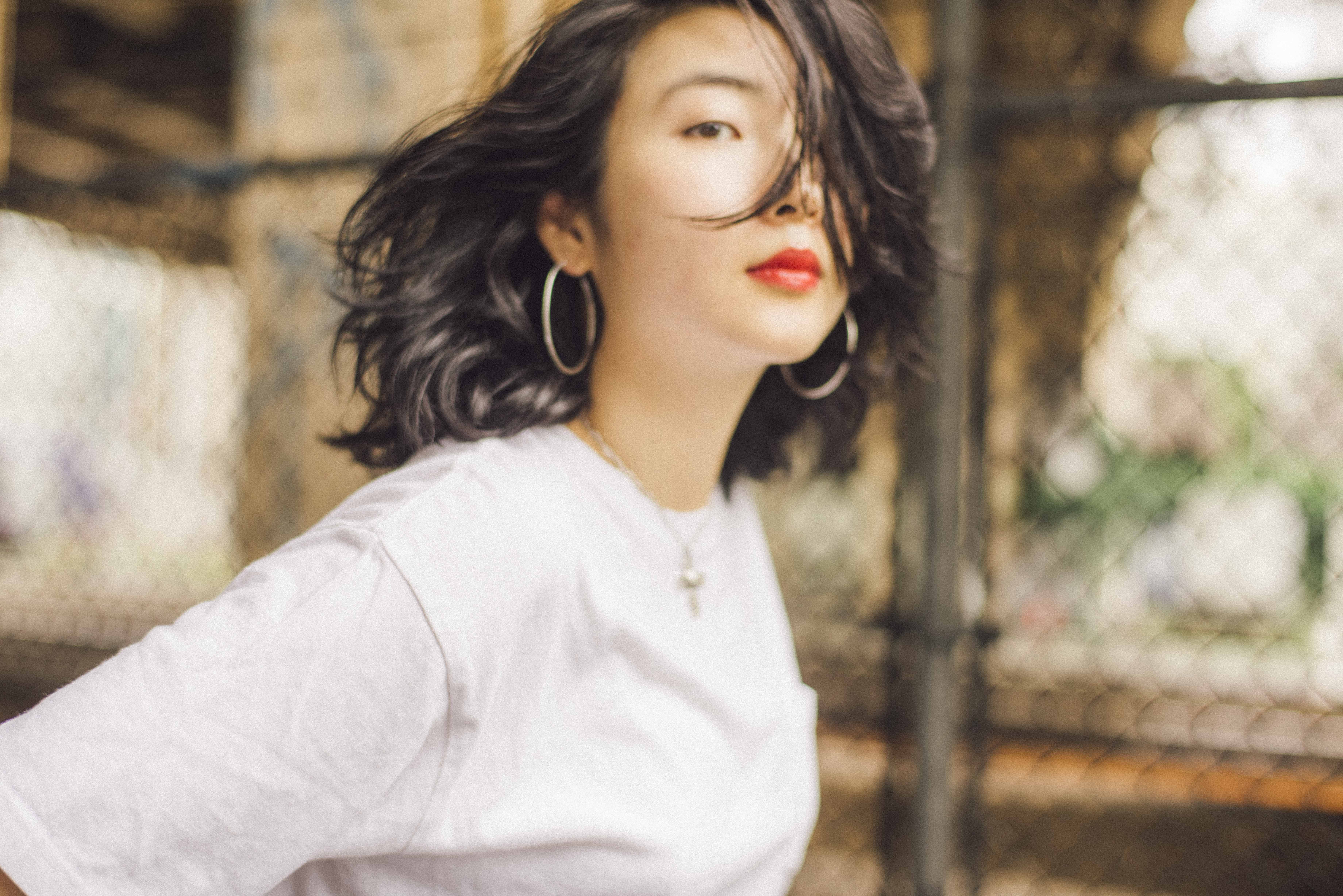 Which brand's white T-shirt are you wearing now?

This is 〈Healthknit〉. I like "HOLLYWOOD RANCH MARKET" and "BLUE BLUE" and it is pack T-shirt stocked at those shops. Cotton is a bit hard and my favorite.

What points are you focusing on when choosing?

Reasonable ones that I don't have to take care too much as I don't like necklace turns yellow. I replace to new white T-shirt every season. However, since I don't need same shape ones many, I buy a wide variety of shapes such as oversized and slim.

So, not a certain brand one?

I usually buy pack T-shirt, but also buy one with a one-point logo. I prefer small motif so heart mark T-shirt of 〈PLAY COMME des GARCONS〉 and 〈HOLLYWOOD RANCH MARKET〉 one with "H" mark sewn on sleeve, I buy.

Please tell us your 'my rule' when dressing white T-shirt.

I usually like to wear hats and sunglasses as well as putting pierce and necklaces so I tend to choose white T-shirt for balancing outfit. It's like wearing white T-shirt to dress those accessories better rather than simple white T as the main.

I see, it's like a foil. What is white T-shirt for you?

It's like a reflector board for me. Lol Nothing more, nothing less. It will brighten my face no matter the sizing. I need it because I'm already non make up. Lol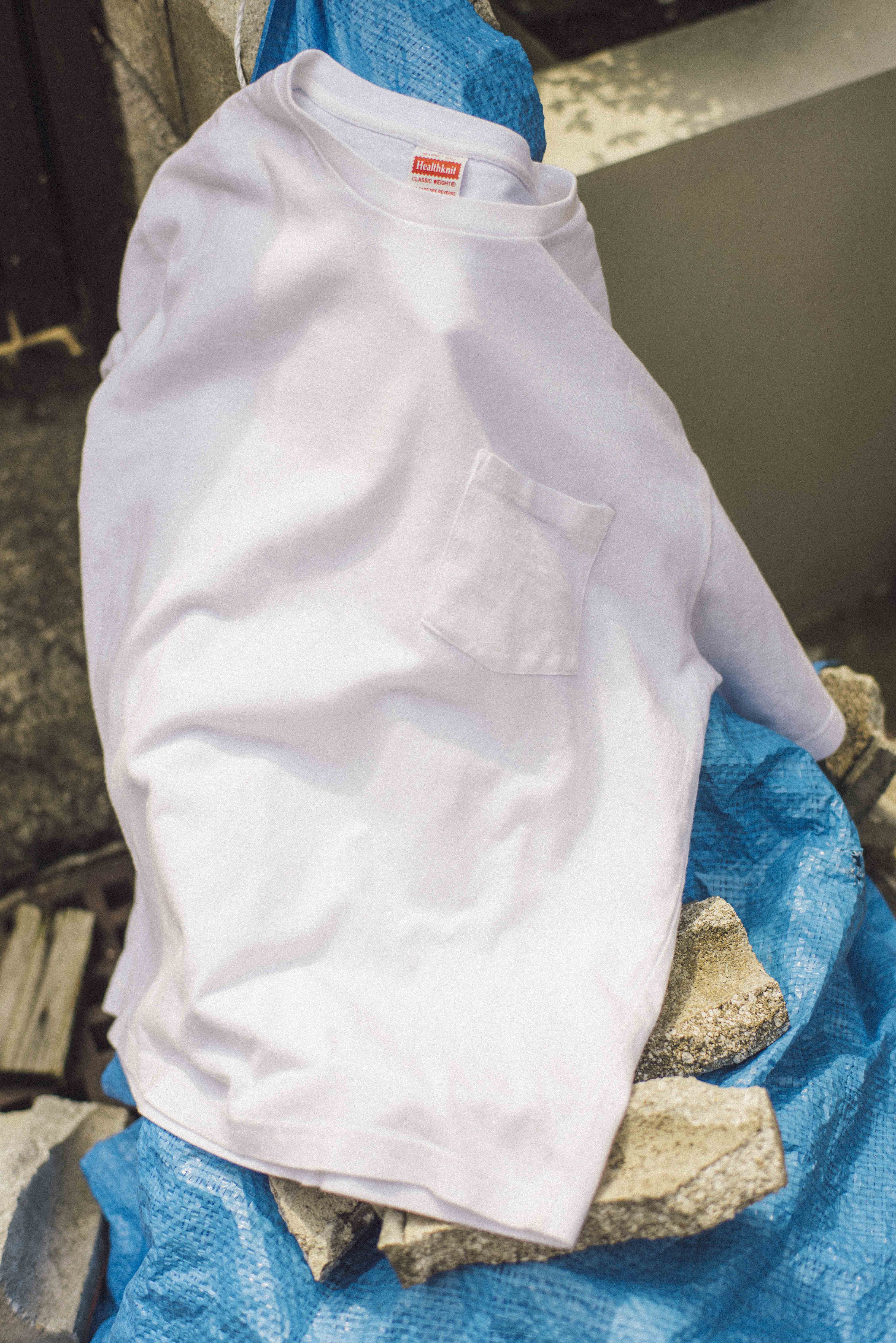 Yuri Nagamine/Model
She made Paris Fashion Week debut by〈FACETASM〉show in January 2017. She is active in various magazines and shows, both domestic and foreign.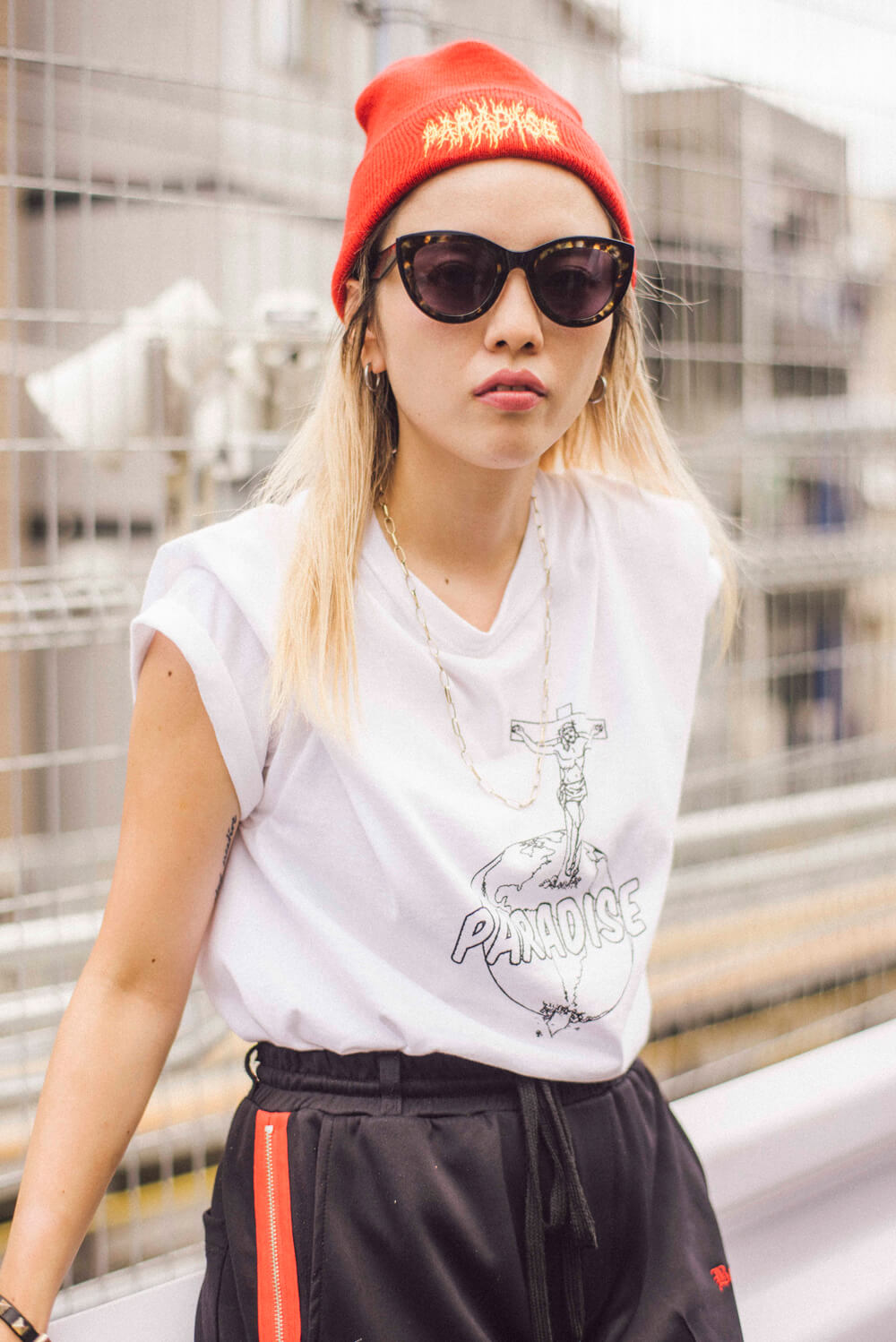 Kaori Asawa
(SHIMA Daikanyama Top Stylist)
"Bleach white immediately as it gets dirty. Lol"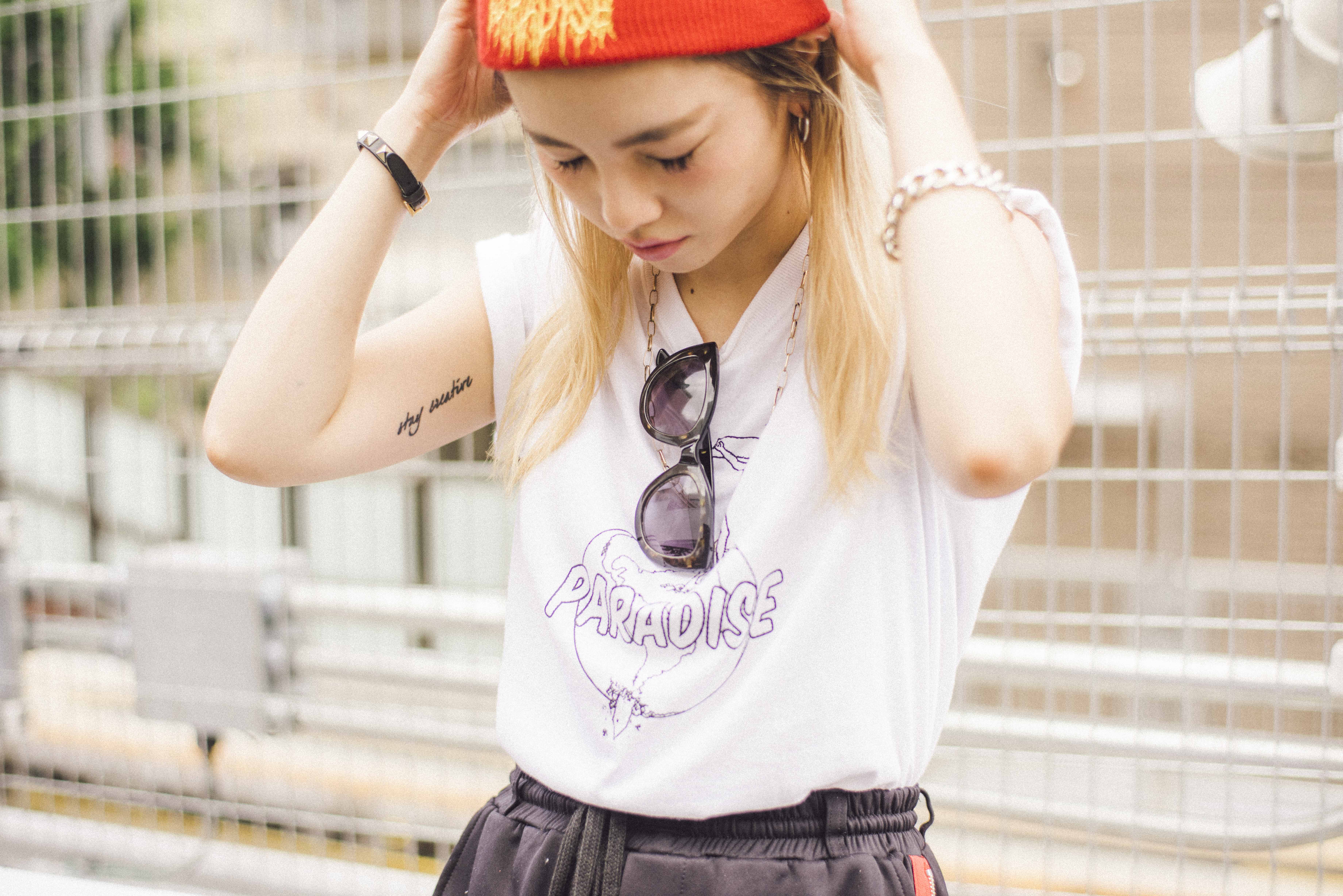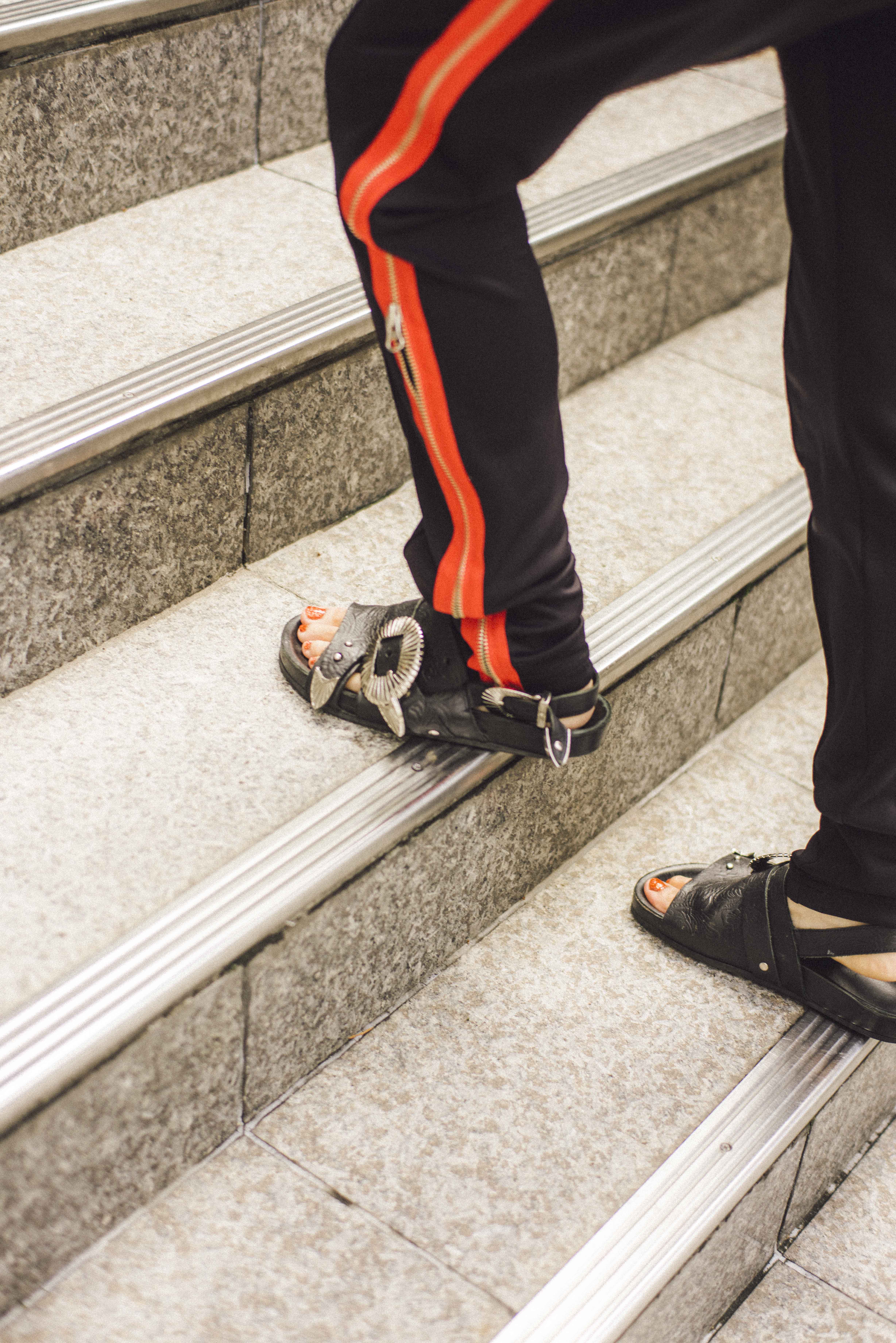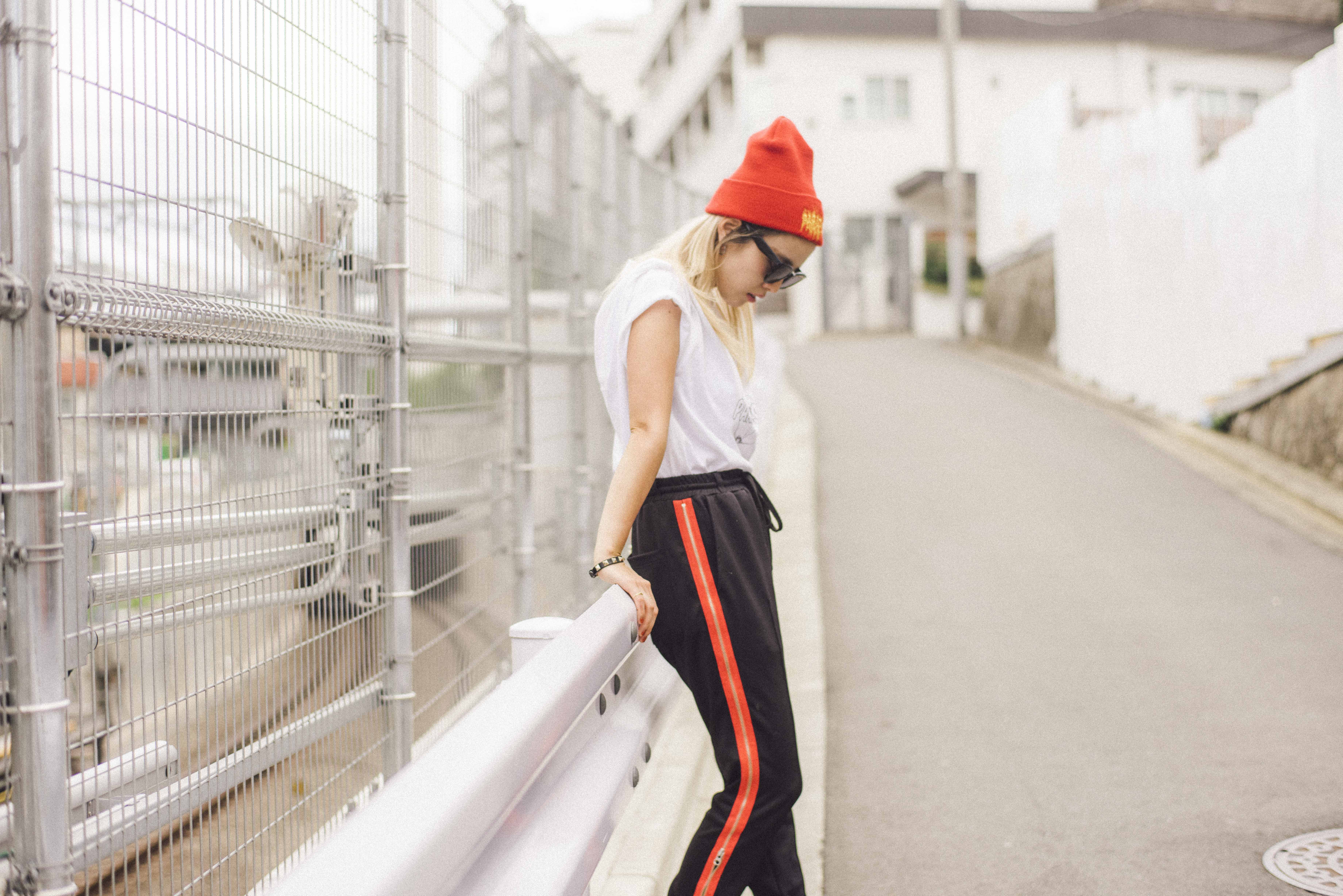 Which brand's white T-shirt are you wearing?

It's a skate team called PARADICE one that I purchased at "Supreme" Daikanyama. A little while ago I was in charge of hair and makeup of Millennial Stars who came to Japan for 〈Samantha Thavasa〉 campaign, and Sarah Schneider, one of members, wearing 〈SUPREME〉 was so cute. I found this T-shirt when I went to the store after a while.

What's your favorite point?

This artwork. Recently I'm into street taste items.

Is there a standard white T-shirt for you?

I've been wearingr 〈Maison Margiela〉 T-shirt for a couple of years now. Surprisingly the fabric is thick and tough, so it doesn't get tired of washing how many times.

However, isn't hairdresser work kind of inappropriate of wearing white T-shirt in terms it gets dirty quickly?

Conversely, if I were wearing color T-shirts, it will be bleached and become a Tie - Dai Lol. White T-shirt is able to bleach white even if it gets dirty, so it is actually the easiest. I have about 30 white T-shirts in total, and repeatedly bleaching to white when it got dirty. Lol

How do you usually dress regardless of situation?

I am not very tall, so I take care of the total balance. Try not to be uncool by wearing tight pants for oversized white T-shirts and wide pants for tight ones.

What is white T-shirt for you?

I can't live without it forever. Even if I buy designed a bit expensive clothing, I end up getting bored after one season and give it to friends, but the white T-shirts, worn for many times remains in my hand somehow. Though I am thinking of trying to wear a shirt for being adult, I don't think I'm ready yet for a while as I love white T-shirt too much. Lol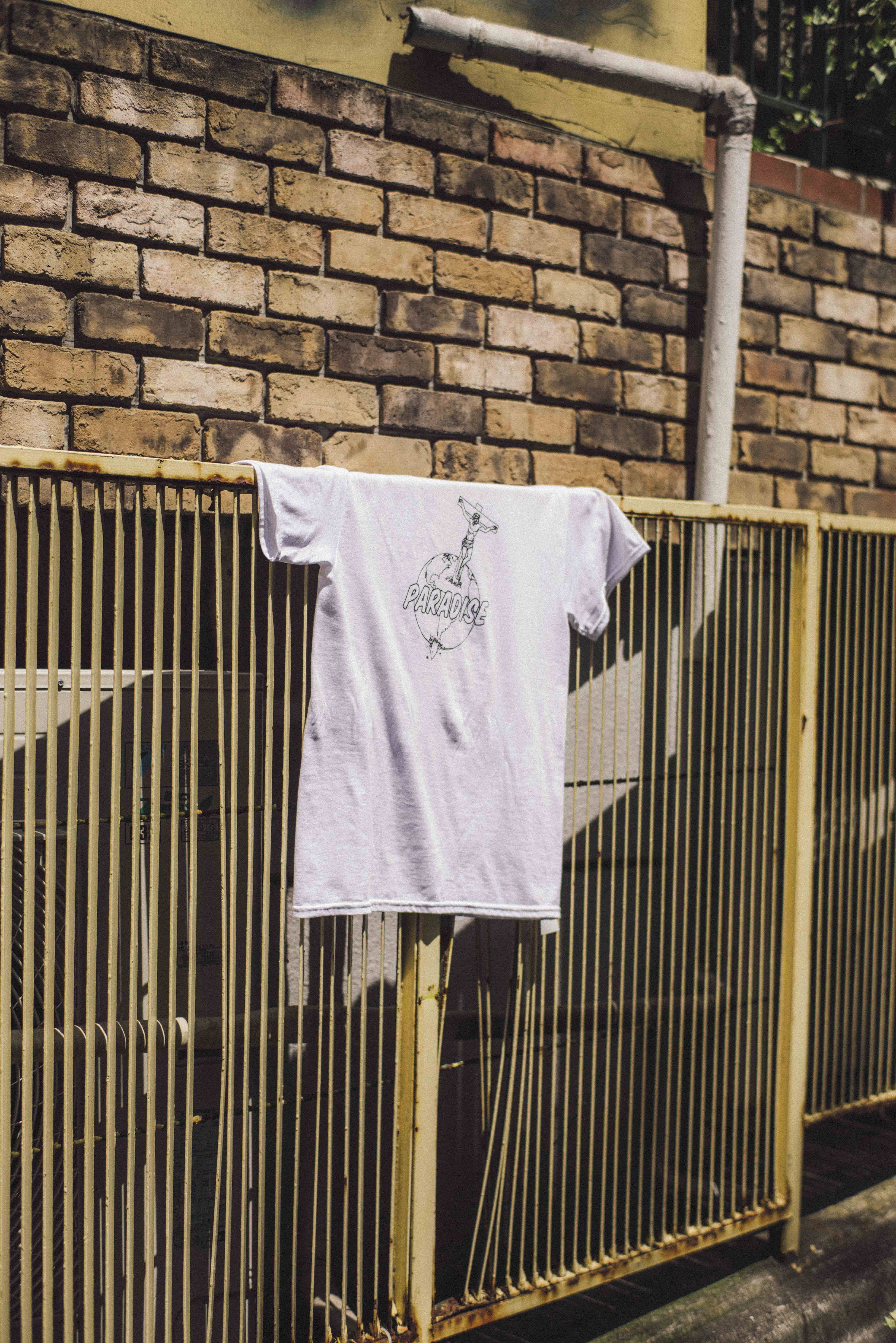 Kaori Asawa/SHIMA stylist
After graduated from Nichibi, she started working at "SHIMA" from 2008. Currently she is working at "SHIMA Daikanyama" as a top stylist, and also active in shooting of magazines and hair shows.