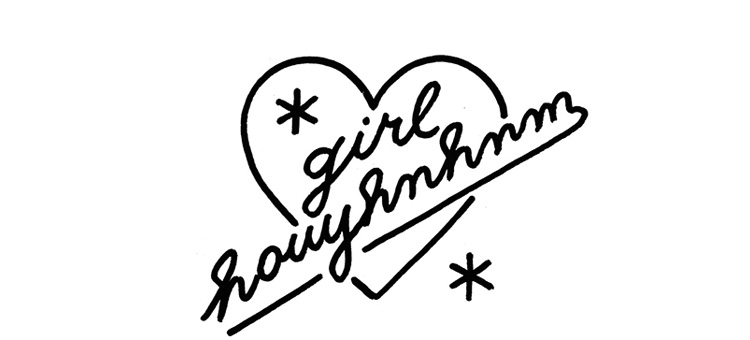 Girls Just Want To Have Fun!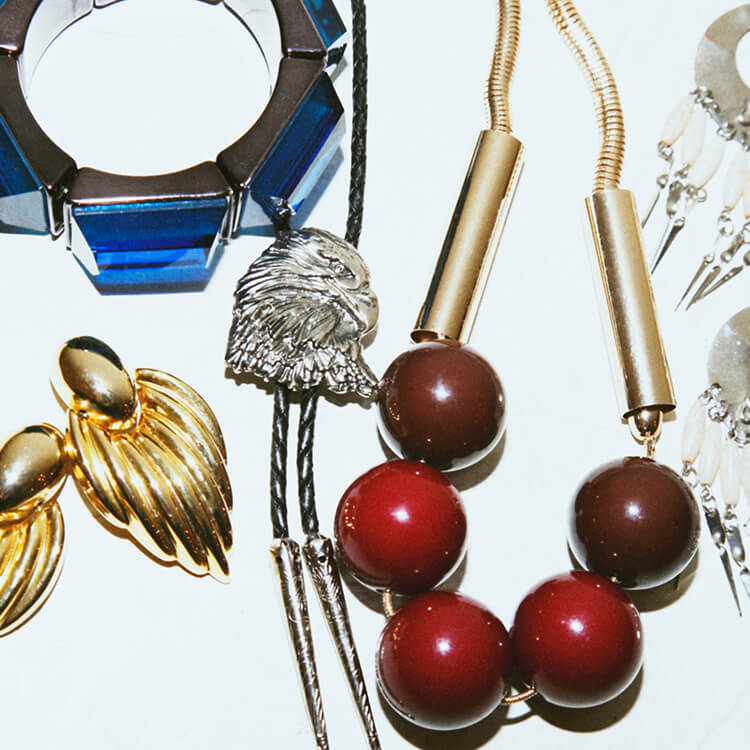 Trend report with vintages
Spot Spring Trend Through Vintages
Photo_ Kazumasa Takeuchi(STUH)
One and only rather than the finest one – this Japanese expression is well said that
everyone wants a unique item which is exclusive to them.
Young girls wish to follow the trend at any season,
but they also crave the one and only, special clothing.
So, how do we solve the problem? –The answer is a vintage shop.
We will introduce six exclusive vintage stores which will indeed boost your spring outfits.
LABORATORY/BERBERJIN® × ARTIST T-SHIRTS

Exclusive artist t-shirts found at LABORATORY/BERBERJIN®.

Recently, a lot of celebrities such as Rihanna, Kanye West, and Justin Bieber wore rock t-shirts which have once again become a global epidemic among fashionistas. CHAPEL NYC, the vintage t-shirts dealer, was thriving since those well-known stars started to heavily rely on it. Additionally, many brands and stores produced t-shirts which are inspired from punk rock this spring. For instance, even Chanel released its old-fashioned logo t-shirts. LABORATORY/BERBERJIN®, one of the most beloved vintage store in Tokyo, has analyzed "marketable" artist t-shirts and its shift in trends over the past few years.
Hello. The store seems overwhelmed by a lot of the band t-shirts; how many of them are there?

Honestly, it is uncountable haha, but there are probably about several thousand units.

Do you think there is a new movement on artist t-shirts?

Customers' preference used to be categorized either in rock, punk, or metal band t-shirts; however, hip-hop artists are the recent tendency. Especially, the items are thriving among the early twenties.

Which artist, in specific, is popular among the GIRL HOUYHNHNM generation?

The girls are more attentive on a design itself rather than a specific artist. Yet, the number of customers seeking on hip-hop t-shirts is undoubtedly raising.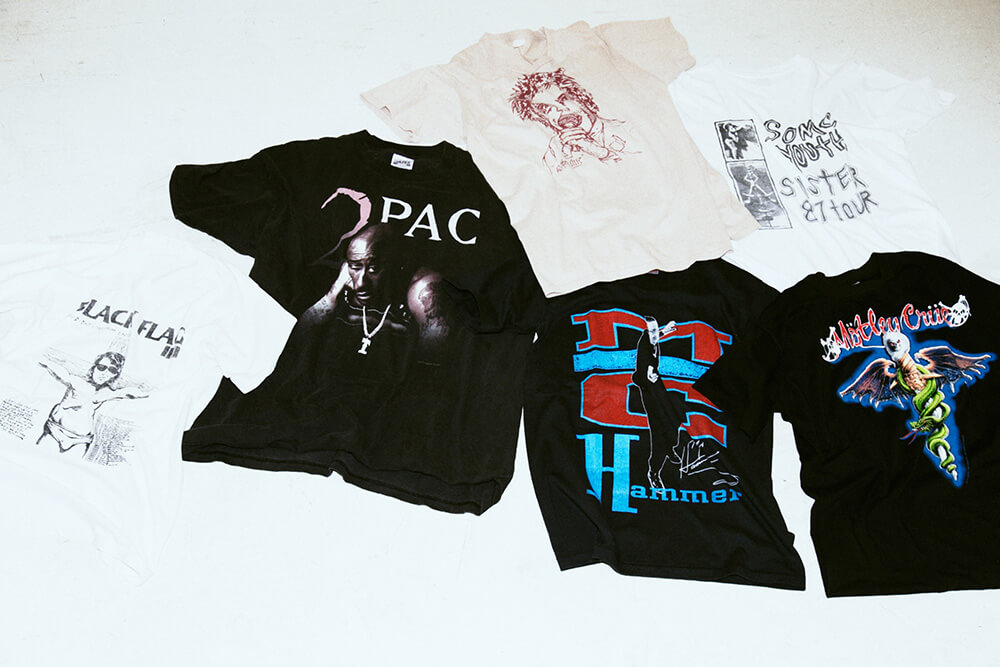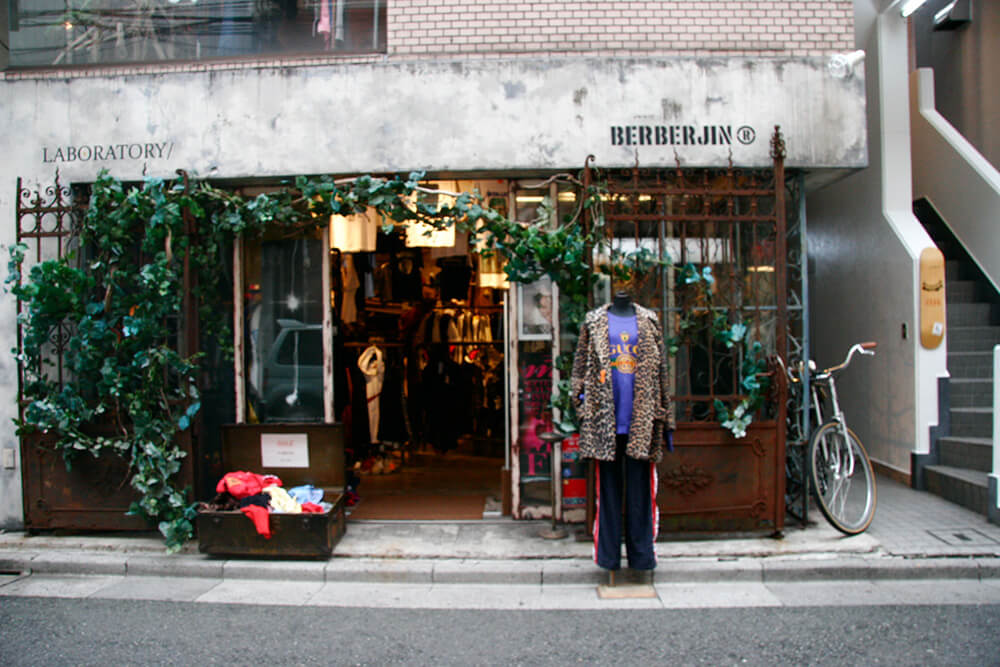 LABORATORY/BERBERJIN®
1st Floor, 3-21-22 Jingu-mae, Shibuya, Tokyo
03-5414-3190
11:00〜20:00
DEPT TOKYO × ORIENTAL CLOTHES

Exclusive oriental items found at DEPT TOKYO.

DEPT, the vintage select shop, is full of exclusive items selected by the owner eri with her special aesthetic insight. The store where her parents used to manage a legendary vintage store was renovated and now turned into the another famed store in Tokyo within two years. The one and only, indispensable theme in DEPT is "oriental". The 2017 spring/summer collections by luxury boutiques including PRADA and GUCCI were remarkable where Chinese-style clothing was heavily portrayed. As a devotee of the oriental style from way back before the current trend, eri acquires an extraordinary sense of the "orient" depicted in her store.
When did the store initially start selling the oriental items?

It's when the store is originally opened. The owner, eri, is also a designer of the brand named "mother", and she often adopted oriental design in her brand, so the shop simultaneously and spontaneously selected Chinese-style clothing as our products.

Where does the store purchase items?

Either Europe or the U.S. Our boss, eri, checks and selects every single item by herself, and our customers appreciate it because they can buy items which are chosen through eri's accurate filter.

I heard that there is always a scramble for Chinese clothing.

Many of our customers are linked through Instagram, so we constantly receive a lot of inquiries when we upload an oriental item. Please visit the store regularly or follow our Instagram to be updated with the latest products.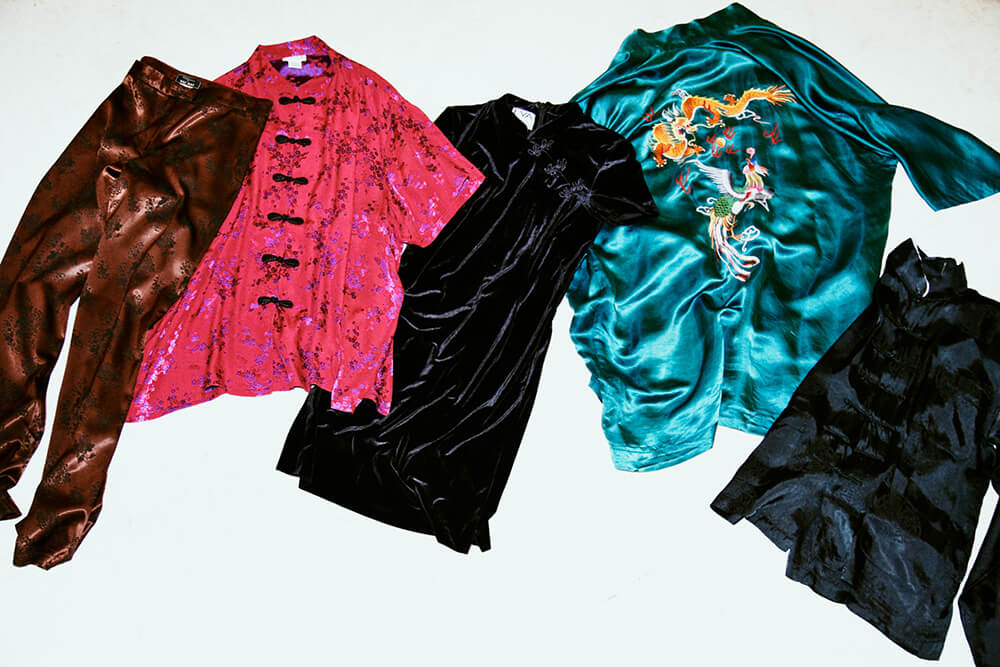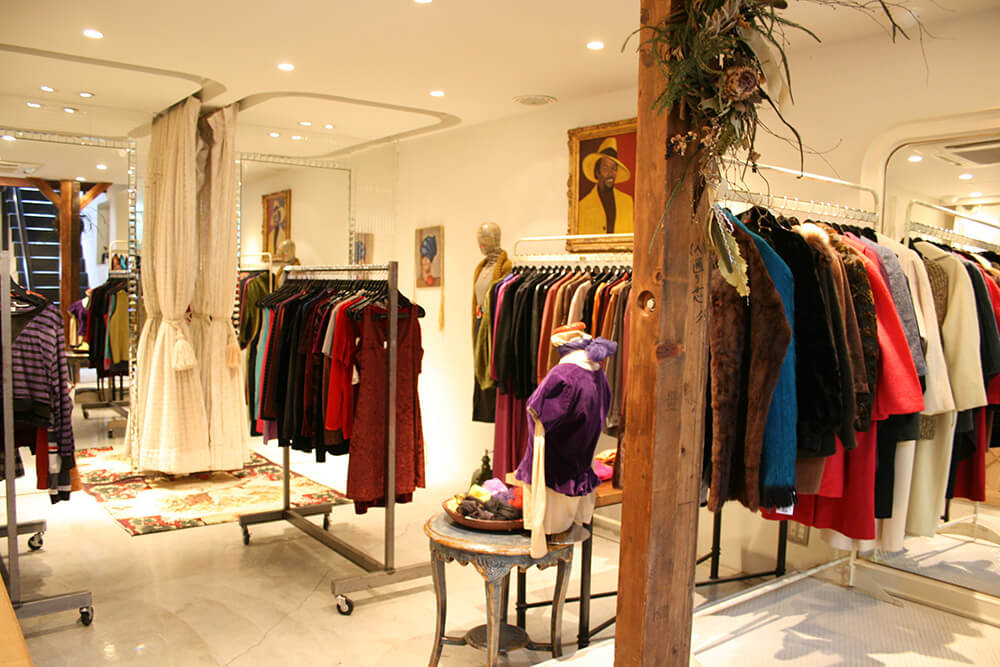 DEPT TOKYO
River Side Boutique 1st Floor, 1-13-12 Aobadai, Meguro, Tokyo
03-3780-4455
Irregular Day-Offs
12:00〜20:00
Shibuya"T" × 90S SPORTS

Exclusive 90S-sports goods found at Shibuya "T".

Nowadays, collection brands and sports/street brands are collaborating to lead the style. Definitely, we can't leave our eyes off the 90S sports items. A recent tendency displays that an item with a tiny logo is capturing a popularity rather than a big catchy logo on chest. Shibuya "T" is not ignorable if you are a devotee of 90S sports vintages. People used to wear their whole bodies covered by 90S sports items, yet, new comers appeared recently where they wear mixed sports and military styles this spring.
Tell me how to adopt both sports and military items in one outfit.

We hold many customers who are the other select shops' staffs, and they prefer wearing oversized tops with particular brands like POLO SPORTS or TOMMY HILFINGER with military bottoms which make the outfit very hot.

It's surprising that there are so many female customers in your store!

The current male-to-female ratio is about 6 to 4. In retrospect, this vintage store is established 9 years ago, and the store location is transferred to Shibuya 5 years ago. Back then, we didn't expect that there would be this amount of female customers hitting us today.

Which sports brand is popular nowadays?

The store's seventh floor specifically deals in RALPH LAUREN-related items, so POLO SPORTS is definitely prospering. Otherwise, European sports brands are trendy such as Umbro from the U.K. and Kappa from Italy.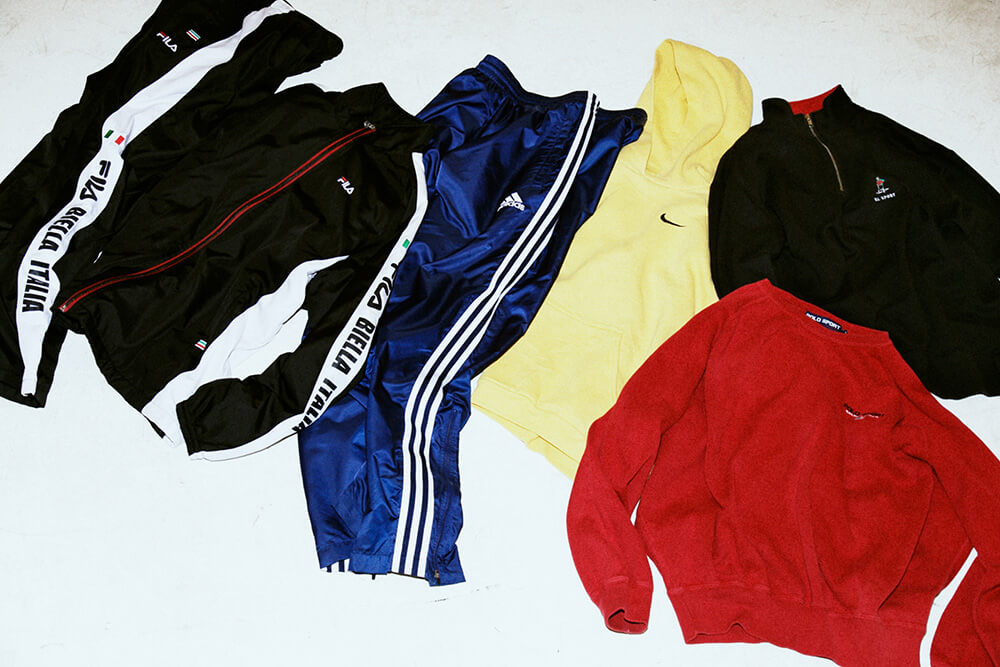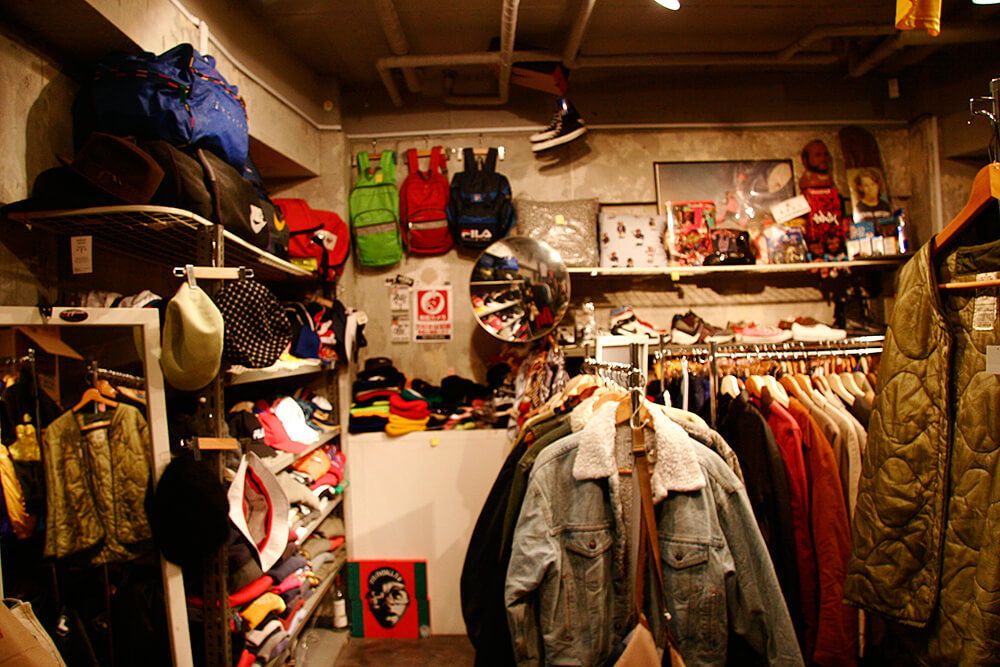 Shibuya"T"
Rm #602&702, 1-10-7 Jinnan, Shibuya, Tokyo
03-3464-5177
13:00〜20:30
SPROUT 2nd × OLD SKATE ITEMS

Exclusive skateboarder's items found at SRPOUT 2nd.

Not long ago at the AW collection in Paris, the collaboration of Supreme and LOUIS VUITTON seized everyone's heart away from the other shows. The combination of the king of luxury and the skate brand was undeniably a historical moment. Meanwhile, in order to track this trend, we definitely need to acquire skater's vintage clothing in which street fashionistas used to wear in 90S. SPROUT 2nd, a well-known store for vintage skate items, is already surged by a lot of female customers.
Why did the store initially begin dealing in skate brands?

The store is originally opened 15 years ago right after the last century shuttered, and our boss and manager used to be active skaters at that period. Hence, they dealt in 90S skate vintages since then even when those items used to be relatively valueless at the time.

Which brands are popular?

Probably, ZORLAC, SKULL SKATES, and Powell Peralta. In addition, SANTA CRUZ, a brand well-known for its screaming hand logo, is also popular. Oversized clothing is currently boomed among girls, and I do recommend them to pick a favorite brand up, dress it well, and follow its trend continuously.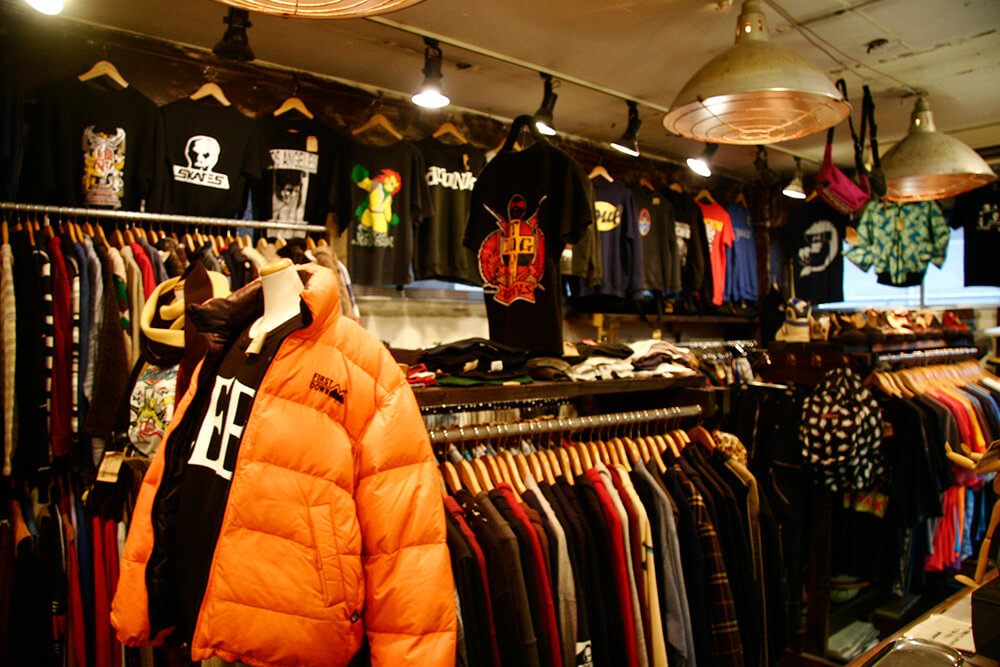 SPROUT 2nd
2nd Floor, 3-21-22 Jingu-mae, Shibuya, Tokyo
03-5474-4301
11:00〜20:00
OTOE × DECORATIVE ACCESSORY

Exclusive decorative accessories found at OTOE.

At a recent commercial exhibition of a prominent select shop, what grasped audiences' hearts was big-sized accessories. For instance, the huge reversed-U-shaped earrings at Proenza Schouler's collection was very conspicuous, and a new trend on accessories might be "bigger is better and decorative is more better" this spring. Moreover, People rumor that African style will boom this summer, so its huge-accessory movement might sustain for a while. Otoe, a vintage store, acquires diverse accessories which seem to come from various nations. This museum-like store has borderless accessories which can definitely be a great figure in this spring's squad.
What kind of items does the store going to purchase this spring?

We plan to handle bijou accessories and some spherical necklaces just like the one in the picture below. We are also assembling tribal accessories as well.

Where does the shop purchase those products?

Mainly in the U.S. We collect both old and new items in which we are very flexible with manufactured dates.

I'm thrilled that your store sell items at very reasonable prices.

Most of big costume jewelries are within $100. It won't hurt your wallet, please feel free to visit us!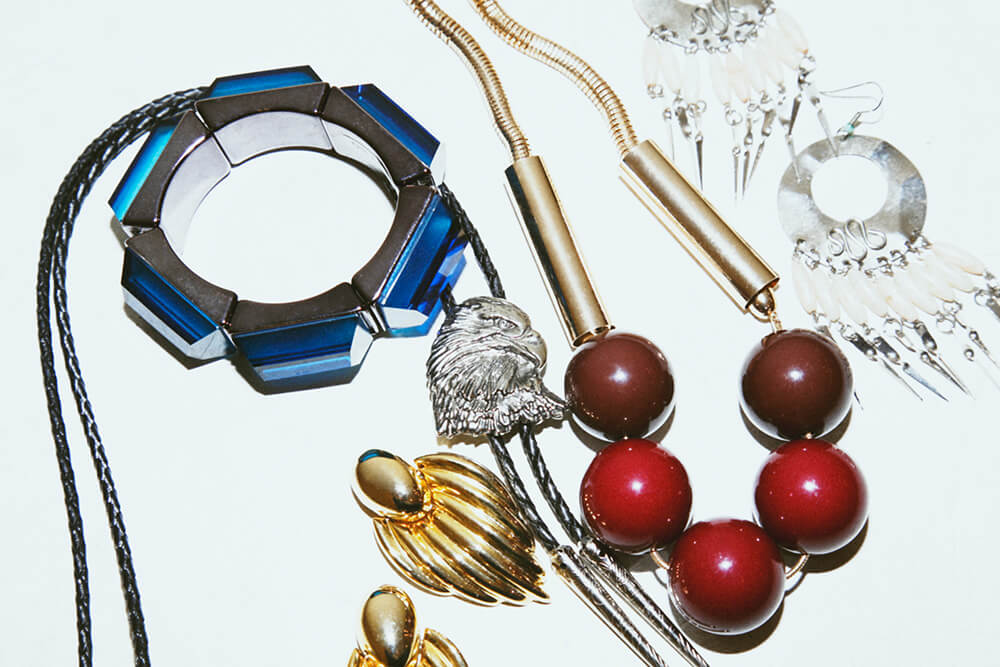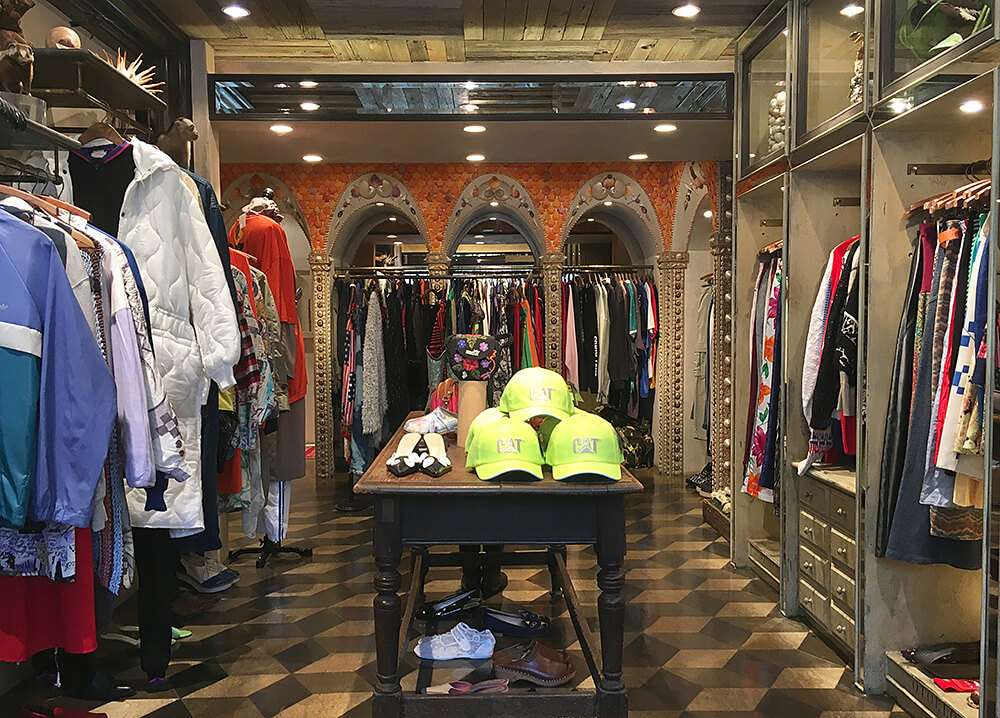 OTOE
2nd Floor, 2-31-9 Jingu-mae, Shibuya, Tokyo
03-3405-0355
12:00〜20:00
Used Clothing 101 × DEADSTOCK CONVERSE

Exclusive "MADE IN USA" CONVERSE deadstock found at Used Clothing 101.

"Every single girl visiting a vintage store is looking for a made in USA Converse deadstock" – this is a mythology that every staff in vintage shops unanimously reveals about. The number of female fans for MADE IN USA CONVERSE is escalating especially because of the recent sneaker boom. Yet, there are simultaneously more girls than boys who feel gloomy that they don't know "who wore the shoes previously". Meanwhile, we found a vintage store which particularly deal in MADE IN USA CONVERSE deadstock in which the shop attracts a lot of vintage devotees! Even though it is located in Kita-Senju Station, a relatively suburb area, a lot of female fans still visit there only for seeking the vintage sneaker.
How did the store gather so many Converse deadstock?

It's actually a corporate confidential, haha! The sneakers are already sold out three times as the size of the whole inventory in a short period, so please visit us early if you desire a pair. Deadstock is basically the "leftovers" at that period, so the items at female sizes which are manufactured between 80S to 90S can easily be found. Yet, I can't guarantee if there is still a pair available though…

What years are the sneakers in the picture below manufactured?

The white one in the silver box on the upper right and the black All Star on the lower left are the oldest models which are produced in 80S. The corduroy All Star with the white box and the Jack Purcell on the lower right are from 90S. Lastly, The purple All Star on the upper left with Red and Navy box is generated around end of the last millennium, which is considered as the very latest MADE IN USA model today.