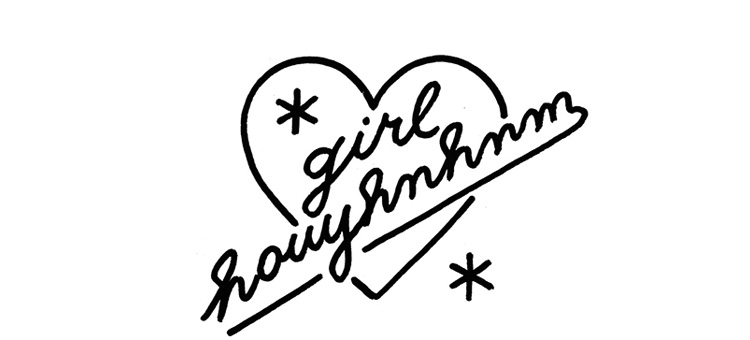 Girls Just Want To Have Fun!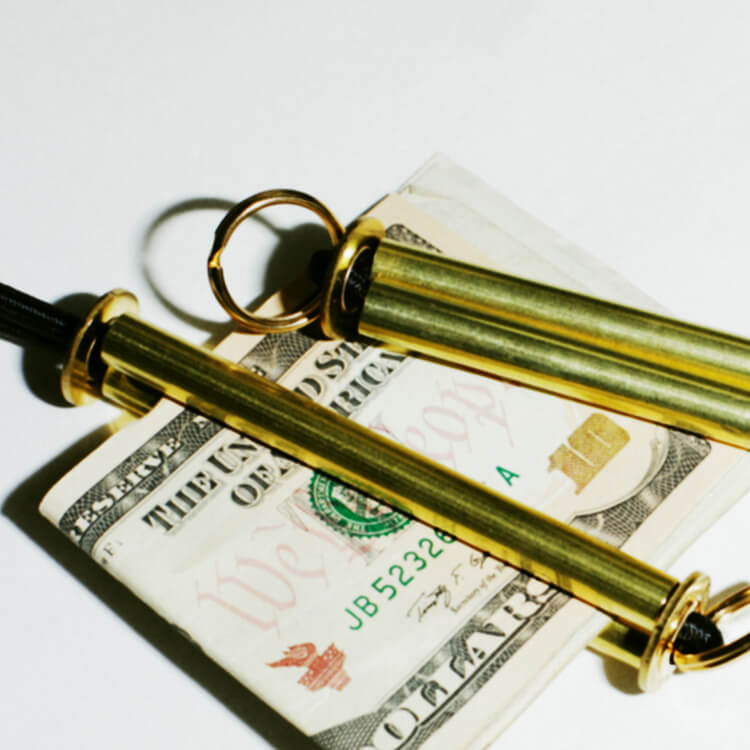 WISE SPENDING
for GIRL
GIRL HOUYHNHNM wise shopping catalogue
Photo_Kazumasa Takeuchi (stuh) 
Styling_Miki Sayama (LOVABLE)
Girl has many items on her wish list!
Everyone bother over which one to buy as we can't buy them all
(well, we wouldn't deny that thinking time is kind of fun.)
'Wise Spending' is the words said by Yuriko Koike,
the governor of Tokyo who's representative of Tokyo Girl
and also is theme of「HOUYHNHNM Unpluggd vol.5」magazine.
Although words of wise spending are a bit formal, isn't it something girls really want to know?
So here is GIRL HOUYHNHNM presents
'Wise Spending' by collecting 30 items that show reasons to buy.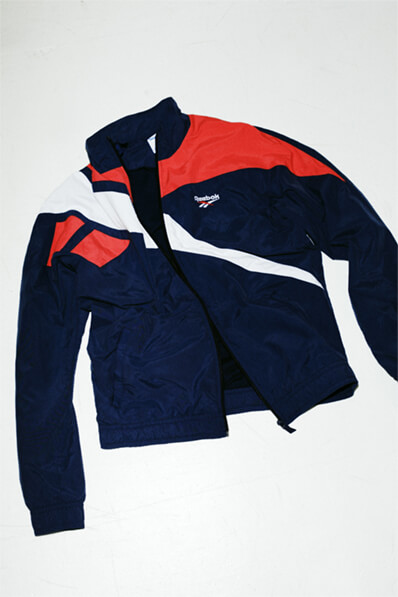 Track jacket by〈Reebok CLASSIC〉became a popular topic with its collaboration to〈VETEMENTS〉. Buying inline based product is much more reasonable and it's able to show feeling that 'you know it'.
〈Reebok Classic〉 ¥9,490+TAX (Reebok Adidas Group Customer Center 0570-033-033)
Unlocking the purse, another small purse is right there inside. This is truly good design with very useful separable pocket, cute looking and reasonable price.
〈Matsunoya〉 Wallet ¥2,600+TAX (Good Design Shop COMME des GARÇONS D&DEPARTMENT PROJECT +81-3-3406-2323)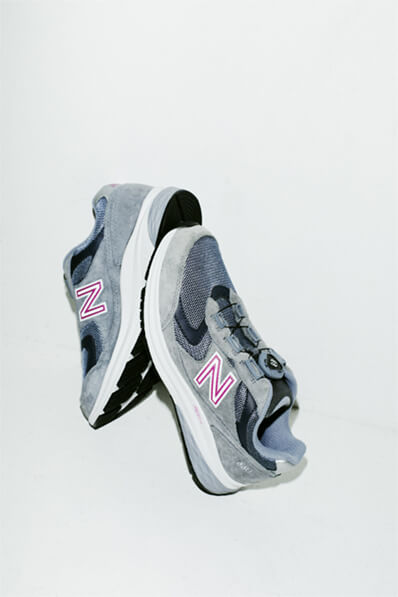 Shoelace is adjustable by dial. You are released from slip-on botheration and gain high-tech feeling. The design, which is similar to 990 series, representable model of〈New Balance〉is good and so as its price.
〈New Balance〉 Sneaker¥14,800+TAX (New Balance Japan Customer Service 0120-85-0997)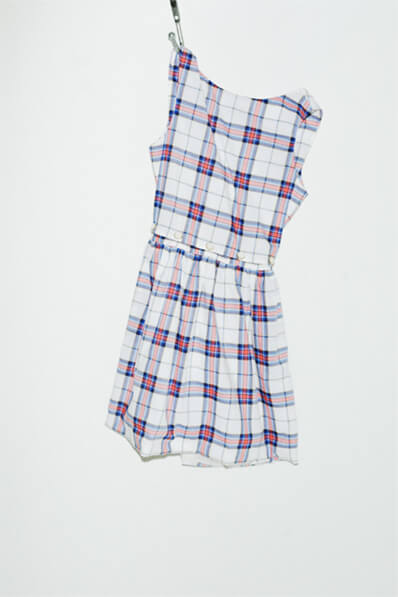 3-way spec that top and bottom is separable by waist button. Although it carries traditional taste overall, back design that is hugely opened adds avant-garde aspect to the piece.
〈Maison Kitsuné〉 Dress ¥46,000+TAX (Maison Kitsuné Customer Center 0120-667-588)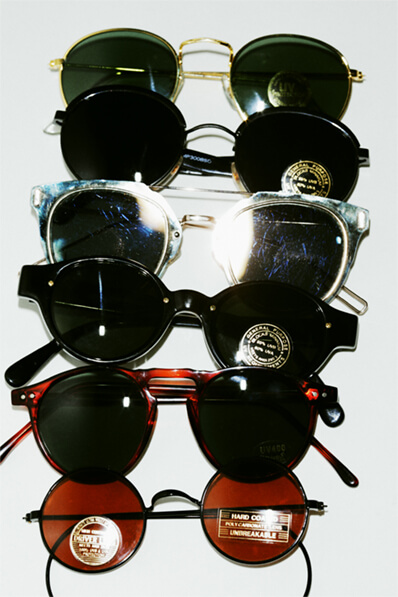 I always want to wear sunglasses, but now is the high season! You can find a kind of design from the dead stock collection of 〈Santa Monica〉.
Vintage dead-stock sunglasses All¥4,400+TAX(SantaMonica Harajuku +81-3-3402-0602)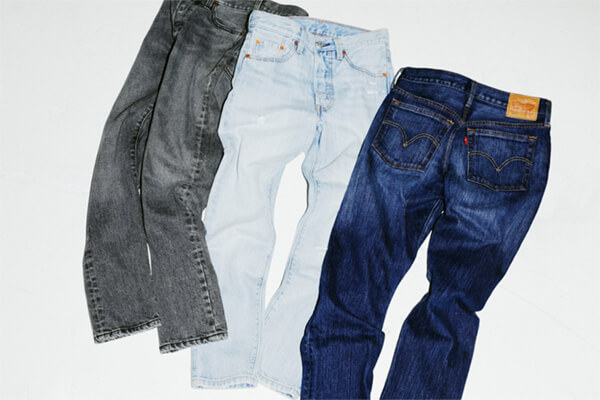 〈Levi's®〉501® SKINNY debuts this season that features real fade and damage work despite its reasonable price. You'll not be bothered by treatment of denim. Just buy it, then freely wash it.
〈Levi's®〉Denim pants All¥12,000+TAX(Levi Strauss Japan 0120-099-501)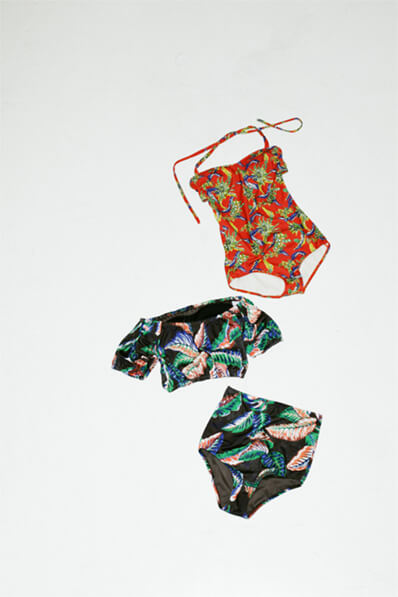 As it is a clothing-like design, you can wear it not only on the beach but also at the music festival and BBQ. This 〈SLY〉 swimwear is a collaboration with an old house of Hawaiian shirt 〈Reyn Spooner〉.
〈SLY〉Red one-piece swimwear ¥12,990+TAX、Black patterned swimwear (3 pieces set with Bandeau)¥13,990+TAX(BAROQUE JAPAN LINITED +81-3-6730-9191)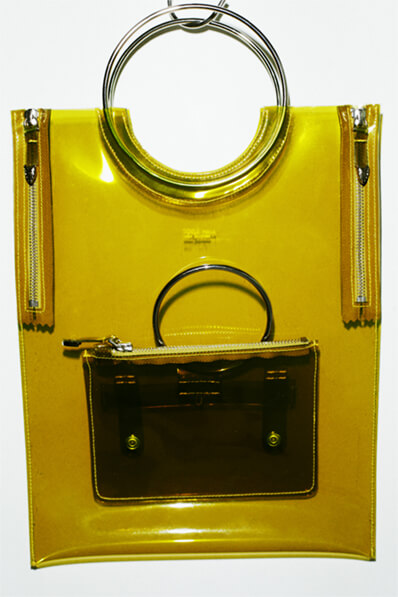 〈TOGA PULLA〉vinyl ring bag can be a clutch-bag when you fold it up and mini bag at front can be used as a wallet when take it off. A good partner for summer outing.
〈TOGA PULLA〉Bag¥37,000+TAX(TOGA Harajuku +81-3-6419-8136)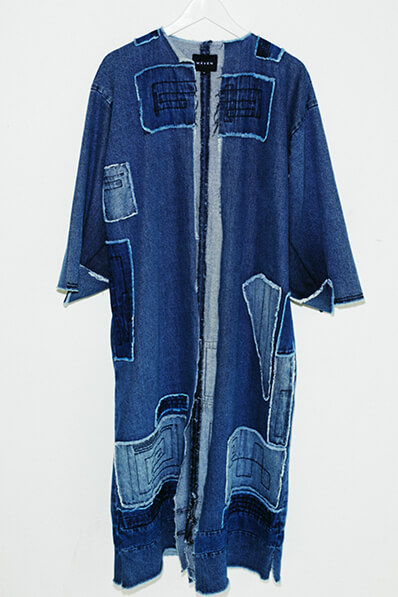 Patch worked or stich worked crafted pieces we see often these days are usually pricy, but this denim coat with fine arrangement, released by London based hot denim brand,〈waven〉comes with real price.
〈waven〉Denim Coat ¥24,000+TAX (UNIT&GUEST +81-3-3710-3107)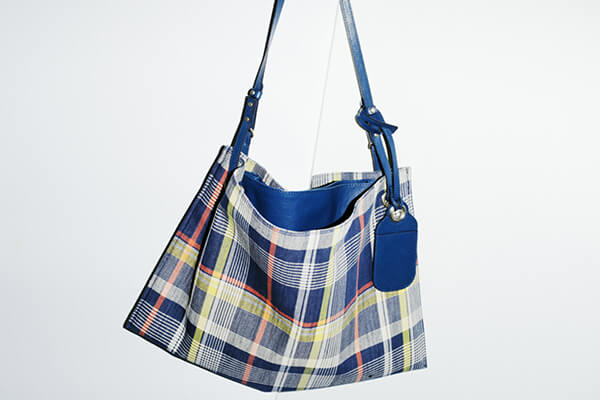 This is how it's going to be when〈beautiful people〉creates 2way bag. By taking off check patterned cover, beautiful bright blue leather bag makes its solo debut.
〈beautiful people〉 Bag \49,000+TAX (beautiful people Aoyama +81-3-6447-1869)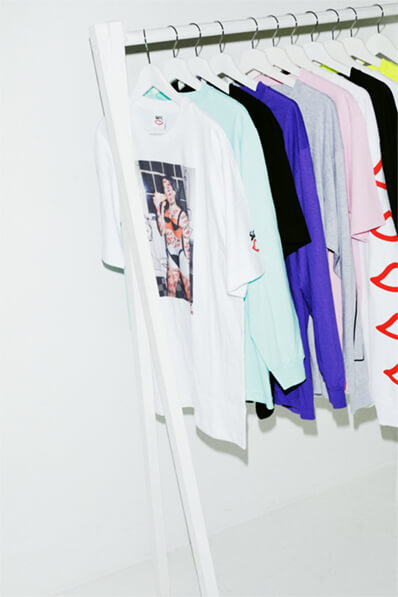 Though many fashion labels release skateboarding mood T-shirts these days, buying "real one", made by skateboarding brand is the coolest. Rare oversea skateboarding brands are stocked at〈MORTAR〉.
From the Front〈SEX SKATEBOARDS〉T-shirt¥6,500+TAX、〈THE QUIET LIFE〉Green Long T-shirt¥7,000+TAX、〈PRIME HERITAGE〉Black T-shirt¥5,200+TAX、〈PASS~PORT〉Purple Long T-shirt¥6,000+TAX、〈ISLE〉Gray Long T-shirt¥6,800+TAX、〈SEX SKATEBOARDS〉Pink T-shirt¥5,800+TAX、〈SEX SKATEBOARDS〉Lips patterned Long T-shirt¥7,000+TAX(MORTAR +81-3-6416-3181)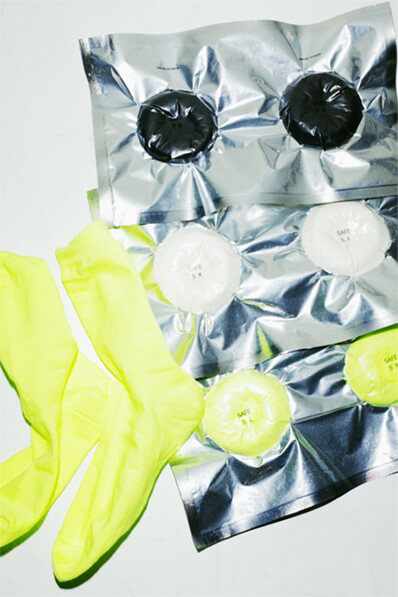 Vacuum pack socks produced by〈Hender Scheme〉! It is a mobile safe bet, not to mention for travelling or when you hit sudden raining or a broken thumb whole.
〈Hender Scheme〉Socks All¥2,500+TAX(Hender Scheme +81-3-6447-7448)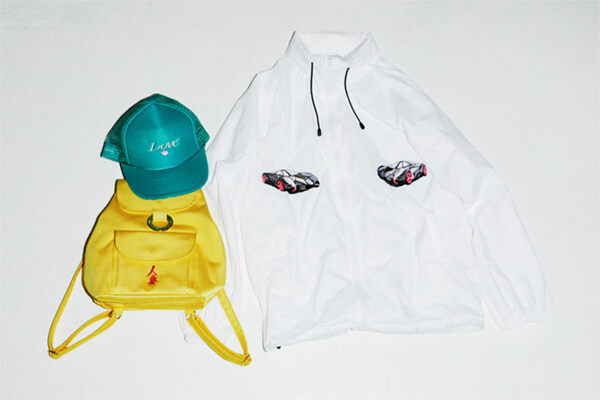 Even mass products can be turned to your original one of a kind product by order made embroidery that you can select from cool lineup. You can either choose from vintage stocks at store or bring your own piece.
Cap¥3,800+TAX、Backpack¥6,800+TAX、Jacket¥15,900+TAX(aoi industry)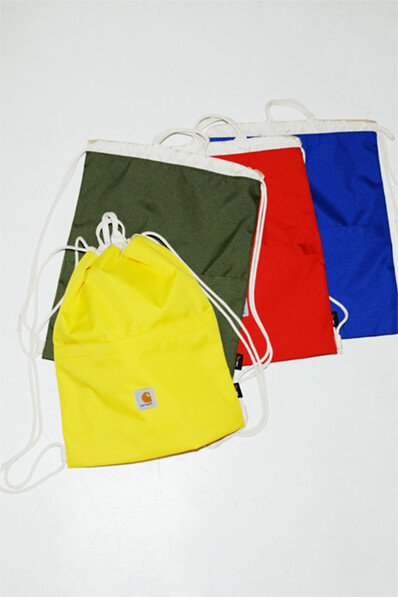 2way bag by〈Carhartt WIP〉is hand carrying tote-bag as it is and converted to knapsack when tightening drawstring. Knapsack, not a backpack is a point here.
〈Carhartt WIP〉Bag ¥5,800+TAX(Carhartt WIP Store Tokyo +81-3-3402-9810)
Though it's rare to find out cool designed 2way items, we found one at〈MAISON EUREKA〉. Its silhouette is ever-changing depending on fastener adjustment.
〈MAISON EUREKA〉Denim pants¥22,000+TAX(ON TOKYO SHOWROOM +81-3-6427-1640)
〈BYREDO〉 perfume is something you want to get one day, but for now getting adorable fragrance by hand cream. Using it as a solid perfume, mellow fragrance will enchant you. Industrial taste package is good sense too.
〈BYREDO〉Hand cream All¥5,000+TAX(EDSTRÖM OFFICE Co.,Ltd. +81-3-6427-5901)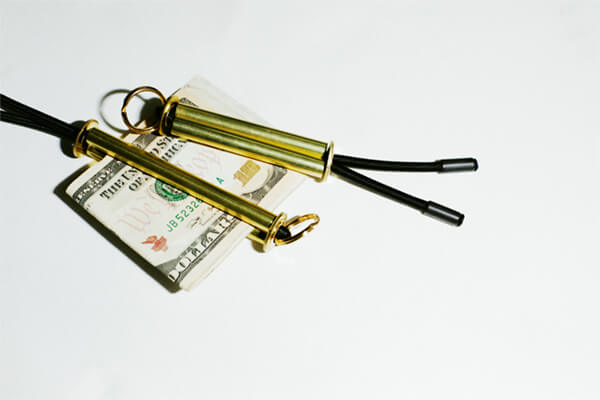 You can use it as a clip for not finished crisps to prevent its being wet or squeezer for little amount left tooth paste or money clip like a man one day. A ring on edge allows some to hang in bulk so handy to keep.
〈BP. HAND MADE TOKYO〉ZIP & SQUEEZER GOLD/S ¥3,400+TAX(phyle)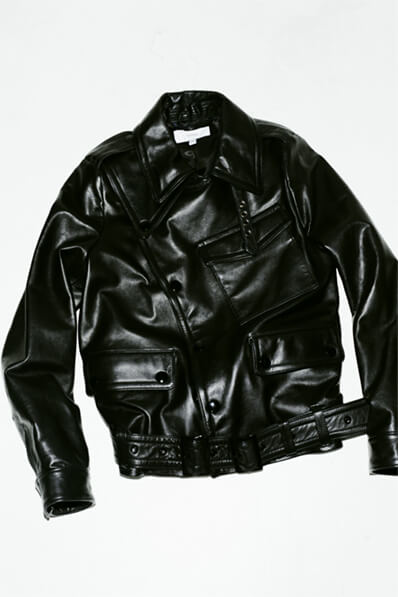 Products of〈Green〉, which is former brand of popular〈HYKE〉are restored by special order of〈United Arrows〉. You can buy them only here, right now.
〈HYKE for United Arrows〉Riders Jacket ¥155,000+TAX(United Arrows Harajuku Womens)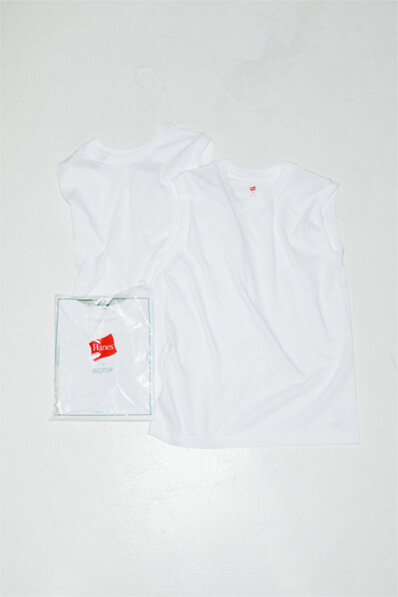 〈Hanes〉is famed for packed T-shirts and this year, specially ordered tank top by 〈BIOTOP〉is released. Fine wear comfort and daily taste stay as it is, elegant taste is added by〈BIOTOP〉arrangement and it comes with 2 pieces for a pack.
〈Hanes for BIOTOP〉2 tank tops inside a pack ¥4,800+TAX(JUN Customer Service 0120-298-133)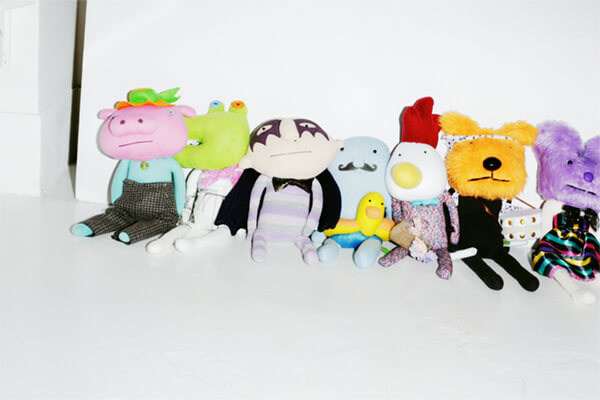 One of a kind figures made by vintage parts that come with hand writing message by designer. Presenting this as friend's baby gift surely makes her happy. She can use it as house interior when a baby is grown up.
〈BOBBY DAZZLER〉 (From left) Pig ¥15,000+TAX, Crocodile ¥13,000+TAX, Batman ¥14,000+TAX, Leotard Man ¥14,000+TAX, Chicken ¥14,000+TAX, Bear ¥15,000+TAX, Mouse ¥14,000+TAX (info@bobbydazzler.jp)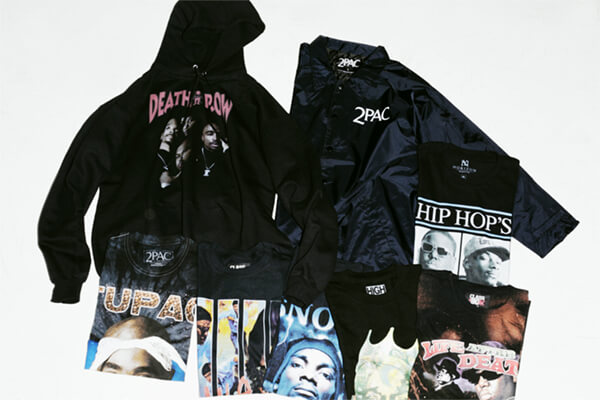 Let's get artist T-shirts that you want to stock as many as possible in smart way of see now, buy now current products rather than waiting encounter at vintage shops.
Top Left:"DEATH ROW" Parka¥10,000+TAX、Bottom from Left "2PAC" T-shirt¥6,500+TAX、"N.W.A"T Shirt¥5,500+TAX、"Snoop Dogg" T-shirt ¥5,000+TAX、"Biggie" T-shit¥6,500+TAX(WARP +81-3-3408-6834)/Top Middle "2PAC" Coach Jacket¥12,800+TAX、Top Right:"Biggie&Snoop Dogg" T-shirt¥4,500+TAX、Second from Right at Bottom "Biggie collage" T-shirt ¥5,500+TAX(Black Anny +81-3-5410-1355)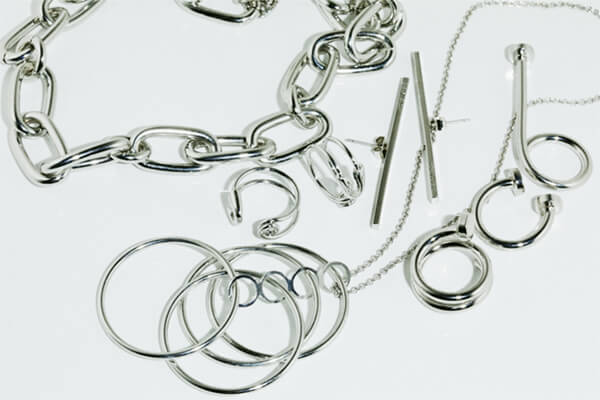 〈CHEAP MONDAY〉is famed for denim, but did you know that they carry many trendy, reasonable accessories? Want to wear couple of favorites in layers.
〈CHEAP MONDAY〉From left Chain Neckless ¥4,200+TAX、2 pairs set Rings ¥2,300+TAX、Pierce ¥1,500+TAX、Long Neckless¥3,000+TAX、3 pairs set Rings ¥3,000+TAX(k3 OFFICE +81-3-3464-5357)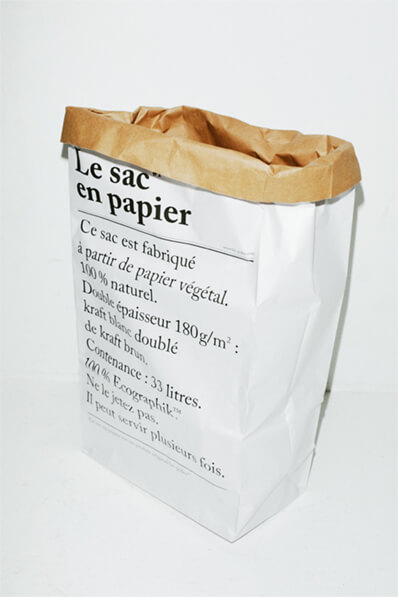 Self-standing paper bag has many usages such as store box, planter cover and rubbish bin. 3 sizes of SML are available so you can choose the right size depending on how you use it.
〈be-poles〉 Paper Bag M ¥1,500+TAX (CIBONE Aoyama +81-3-3475-8017)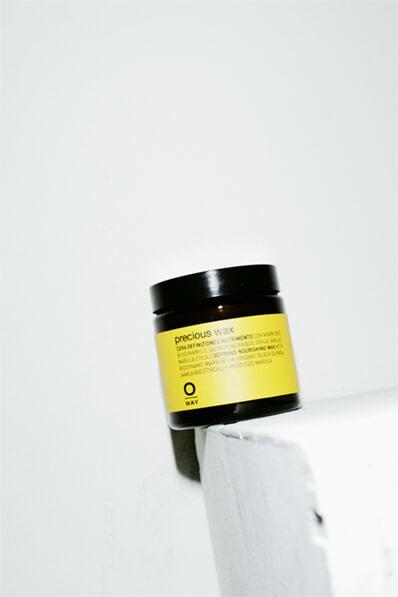 Shiny makeup to your hair. Please give care to your skin and lips. 〈Rolland〉 hair wax that you can use as a body cream or lip cream makes you happy and prepares well in the morning.
〈rolland〉Precious Wax¥3,600+TAX(rolland)
※Price and package design may change.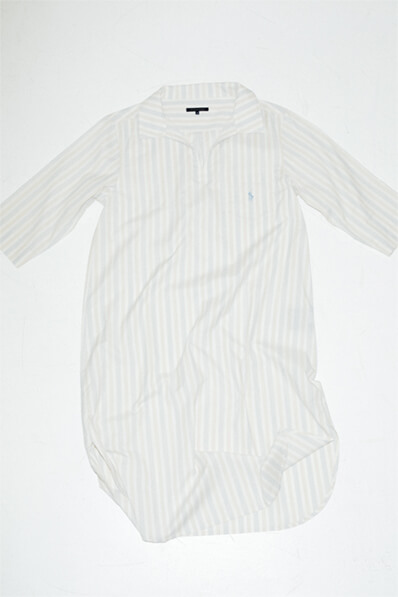 Though pajama style is a bit hard to take into coordinate, sleep dress by〈Ralph Laurent〉is easy to try and best because your relax can be obtained with fine looking.
〈Ralph Lauren Home〉 Sleep Dress ¥12,000+TAX (Ralph Lauren 0120-3274-20)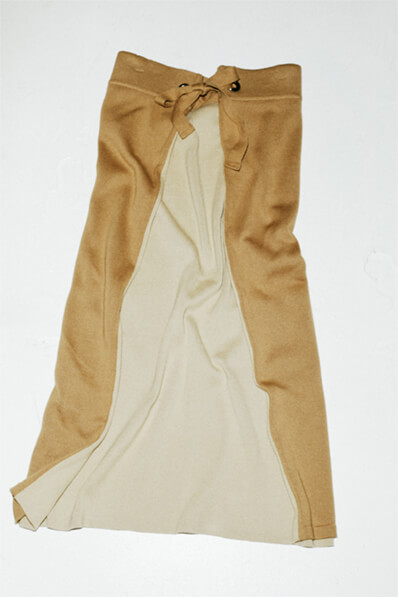 The lap skirt of 〈TAN〉 is a reversible design, the expression changes with the location of the knot and the inner clothes. Recommended for the turn of the season.
〈TAN〉Skirt¥29,000+TAX(4k +81-3-5464-9321)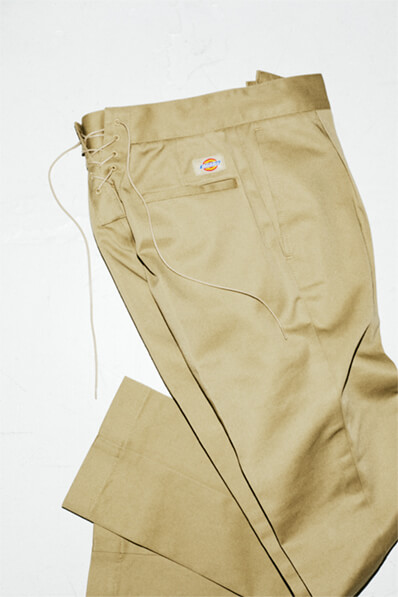 Back lace is applied to this chino trousers, which〈HOLIDAY〉specially ordered to〈Dickies〉. Yearning back beauty comes true with this item.
〈HOLIDAY×Dickies〉Trousers¥15,800+TAX(HOLIDAY +81-3-6805-1273)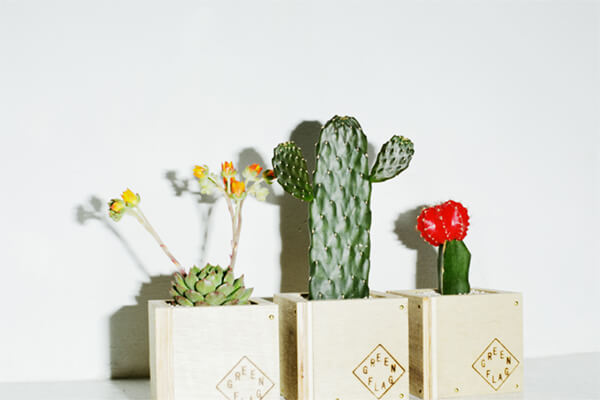 When you wander which cool potted plant to buy, rely on〈GREEN FLAG〉, produced by Takeshi Fukuda who turned himself from fashion industry to plant craft worker is smart choice.
〈GREEN FLAG〉From left Echeveria¥1,800+TAX、Opuntia rubescens¥1,500+TAX、Hibotan¥1,500+TAX(LOCALSTORE +81-3-6452-3909)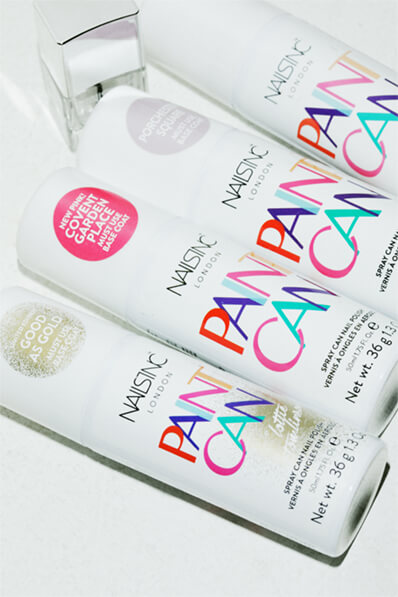 You'll be a smart woman by wisely spending time. Beautiful, equable nail work can be accomplished by spraying this to your nail after base coating, then wipe off over color after applying top coating.
〈NAILS INC〉Spray on Nail Polish All¥1,850+TAX(NAILS INC / TAT Inc. +81-3-5428-3488)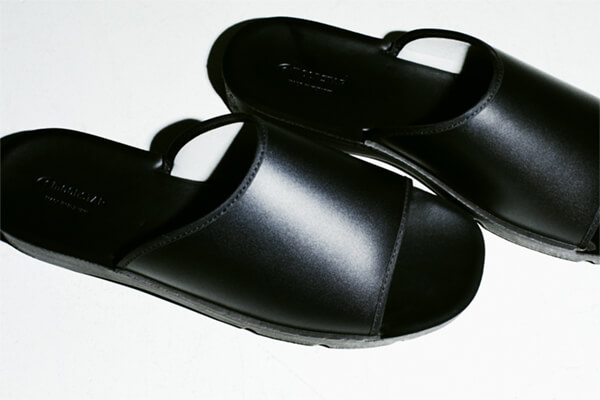 Pride of〈moonstar〉, made in Kurume can be seen from its beauty look which is clearly different to shower sandal produced by sport brands.
〈moonstar〉Sandal ¥3,500+TAX(moonstar Customer Service 0800-800-1792)