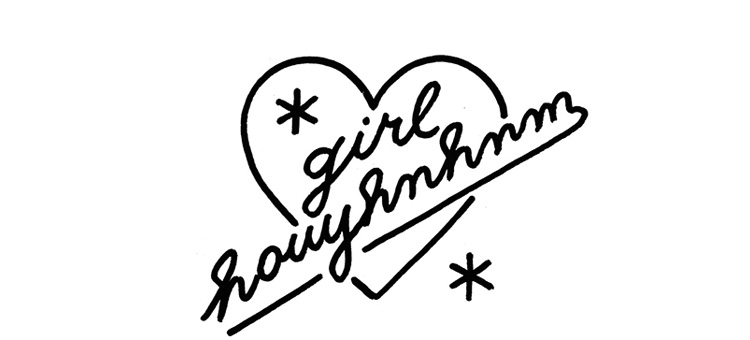 Girls Just Want To Have Fun!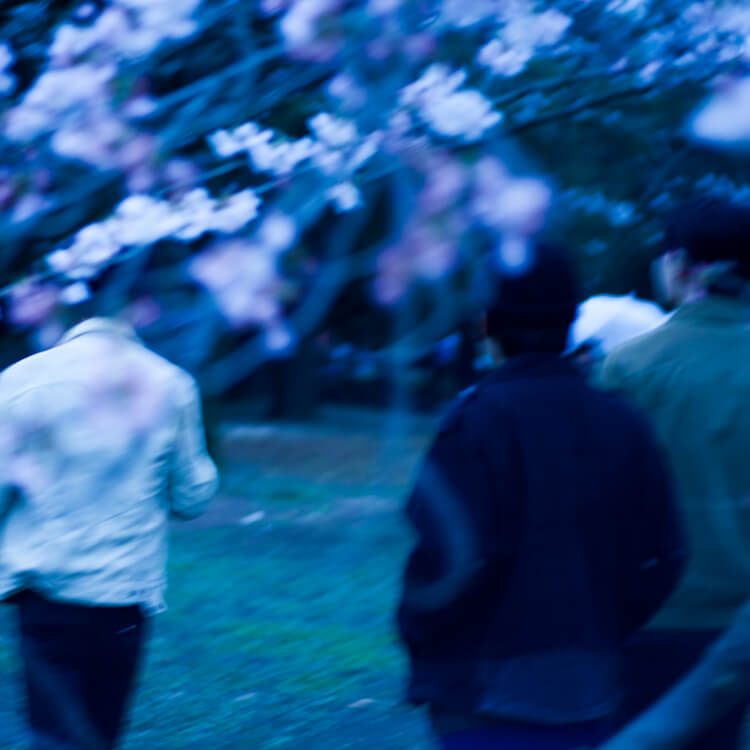 Keep stepping ahead.
Music played by DYGL drives us to step forward
Photo_Ko-ta Shouji 
Interview & Text_Yukiko Inoue
Who gives notable topic to the music industry right now is definitely age 20's hopes.
Among of them all, DYGL that shows strong presence by pursuing straight rock sound
finally released 1st full album, 『Say Goodbye to Memory Den』.
How's the sound that captured even Albert Hammond Jr.'s mind made?
We'll present world level spotlighted their valuable interview.
We thought "Day-Glo = tacky' could be style of the band.
As you are all classmate of same university (Meiji-Gakuin University), how's the band formed?

At first, we were all in same society and me, Kamoto and Shimonaka formed the band, named De Nada for society's regular event. Originally Shimonaka and Kamoto already started the band, then they dragged me in.

Is the formation same as now?

Akiyama

We rotated guitar, guitar and drum between everyone. First, I played the drum most of the time.

Shimonaka

Akiyama also did vocalist alongside of playing the drum.

That's amazing.

Akiyama

It was very irregular formation.

Did you play original songs from the beginning?

Shimonaka

Basically yes, and rests are almost copies. 『Weekend』of Smith Westerns and,,.

Akiyama

Also played WATERS.

Pretty recent story, right?

Akiyama

Yes, considering the long history of rock music.

Shimonaka

We played very similar song to The White Stripes at that time and Because Paint Fumes, so indie band in Australia's formation is same as ours, we played their songs too.

And then Kachi joined the band?

Shimonaka

Before he joined, my friend from childhood was playing the electric bass, however he had to concentrate on academic work as well as part-time job.

Akiyama

We hit the wall continuing three member formation. At same time, we knew that we have a feeling to expand our expression in terms of music so wanted a bassist joining the band. Then we asked Kachi who did Ykiki Beat together to join DYGL and set up the band together again.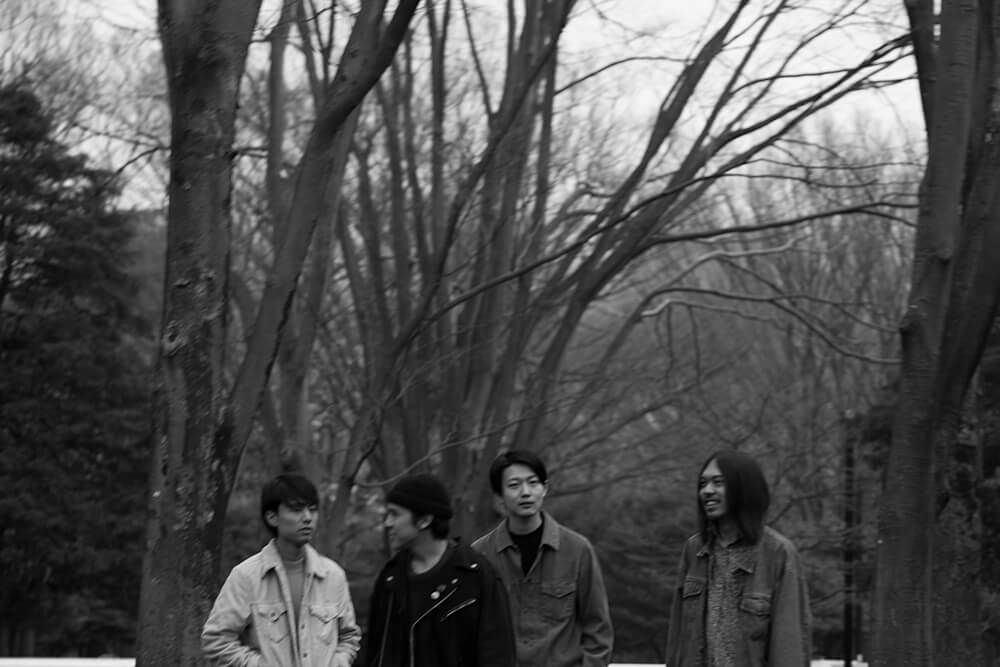 Please tell us name of the band, DYGL.

Akiyama

Word of "Day-Glo" actually exists. It means fluorescent color, but also contains slang meaning of 'tacky'. We thought it will be interesting because the word would express band's style.

Did you have further vision when you played for university society?

Shimonaka

No, not at all.

Akiyama

We do what we feel fun at that time.

Shimonaka

We had a feeling of 'We are doing pretty well' when we are in studio, making songs. However, we didn't have further vision.

As you guys did parallel activity of Ykiki Beat apart from Shimonaka, did you not find difficulties to maintain two bands while student life?

Kachi

Not a problem as it was end part of university program when I joined the band and there's not many lessons to attend.

Ykiki Beat was known to the public first, but consequently DYGL is officially making a step to professional band. Please tell us how it went.

Akiyama

Each band had different concept so we wanted to continue both if each come into effect separately. However actually preference of music and attitude toward creation are hard to resolve logically so we felt that band's creativity is losing. Activity of DYGL didn't affect reason of Ykiki Beat's rest though. Physically there was negative aspect like schedule conflict, but on the other hand helping out breadth of each activity was positive side.

So the conclusion was made in natural flow?

Kachi

Yes. It's not like either band's fault. Conclusion is made as a whole of the one band.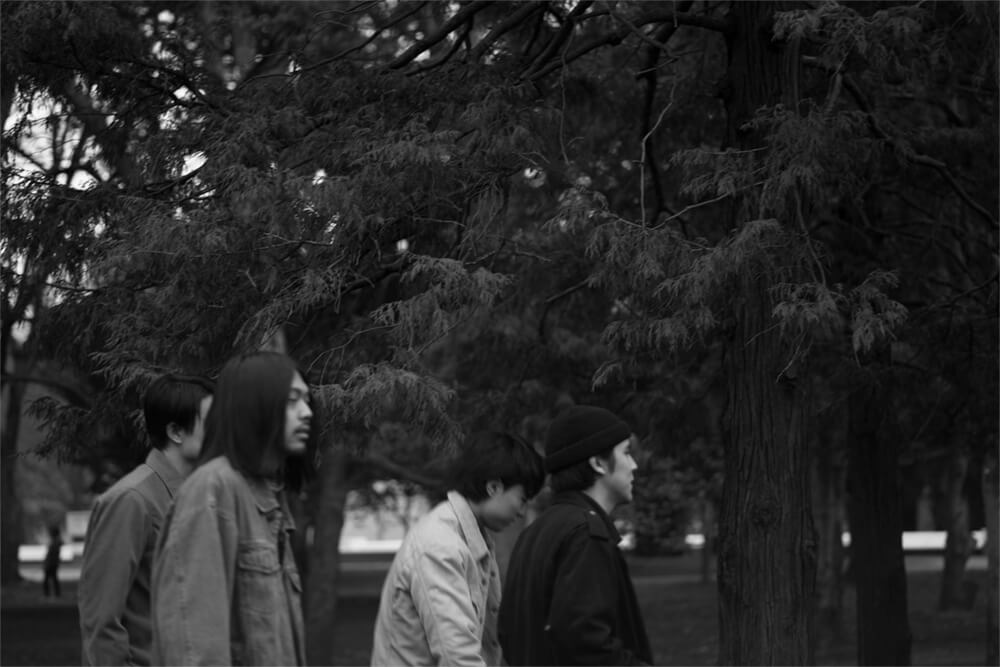 Attitude to move forward from the dark is our music.

You are acting in worldwide as your previous album's record is done in overseas and booked to SXSW. Although today, it's not rare that band sing English lyrics, I personally think that your style is a bit different to other bands in same generation who are more buzzing. How do you analyze?

Akiyama

Uh, It's rare to meet people who do music with attitude that we can sympathize. It's not to do with English lyrics. Even if lyrics is in Japanese, we can be open to the band like mitsume rather than cheesy band with English lyrics so key is how you'd face to creative activity. We don't like band taking music as if as an accessory. It's ok to be cool and fashionable, but if those images come forward before music, they might look shallow. If the way of mind is close, we can be hanging around with people in other industries rather than tied indie rock bands. We'd like to interact with people who have similar attitude to creative but if not, we want to stay away even if they are same generation or playing similar type of music. I don't like unnatural behavior.

What kind of impression do you have regard your generation? For example, culture and mood.

Akiyama

Now technology is advanced way ahead and start to beyond human being. Internet knows music more than we do and information is flooded. There are two types of groups which are people who dig and dig information and people who are left out from information. It's challenging for our generation to seek how musician can produce creativity in such circumstance. Though we don't know how people in 80s or 90s felt, now things in 10 or 20 years ago are all rival because even if we release a new song, something similar exist on internet in real time. So there's always an internal argument like 'Should we do this now?' I reckon people in our generation are finding difficulties to create something purely new greater than ever.

Kachi

Trend is more visible and focused easier.

Shimonaka

Artist sense of choosing what from which period is attached a high value. Like 'they are bringing this from there, oh cool.' Though in many cases, we are not sure if that act is universal thing. Moreover, now visual effects carry heavier weigh compare to 90s. Also our generation tend to be sitting by. This is the biggest difference to other generations. It's kind of flaccid mood like not moving forward.

Is there any band that you sympathize?

Shimonaka

I'm not sure about around us.

Akiyama

We are also different style to overseas bands even if music taste is similar.

Shimonaka

I don't know how Akiyama feels for real but in my interpretation, mood of our song is maybe positive attitude to move forward from nothing, hopeless and dark circumstance at once. Inner nature of human being becomes real when all hopes are gone and there's not many people who are really fighting because today, you can do fairly alright performance for everything. In this sense, we don't see many people who have attitude to try facing reality in analogue way for real. I feel other bands take a long view and being pretentious for some part.

Akiyama

'Fighting' part is missing indeed. Music is equal to lifestyle so political attitude or philosophy can be delivered more from band as much as music, but everyone seems following just cool-ish sound and fashion. What we strongly felt in LA is that cool teenager kids talking about politics and country as same level as drink, music and fashion and such a view can't be seen in Japan. Bands in Japan looking for just images too much, we feel sometimes. Certainly, there's some nice bands in Japan and empty bands in overseas too.

Shimonaka

I sometimes feel that 'you are doing too good.' Using various cool instruments which match to mood of the trend though,,.

Style is.

Shimonaka

Yes, though style itself is cool, attitude matters.

Akiyama

The spirit is missing to somewhere.

Shimonaka

I kind of feel overwhelmed by coolness rather than fighting spirit like the punks by watching recent bands. It's like 'Indeed you are cool, but it's not for me.'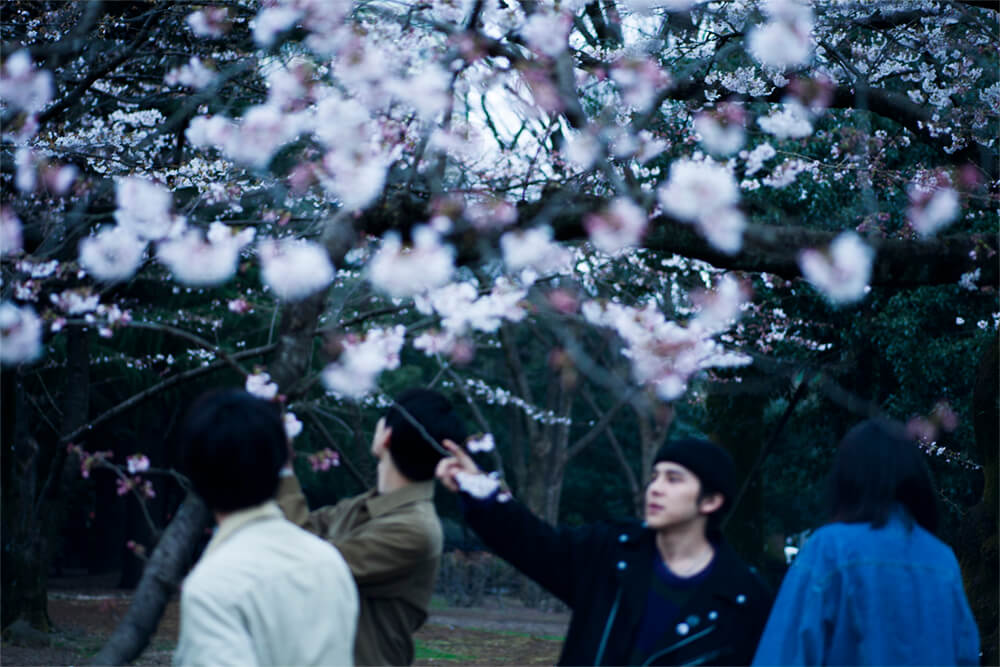 Please tell us artists or music work that personally affect you.

Akiyama

The View, The Strokes and The Libertines were cue for me to be getting into music first. Then I listened different kind of music, but I often realize that consequently they are core for myself.

Where do you feel sympathy most?

Akiyama

The LibertinesとThe Viewに関しては初期のパンクと同じように、本当にシンRegarding The Libertines and The View, they are honestly singing in simple style and do nothing special like early time of the punk. So they kind of convinced me that I can do that too. For The Strokes, maybe there's art aspect. As much as music, their total image is sophisticated so cool that I didn't feel same way for other bands. I think that is to do with Julian's sense. It was big discovery for me to understand that you can express whole music world including video and artwork. I suppose there are many attractive artists in terms of having art sensibility view like David Bowie and Sex Pistols from ages ago.

Closer generation, easier to have sympathy, right?

Akiyama

Yes. Julian Casablancas is a big figure for me.

Kachi

I had an influence from The Smiths that I listened when I was high school. Their style of making looking and weak point against weapon was strong and masculine and their image of not ending up with an ordinary rock was real to me at that time.

Shimonaka

I love playing the guitar anyway so a lot of guitarists inspired me. Recently I'm very into Radiohead. Lol My supposition, Radiohead is pushing themselves really hard at studio. I think they are tremendous that keep making new experimentally sound without losing stoic attitude and emotional part. Because my feeling is facing toward studio work these days, I respect their attitude.

Akiyama

By developing your entire attention to creation, you might end up losing passion or quality of sound.

Shimonaka

Yeah so I think their balance sense is amazing. In my theory, when you make a new sound, it tends to shrink and get fuzzy. New sound that Jonathan Greenwood creates come with full of confidence though generally coreless sound frequently happens in effective mode. Indeed, phrase itself is innovative and I think it'd be very cool if I can do that too. I also like that they maintain original members from the beginning.

Kamoto

To be honest I don't have any drummers that influenced me as DYGL. I don't play the drum except for DYGL and I'm not willing to do so in future.

Akiyama

Very clear statement. Lol

Kamoto

So I don't have a specific drummer I like.

How about in personal?

Kamoto

In personal, it was Arctic Monkeys who I listened first so maybe I'm aware of music after revival in terms of doing Rock. I was listening overseas music before then like LINKIN PARK and Green Day.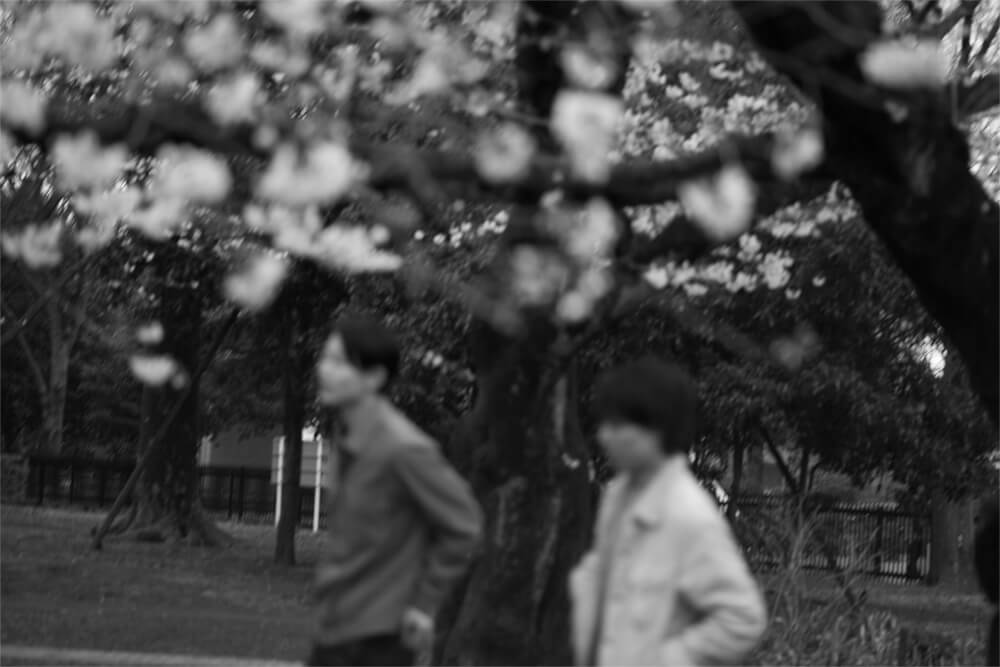 How did you release your first work?

Akiyama

We gave out demo CD that put songs we made at home to audience who came to the live. Then we made a cassette tape with 4 songs in it, that is recorded at studio, spending some money so sound was more clear. It was our first work of properly made. It was the time when Soundcloud and Bandcamp came out to the world so uploading works to those sites was getting popular and everyone thought it's important thing. However, we've started noticing that those are not enough. Then afterward it was EP(『Don't Know Where It Is』), right?

Shimonaka

Yes, EP.

Though there was turns and twists so far like changing band's name, I suppose you are rapidly growing in terms of quality and recognition within a year. Experience of living in overseas last year and creating 1st EP there probably contribute a lot. Since this work is your first creation in oversea, how did the project start?

Akiyama

We've always thought willing to work together with people who have close mind and attitude for the base so we made effort, asked a guy we've known to record at Lolipop Records studio in LA. We realized that communication of creating sound is not restricted by language whether it's English or Japanese and it depends on one's music sense. It was fresh and positive experience for us to record a whole work at studio in oversea with local engineer. Also that work was completely analogue recording style so we could experience fundamental studio work that we wouldn't' be able to feel if it was digital.

Art work of the album was fantastic. Supposing package is one piece of works, what point do you think important?

Akiyama

That artwork was designed by Kachi, based on a photo that Shimonaka took at training studio in LA. Every members including me and Kamoto were involved to the process though. We all proposed own ideas and chose that one, which matches to the image most.

Shimonaka

We were looking for something iconic and also similar texture to master piece works that we like in common. So we tried artwork being iconic rather than déjà vu in somewhere because we don't imitate something fancy.

Akiyama

We want to value whether feeling from sound is reflected in right way. If the jacket has distance, we don't want to use it even if it's good quality. We chose that one because of feeling something closely linked to sound.

Then you released 7 inch『Waste Of Time』. As Avalanches fan, I was surprised to its engineer. I personally think that sound impression is getting changed since this work. American indie guitar pop like sound was signature from the beginning to 『Let It Sway』and from this work, sound varies to trad, British-ish taste. I could feel beauty of harmony and beat like early time of Beatles. Do you recognize having a change of heart?

Akiyama

I do think about that too and I reckon we keep changing every moment. Because we were like garage rock with no melody when we started the band with original 3 members, we've hugely transformed by『Let It Sway』. Then changed again around 『Waste Of Time』. I reckon this is to do with my song writing shifting toward more personal taste focused. At beginning we had a conscious desire to make garage rock because it was original motivation to form the band, but it changed to be like we pursue what we can naturally make. There was a change when formation became 4 members and every time we think about our sound in process of recording and making an album jacket. To conclude, this change has huge relations to my song writing in terms of music mean.

I think DYGL's expression range got broader by mixing initial American like indie pop sound with British like sound, which makes new attractive sound. What do you think about it?

Akiyama

It's our pleasure to hear that. I think really good bands can be universal across borders such as Phoenix is French and Tame Impara is Australian so we aim to be like them beyond general idea of 'Japanese so singing in Japanese language' or 'Should us, Japanese sing in English?'. Certainly, we would like both Japanese and audience from other countries accept us, but if we can make truly outstanding, universal sound, that will take us one step ahead. We're not willing to consciously mix American and British, but it's good thing if those our interests come out to work naturally.
Working with Albert was kind of only half believe at beginning with half pleasure and half anxiety
Great to hear that taking things that influence you into yourself and outputing in your color. Now finally, you guys are ready to release full-album and highlighted topic must be appointment of Albert Hammond Jr. from The Strokes and its producer, Gus Oberg. The Strokes is a super group who influenced almost every Rock 'n' Roll bands after 2000s. Please tell us the story how you appointed them.

Akiyama

To record this album, we wanted to work together with people who have close sensibility to our music, which concept is same as recording time of『Don't Know Where It Is』. In this flow we made a list of engineers by taking account of who recorded our favorite albums and Gus's name is in there. There were few other names on list so we were just about going to approach them and that time, we heard that Gus wants to work together with Japanese band, being linked by fate.

Shimonaka

Wasn't it Albert who wanted to work together?

Akiyama

Oh Gus and Albert then.

Shimonaka

Two in set.

Akiyama

We heard details and found out that it's not just Gus who wants to produce us, but also Albert does. Two of them together.

That's really awesome.

Akiyama

Yes. We were very happy, but on the other hand The View's 5th album that Albert produced recently was just like Albert's color so we felt a bit risky to work together with him if our album also turns to his color. Once we've asked if it's possible to work solely with Gus, but answer was no. So there was half pleasure and half anxiety, kind of only half believe at beginning.

Initially you didn't plan to invite producer?

Kachi

No, just engineer for initial plan.

Akiyama

Therefore we had a concern as our degree of opinion might be lower by having Albert as a producer.

Shimonaka

As one aspect of concerns, largely published Albert name to the public who is more famous than us like other bands so far. But it doesn't matter at all for now because album itself is finished very well.

Akiyama

Eventually work is great, happy ending. Actually Albert is a member of the band who influenced all of us and we couldn't imagine any better story so it's like making one step ahead and mortgage to them is worth it.

How was actual work?

Akiyama

Their work was great. Very fun working together. It was kind of strange experience to let someone who influenced us to listen our songs and make judgment whether good or bad.

Starting from communication of songs?

Akiyama

Albert cared about that too because most important thing is a song. Two days before consecutive 9 days recording start, Albert rent a whole bar in NY, called 'Berlin' and we did confirm session of songs in there. We played our songs, Albert took memo and advises us like 'this song should be better by changing here' for whole two days, afterward we started recording. What encouraged us most is that Albert actually really liked our songs. We asked him why he wanted to work with us after the recording and he said very clearly 'Because songs were good. If not, I wouldn't have received offer.' He pointed out good points while recording that encouraged us. He was very clear about bad points too though. Judgment toward music which is necessary / unnecessary was very clear and fast. He definitely gave precise advice for even songs that arrange is undone. There was a hard to understand advice very occasionally though. Lol He respects us, listened our opinion at that time. He let us try many times until the point we both come to agree in terms of quality.

In what point were you influenced most? Was there any new discovery?

Kachi

Because having a producer was first experience for us, talking to third person about songs before recording start was very fresh. Notably I felt that Albert was trying to make composition of songs being as tight as possible.

Shimonaka

Try to be more minimal.

Being simple, right? What I personally touched was that whole mood of the band as a group differ a lot compare to previous works. Me as finding charm to band that have good balance such as The Beatles or Phonix, Rhythm itself is awesome, vocalist is attractive as an instrument and really sexy, and guitar is elegant with no hesitation, which is very aggressive, Lol.

Shimonaka

Aggressive. Lol I agree with you.

I thought producer's ability had a profound effect.

Kachi

Yes, because session term was limited including producer, we did recording in one shot for the first time and that implicated too.

Way of the recording was different?

Kachi

Yes. I personally feel that consequently this difference interacted to outcome in very positive way.

Akiyama

We didn't have options because had to record 14 songs in 10 days.

Kachi

But we could spend time for preparation before recording start than usual.

Shimonaka

Yes, preparation counts.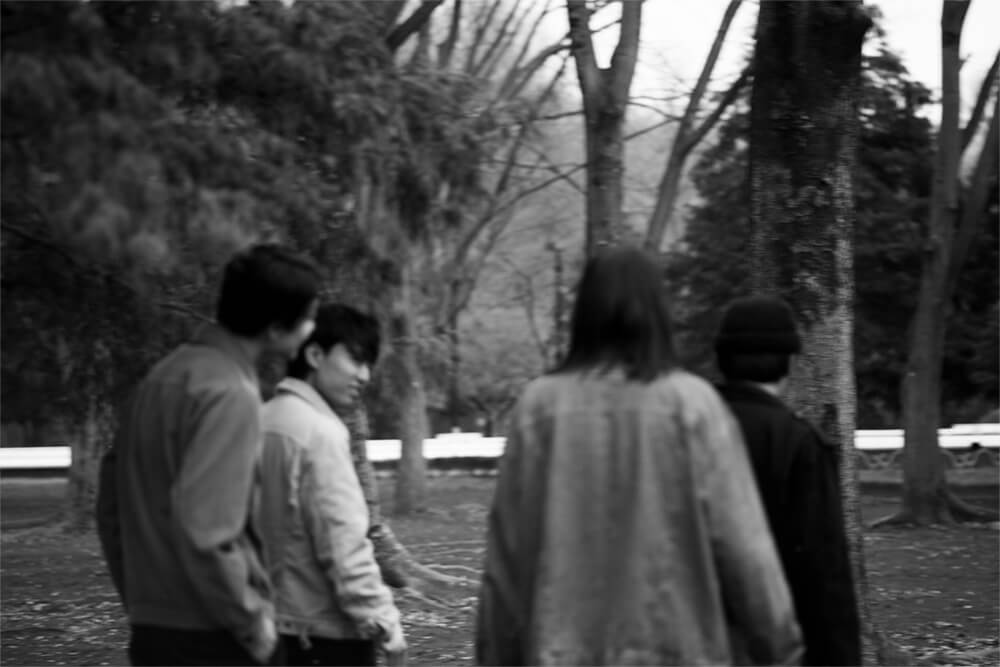 Please tell us about opening song『Come Together』that is definitive Rock 'n' Roll tune that evokes The Strokes.

Akiyama

I don't remember when exactly we made this song, but fairly recently. Probably when we went to NY last but one. At first, it was very post punk song with no melody despite having exaggerated beat. As we make song being compact, melody line starts having a presence and it's linked to how our song making has been changing as previously mentioned. Surely this is what DYGL in present. Sound was a bit more ambient impression and we imaged psychedelic taste Shoegazer at first. While we were coordinating song to make it fit to our style, by talking to Albert in process of the recording, it rapidly went tight and minimal.

Guitar play in middle is unique and awesome.

Shimonaka

Actually I had an argument with Albert. I wanted to increase effect to that part so asked Albert 'Can I add effect?' many times and he goes like 'No, definitely no' Lol.

Akiyama

Fact is we had a lot of argument for this song in many parts. Our original idea of whole intro was taken out. I was not happy for a long so poked him couple times. Lol However as we take account of composition of a whole song or texture of sound, I got satisfaction at last because song was rightly shaped.

Shimonaka

I accept that 'Alber was right'. I could learn a lot.

Even for lyrics, I think all feelings in terms of making this album are consolidated to this song. What did you want focus?

Akiyama

For me, dropping a bit more universal theme into songs depend on their sound texture was challenging for other songs, but I wanted to find reason of me making music in 2017 for this song. As previously mentioned, now flooded information make people missing many things, bothered by something you don't have to care and things are getting shallow. I feel like where we stand at the death? I'm consciously having this thought to caution myself. As David Bowie sang 『Where Are We Now?』before he dies, I wanted to set theme close to that. For this song, I sort of draw theme into my head before actually start writing. Although answers of where we are or where we are heading are not clear yet, definitive thing is that moving forward ahead is the only thing we can do at last.

I think that mind becomes theme across whole album. What I felt by reading everything is that contents represent current age. Very modern, yet something cool despite sound fever. It seems like you are heading toward new era by giving up something, rather than struggling.

Akiyama

Passively observation. Lol I think it's important to fight by converting it into energy and also apprehend this song as being energetic. If I apply giving up lyrics to real giving up song, it would be depressing and I don't want that.

I thought good balance lies because sound has fever whereas lyric is not. I feel that this album is kind of your portrait and what's in your mind?

Akiyama

I think album consist of each song's theme unless you set clear theme as being concept album. My feeling right now is like various pictures into a photo album. I personally don't like proposing one answer like 'This is an answer of the album' and album that can be found different aspects depend on who listen and feeling at time could be the best album. As Shimonaka mentioned, I want music to contain energy to move forward even when we have difficult or invisible things. Ultimately it's for our own sake. My departure point is that I want to make sure my mind by writing songs. Song writing is a fun. I want to move forward through this act. For this reason, I would be delightful if listener could also feel the energy.
Please tell us meaning of the album title. I suppose you named by taking account of that feeling.

Akiyama

We took title from passage of the song,『Take It Away』. Because I write all lyrics and words, basically I would be the first one to propose an idea of title. I thought about couple ideas that include self title『DYGL』because of our first album or directly applying one of songs' title. Containing most poetic feeling among all ideas was this title. Though we were not obsessed to this title, we chose the one by considering all aspects including note and meaning. Because "Say Goodbye" is leave-taking word, there's negative sound contained, but what I felt from this word that time was emphasis of putting an end to past and I wanted this to become power of moving forward. In this sense, maybe it's same as theme of『Come Together』. Everyone asks me 'what's Memory Den?'. Word of 'Den' has meaning of 'whereabouts', 'shelter', 'place' and 'lair' and it was also used in poem that I read and simply I liked its sound so kept this in my mind probably. Originally I was thinking to use it as lyrics, then I thought this part is best match to the title at last.

This word leaves poetic blank space to people who listen or see.

Akiyama

Yes we want blank space to be left. Because I don't want to make a firm statement of answer, I like it.

Shimonaka

Across whole album, songs that Akiyama makes contain light part and also a bit of dark part. Light at "Say Goodbye", a bit heavy at "Memory Den". I think this androgynos essence suits him so like this title.

I'm very excited because you let me feel the reality always in a fine balance. I wish you all the best to do great in the world that beyond border of indie/major or import/domestic. Thank you very much for today.

All

Thank you too.