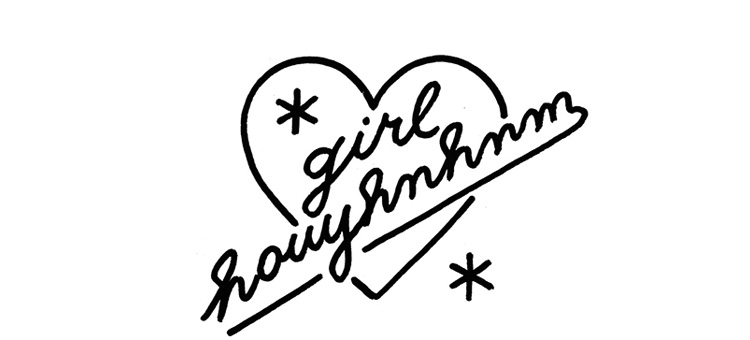 Girls Just Want To Have Fun!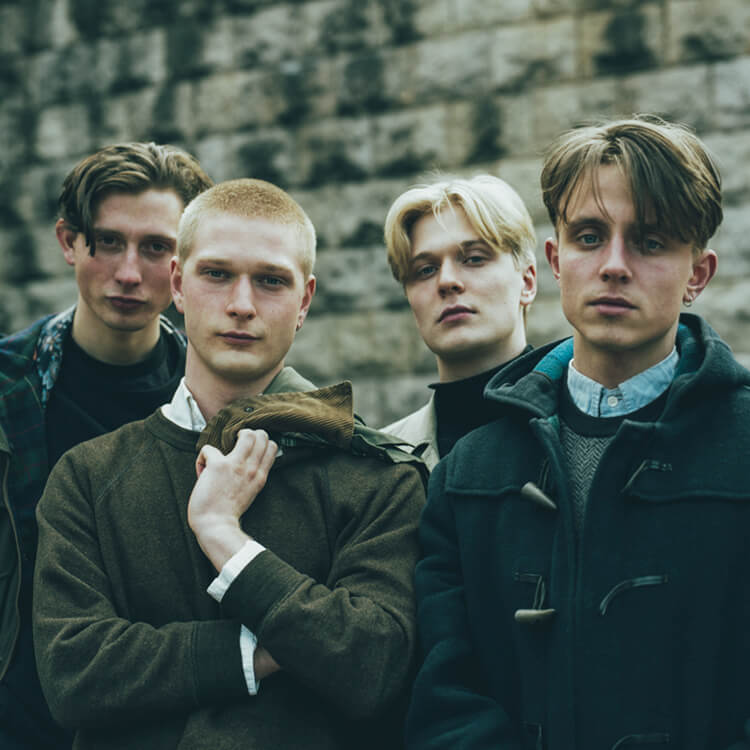 Youth is beautiful.
Thought, Communions puts into the word of Blue.
Photo_Tetsuo Kashiwada 
Interview&Text_Yukiko Inoue
At music scene in Copenhagen,
which appears many high quality bands these years,
Communions is the one that indie rock fans count down the days to come to Japan
as comparable figure to legendary bands such as Stone Roses and Libertines.
We interviewed them about the debut album 'Blue' after their first gig in Japan.
We formed the band because we were all friends. Very natural.
At last! We think this words expresses Japanese fans mind most likely and we are all happy that Communions, one of the most important bands at music scene in Denmark for last two years, your tour to Japan is actualized. First, please tell us history of the band.

Communions is formed by my brother, Mads and my friends, Frederik and Jacob. Frederik and Jacob were doing another band at time but me and Mads wanted to do something together with them because we were all friends and feel comfortable being together each other. Though we do listen same kind of music, it's not core reason to start the band.

Heard that the band is kind of naturally generated from Denmark well known rehearsal space called "Mayhem". Is this space something special?

Mayhem is like a work space place. It's kind of mess, but birthplace of creative movement and people gathered there are all friends. There are about 10 bands at one big room practicing and there is a live house to play live at next door. It is rehearsal space and also live house so could be said as a warehouse developed to creative. We love to see other bands creating music in there.

It evokes the Andy Warhol factory that created a lot of cultures. You still do creative activities at Mayhem?

Martin

Yes, we do.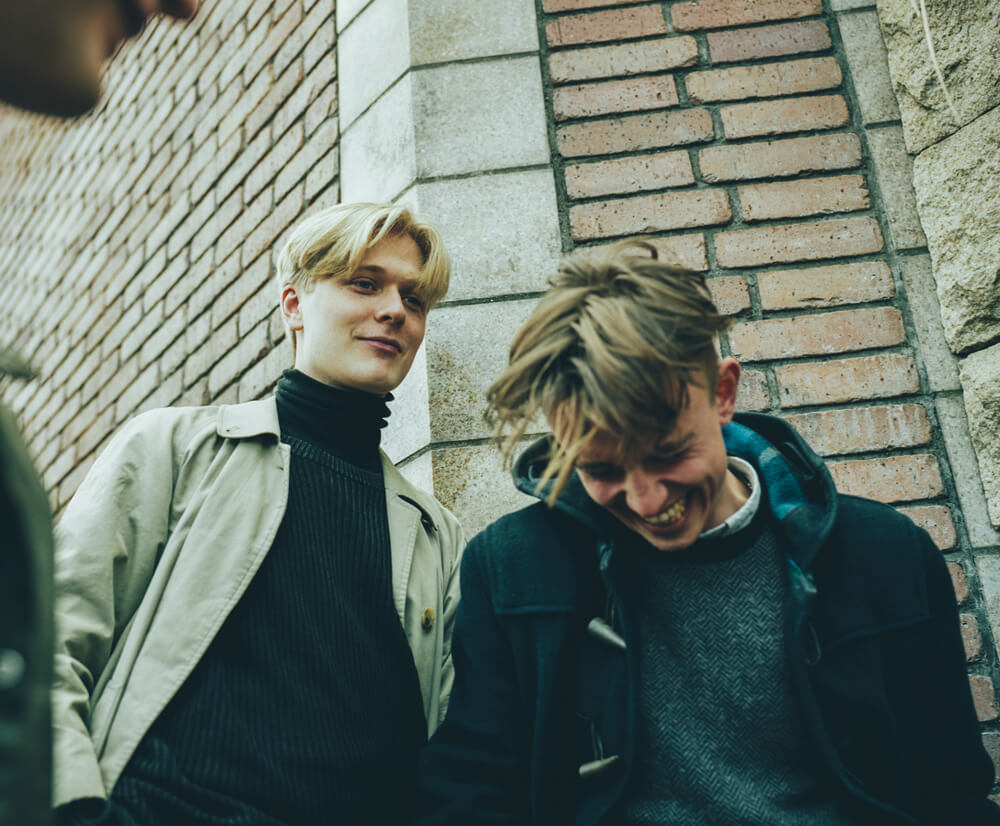 Why do you think so many hot indie bands come out from small city, Copenhagen in such a short period?

Jacob

Lads in Copenhagen tend to create music as always it's been like so. They feel big need of 'being creative' whether it's music or art or anything else. If you belong to environment that creative people gather, it helps you to find out who you are. I think that's why people see many music output from Copenhagen.

I see. There is a friendly competition inside small city.

Martin

Young people who is willing to be success in music would, of course start music activities, but at same time, they give up band in various reasons. They feel that there is no nice hook to go upward even they continue band. But if you see friends around you do band, you'll think like 'I can do it too' won't you? I don't think it's a movement of everyone is just making same sound. Each has different, unique sound and inspired in terms of being creative.

Jacob

We are inspired from people who don't resist creating music too.

So the creative attitude is national identity. It's nice.

Martin

I don't know. Maybe there's only 50 people who are real creative. Lol But I know there are a lot of talented young people in Copenhagen. We have many young generation making picture, movie and art and so on.

Jacob

We have couple of friends who opened gallery recently.

Tell me your close relationship musicians other than Loke (a head of POSH ISOLATION, the label that Communion belongs) and Lust For Youth (local popular band and Malthe, one of members was involved to recording of Communions) ?

Jacob

First Hate.

Martin

They are likely close among bands around us. Actually I know a lot of lads who are dedicated to music, but our relationship is not like we hang around together everyday. Lol We know each other and we do rehearsal with Lower and Iceage at same place, it's more like we are both born from same creative platform. Of course, it depends on who it is. Jacob hangs around with a member of Iceage and I personally know Marte of Lust for Youth most well. He worked with us as a producer to create our album together and is really nice guy.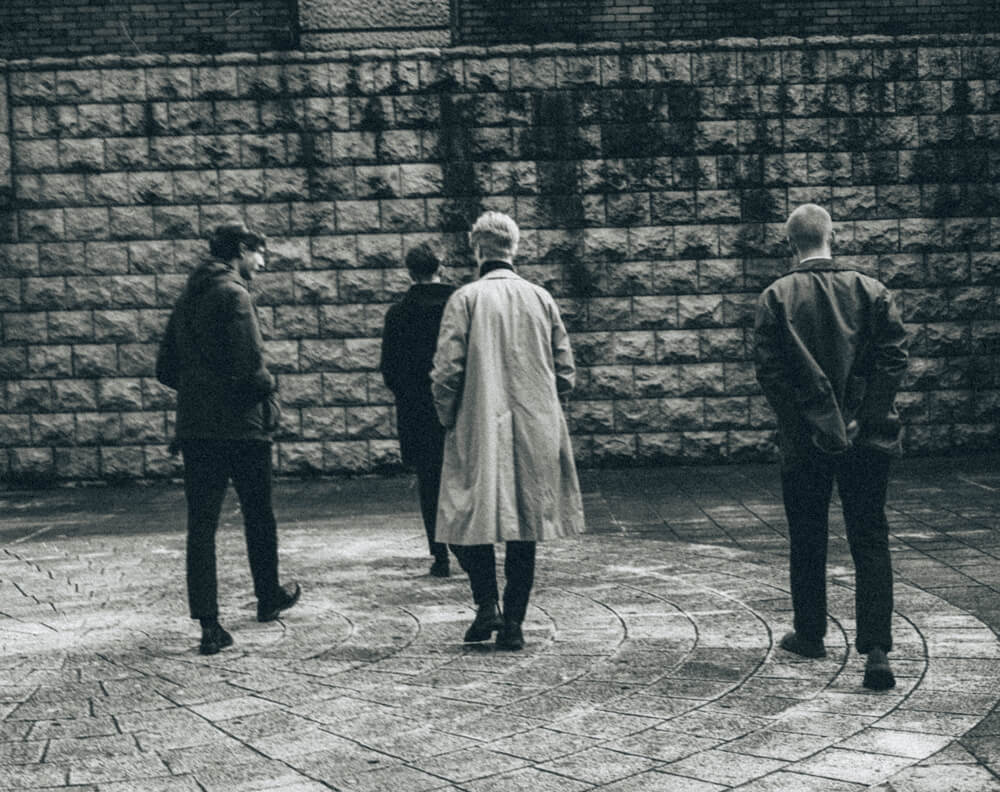 You mentioned that reason you formed the band is due to comfortable feeling rather than music taste and we'd like to ask you what is the secret behind creating such a rich music in relationship between four of you that spend time together more than your family? Please tell us process of creating music too.

Martin

Member of other bands are friend each other I think. We are too. To do experimental thing together. We become more serious later on but had no concrete plan at beginning. It's all very natural.

According to you, each listen different taste music, and who's most influential artist or band?

Martin

The Smith influenced me a lot. Also pop music like Madonna. Common thing is that we all listen a lot of 80s pop music and it affects vibes what we are aiming for. We are also influenced by 90s music like Oasis and indie rock represented by The Strokes.

We feel indie rock element in positive way from Communions so its kind of surprise that your taste involves major music in large part. What you meant by 'aiming vibes' you feel from 80s pop music would come out as what in words?

Martin

Makes you'd like to start dancing is magnetic of pop music.

Jacob

Yes, very catchy.

Martin

I guess we sympathize with dance like rhythm. We take a bit of essence of what we like into our outcome so variety of elements are mixed. Having strong melody is important too and that's always feature of our music.

Jacob

We could do that in very natural way this time. By taking out what we feel as not necessary bit by bit, we could create straight music. If we go too simple, sometimes song could be sound like set phrase, but there's no problem because it matches to our sound.

Martin

That's right. In many cases, pop music is very simple. It's never complicated though some different elements are mixed up inside song. Though it's difficult to make good song with less elements, now we can spontaneously do in this way.

Jacob

It's obvious that we are not like taking everything out from component. There is something left and not completely simple. It's ridiculously difficult to create such a music though.

Creating simple and also no waste is the hardest.

Martin

Yes, it's true. It's easy to add many elements but in opposite, difficult to eliminate unnecessary things.

We felt powerful essence that can tell influence from Stone Roses and Oasis is more than before and you guys step up to further stage. How do you analyze by yourself?

Jacob

Once audience listen the album, I'm sure they'll feel that we are more confident than before. We have belief for music we do.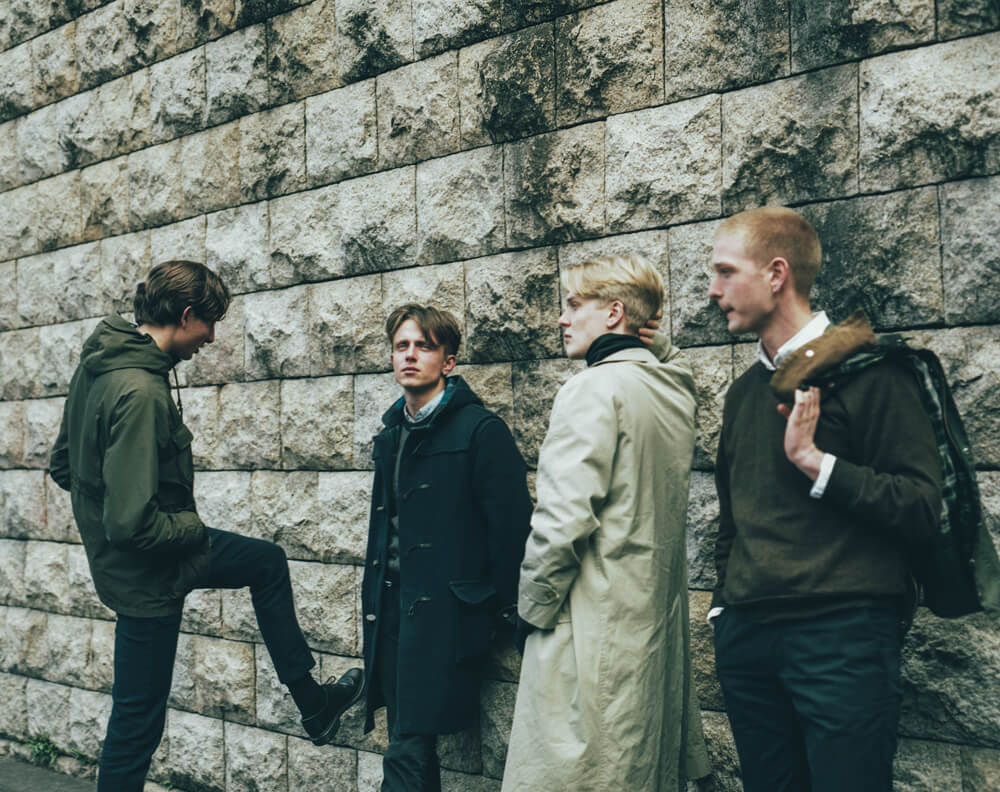 This time I've read translated lyric to Japanese for first time and impressed to its perfection level. Do you have anyone poet or writer who inspired you? Please also tell us if there's anything inspired you in process of making the latest album, 'Blue'.

Martin

Since my dad initiated me Bob Dylan and Leonard Cohen when I was 14 or 15, I'm listening the music in early 60s like theirs quite often. Also I read literature a lot. I have many cases that having inspiration from literature than music and I was trying to be more poetic for early age song, but because this time music is straight so I wanted lyric to be simple too. When I make something new, I try to go beyond perspective for things and way of approach that I took last time. Consequently, it went well so I might write lyrics in different way in future.

What approach do you take when you write lyrics?

Martin

I write lyrics like creating music. I pick up phrases from literature and magazines that I've read and get inspiration from parts as I felt nice. Then turn them into something meaningful for myself.

Jacob

Like saving account.

Martin

Our aesthetic has pure, innocent aspect so we'd like to express certain type of mental status.
Title of 'Blue' with many meanings.
Please tell us about opening tune,『Come On, I'm Waiting』of your debut album 'Blue'. We felt lyrics level of this song is especially outstanding. Color contrast of purple, pink and blue and dynamism in left, right, top and bottom. Contrastive to numb, the young feeling of celebrating a moment they live and close to break is expressed well. Did you have any theme for this song?

Martin

Most of songs have something to do with 'time' regarding theme. It could be nostalgic feeling to past or something about future. This song is latter. Young people always live in unknown moment so they are waiting something happen to your life. Kind of desire feeling. Also we are celebrating to a life itself. Because many things are occurring in parallel so a song contains variety of meanings for me. So we're trying to deliver vibes rather than story telling like drawing a picture. It could be a story, but it doesn't restrict to a single meaning. Hard to explain lyrics, what it is.

The young feelings of at the time of puberty like frustrations and depression or pleasure of living today are filled in overall. About a love too, for instance, importance of cuddles. You sometimes sing those emotions dramatically so please tell us if you had most interesting theme in terms of making this album as personal. Maybe it's put into mighty album title, 'Blue'.

Martin

Album title doesn't indicate just one thing, but contradicted emotions get entangled in word. To me, it evokes spirituous and magnificence feeling like 'Melancholia' and 'sky'. Like this world blow us out. Moreover, although title is 'Blue', not 'Blues', it refers to blues music in an indirect way.

Jacob

Blue is very beautiful color too.

Martin

It's also my eye's color. Lol Blue is part of our images. Our LP title was 'Deep Blue'. It's kind of Communions theme.

By talking to you, we understand that you are facing to yourself, try to be lean as much as possible and be hung up with simplicity as well as music in depth for this work.

Martin

That's right.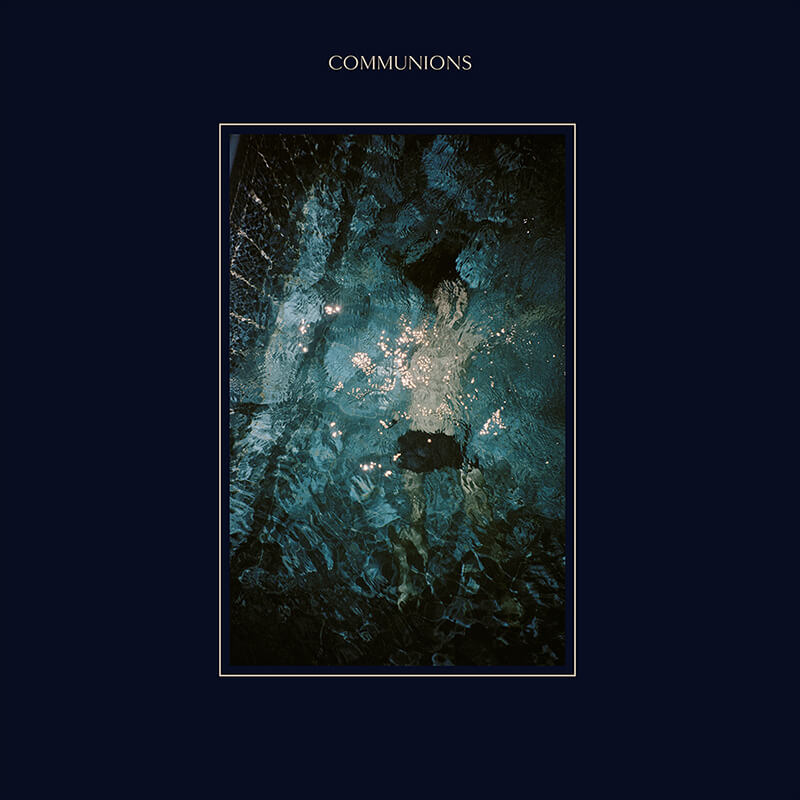 How album art work is made?

Jacob

Photo is took by my friend, Joe Skilton and the guy you can see on photo is my friend too.

Martin

We needed album front cover so we were checking photos at house of Lasse Dearman, a photographer we work together and this photo, took by Joe was found in there by chance.

Jacob

Originally, we were making different album cover, but we were not so happy. When we saw this photos, everyone liked it right away.

Martin

We liked its abstract image though we can tell it's a human on photo. It's also kind of look like a picture. This image connects well to theme of this album, which is 'time'. It looks like frozen or maybe not. It's maybe drawn into water or coming out from water.

Jacob

Something is happening inside photo but frames makes it looks like still-life image with a story behind. This photo expresses a lot of joy but also feelings to evoke memories. We are truly lucky to meet photo that is perfect for album theme.