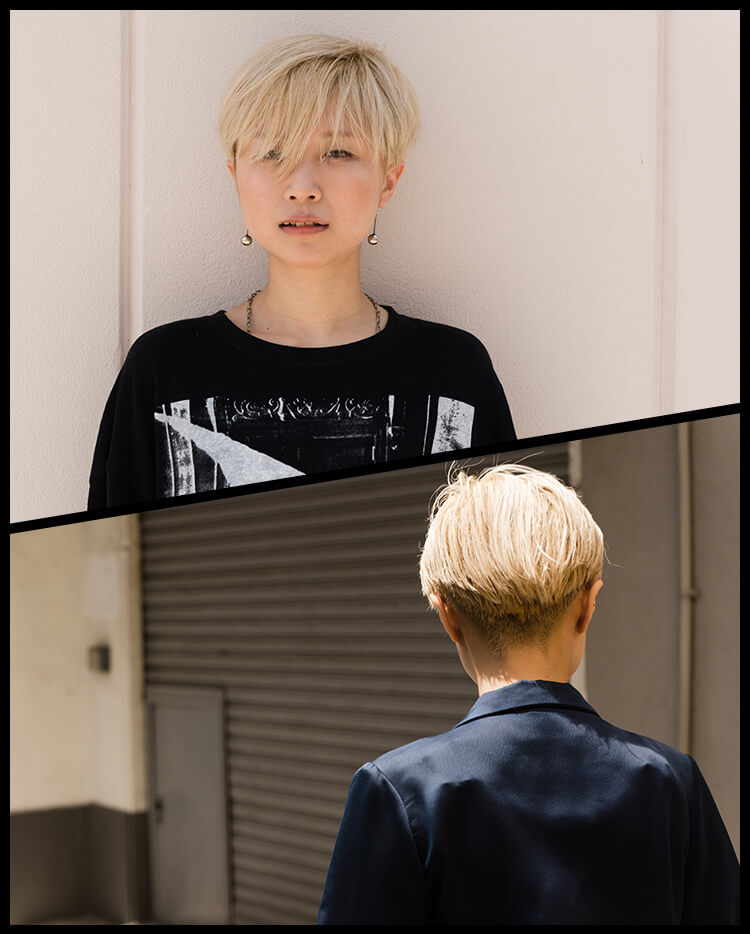 TWO SIDE OF HER #5
Two of my dress style
Photo_Kisshomaru Shimamura Styling_Kumiko Sannomaru 
Hair&Make_Mika Iwata(mod's hair) 
Text_Yuichiro Tsuji
"JOURNAL STANDARD" which catches exactly the movements of the times
and always gives us new discoveries.
It is because attractive staff with sense is gathered to deliver unique ideas.
As if expressing such "two sides" of them,
we had coordinated with different facial expressions with one key item as the axis.
In conjunction with the official website of "JOURNAL STANDARD",
we will introduce two dresses.
KEY ITEM_

CHECKED LONG SKIRT

The long skirt of the  "JOURNAL STANDARD" that was checked is a traditional impression.
However, changing from a little point of view makes it look like a rock style that reminds me of London punk.
How about trying a challenging rock style with printed T-shirts together?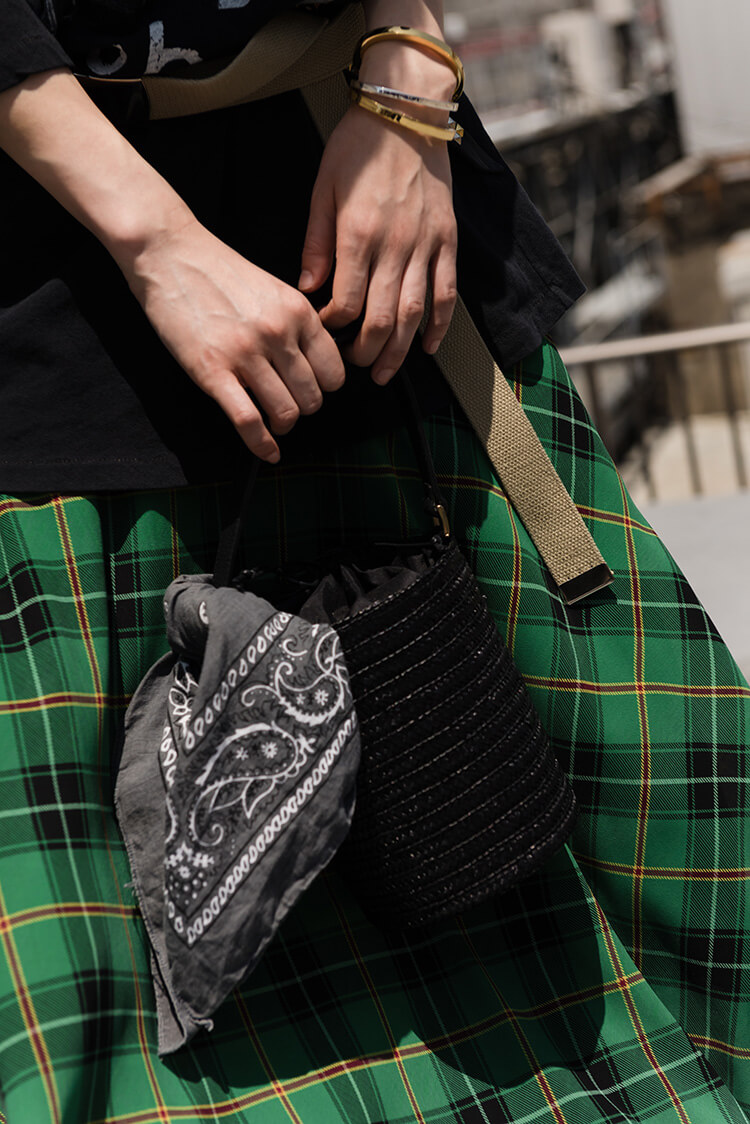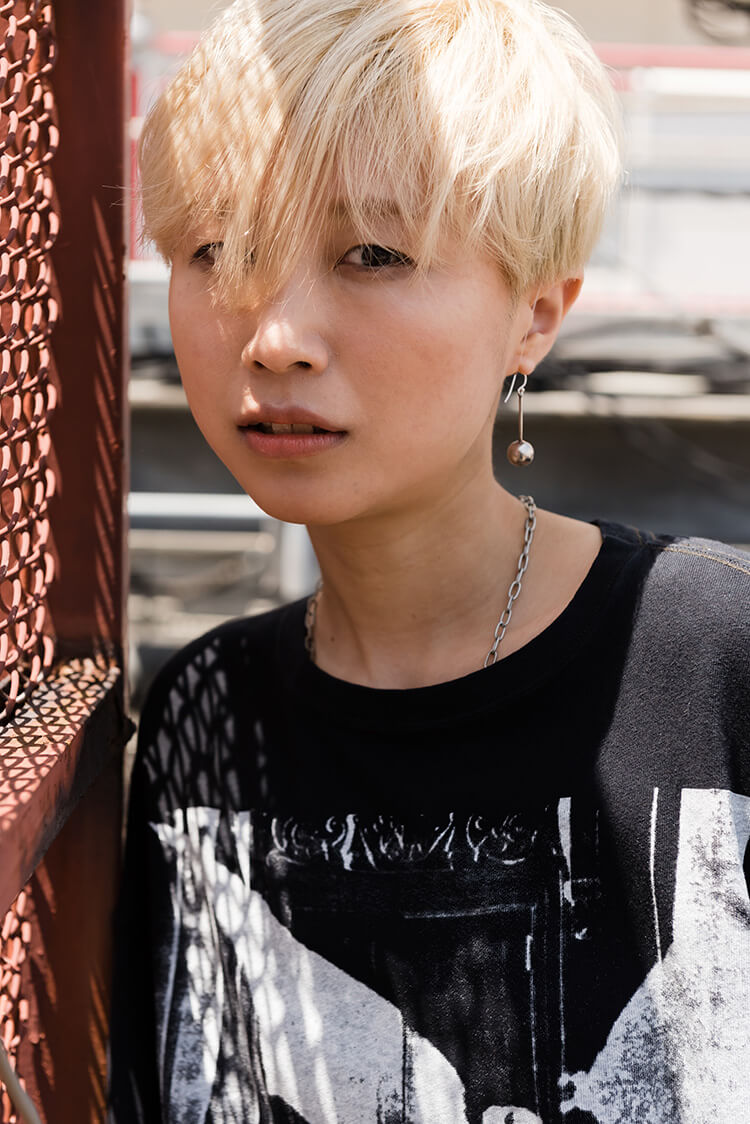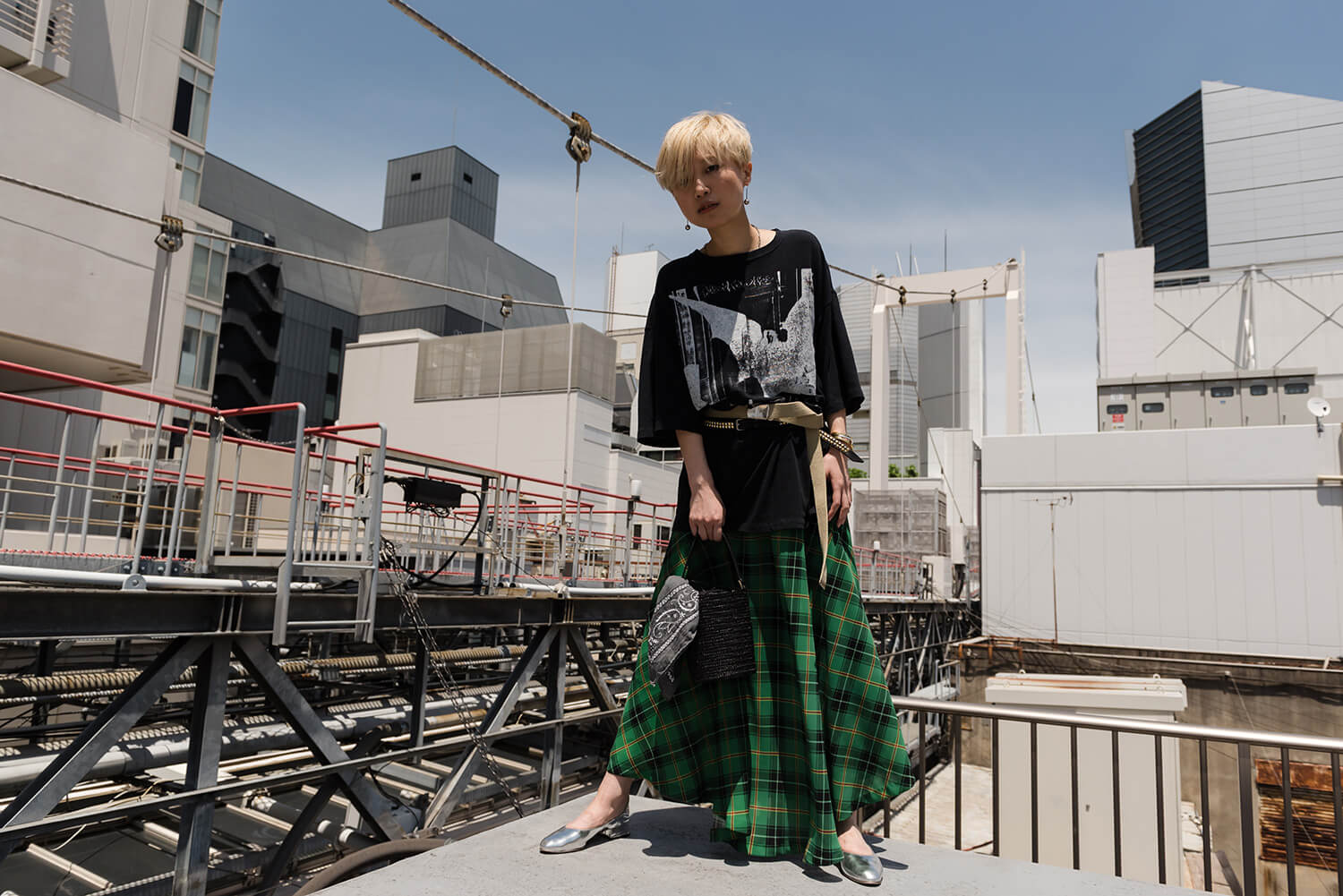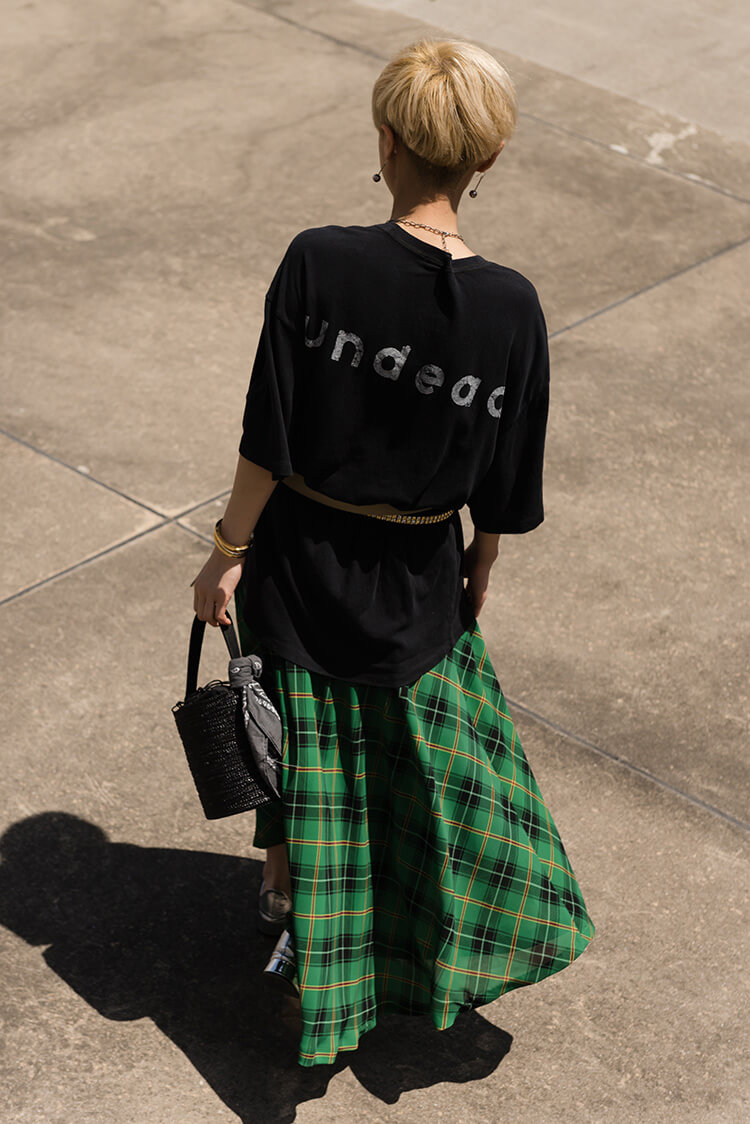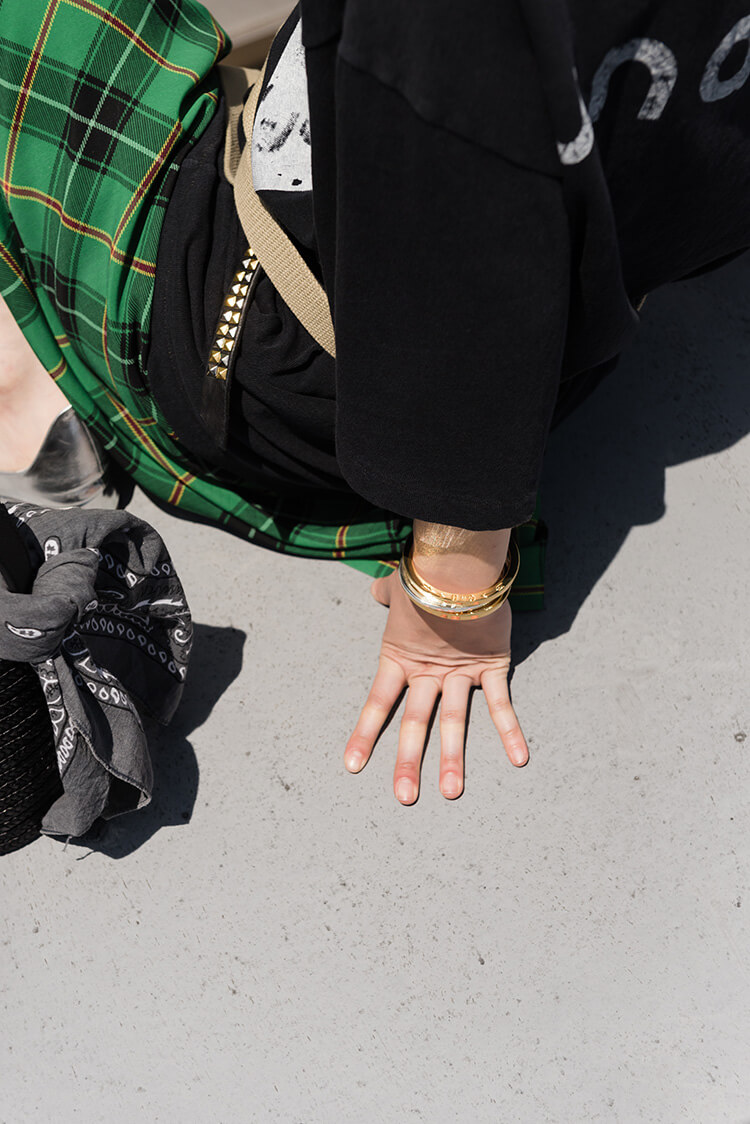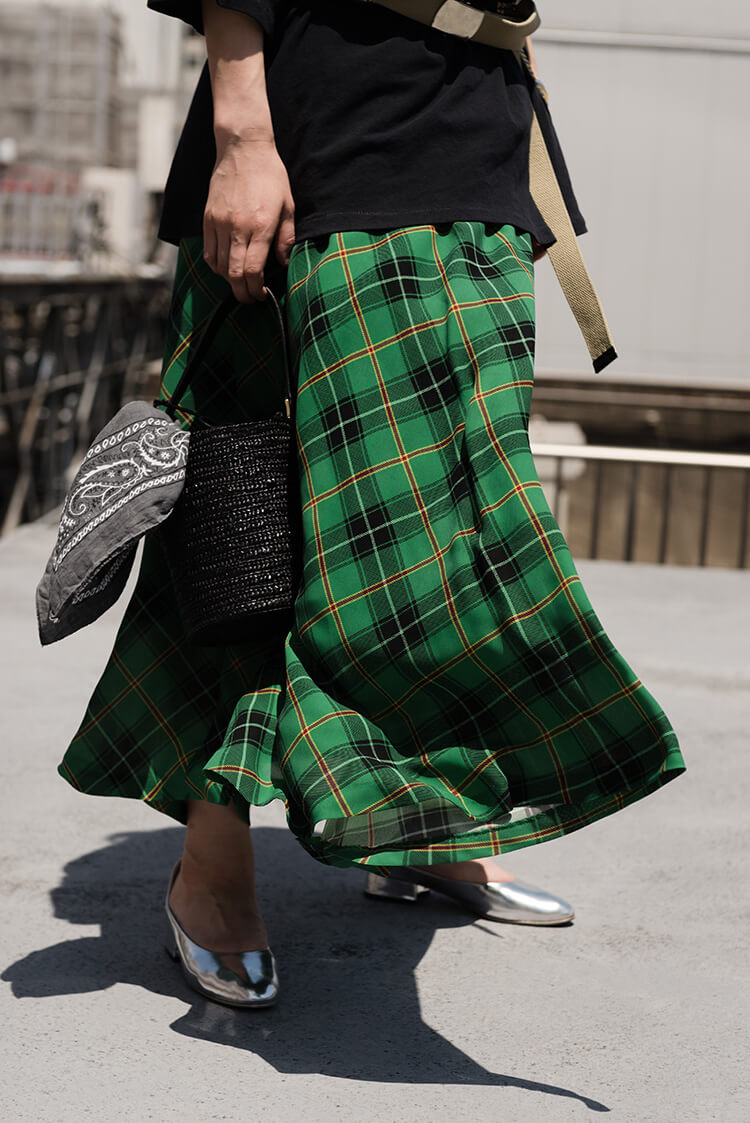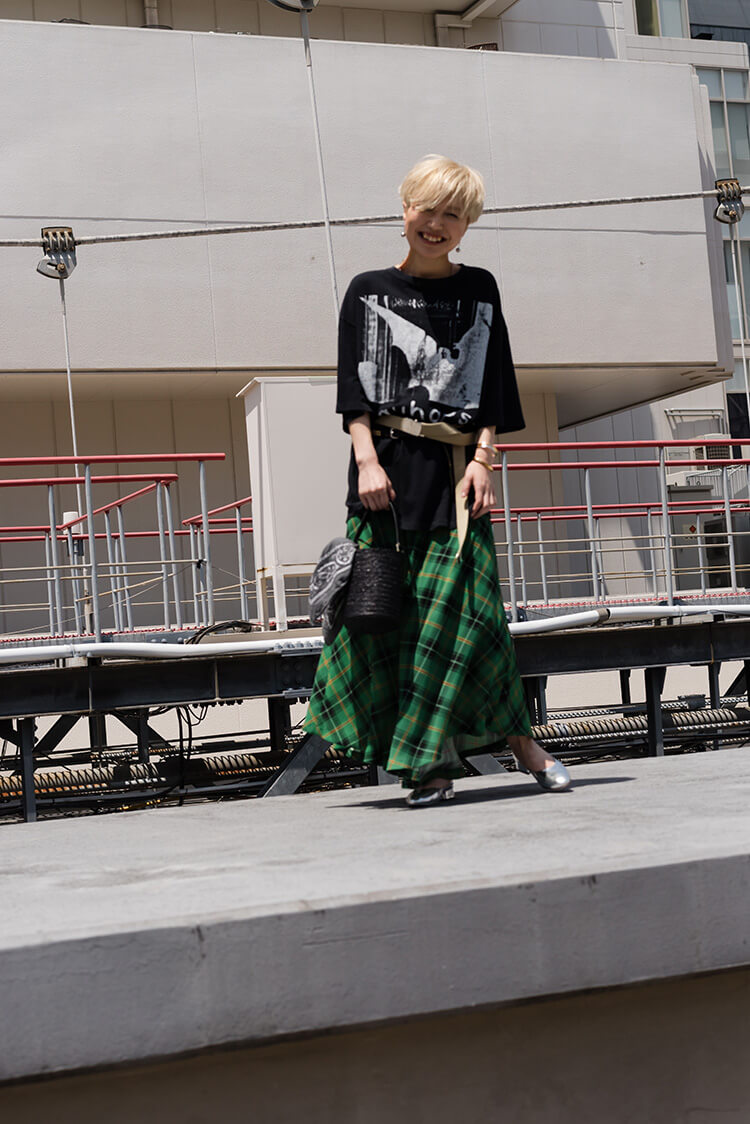 INTERVIEW with
HONAMI HOSOTANI
JOURNAL STANDARD FASHION ADVISER
Rock style incorporating femininity.
ーWhat kind of work do you do with "Journal Standard"?

I am informing customers as a shop staff at "Journal Standard LUCUA Osaka Store".

ーWhen you are working, what kind of dress are you conscious of?

Originally I liked the mode style, but now I also incorporate a casual style that seems to be "Journal standard", and I am enjoying fashion from various angles. The number of colorful items also increased in wardrobes. I would like to challenge various clothes from now on.

ーThe styling that you got challenged this time was rock style stand out.

Although it was casual styling, there was a mode atmosphere somewhere, and it fits my taste. The main items are only T - shirts and skirts, the combination is very simple. By marking the waist with a belt, the loose T - shirt is also a tight impression. Besides, it was unique that two belt are piled up. Clothes are rock style, but also plus shoes, backs, accessories and feminine elements are helpful as well.

ーHow about hairstyles and makeup?

It matched a lot for coordination. I felt that rock style has been emphasized by disturbed hair dare. Also, because dressing is a boyish, makeup made me feel feminine. I used a foundation that looks a bit shiny or made it partially with a concealer so that it does not look like a thick paint. Another thing that emphasized the eyes a little and I painted a lip of nude color and finished it in a healthy atmosphere.

ーWhen deciding dress on a daily basis, what kinds of things are consciously chosen for clothes?

I am curious about the trend style but I want to express myself somewhere. For example, I think that the collar has become a trend, recently. I am wearing a shirt with an orthodox way. Just because it is in fashion does not jump to the trend, so I try to coordinate while wearing my own style.

ーA hot season will come soon, what kind of fashion do you intend to enjoy the summer in this year?

I am interested in the patterned item now, and I am planning to challenge the pattern & pattern styling this year. There are items of tropical mood and items of total botanical at the shop, and it is fun to think about how to wear it. This summer, I would like to wear such items.
〈JOURNAL STANDARD〉Skirt ¥19,000+TAX(JOURNAL STANDARD Omotesando +81 3-6418-7958)

〈R13〉T-shirt Reference Products、〈MASTER&co.〉Studs belt ¥12,800+TAX、〈SUSPENDERS〉Khaki belt ¥2,000+TAX、〈PHILIPPE AUDIBERT〉Earrings ¥6,500+TAX、〈GILES&BROTHER〉Thick bangle ¥15,000+TAX、Thin bangle ¥13,000+TAX、〈MAISON EUREKA〉Shoes ¥36,000+TAX、〈Caterina Bertini〉Bag ¥8,000+TAX(JOURNAL STANDARD Omotesando +81 3-6418-7958)