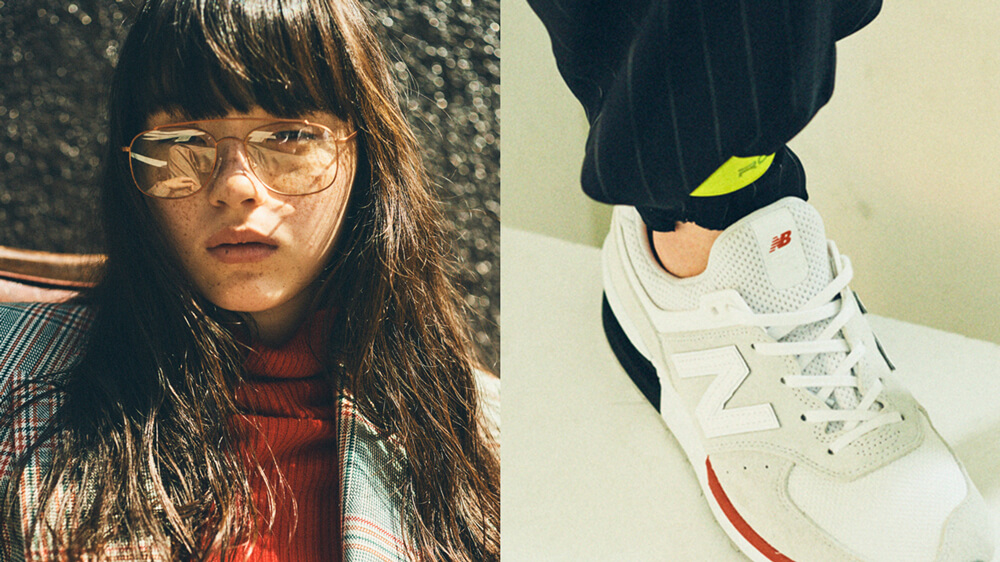 UNKNOWN, UNSEEN.
New icons of New Balance are unveiled.
Photo_Arata Suzuki(go relax E more)
Styling_Kaori Kawakami 
Hair & Make-up_jiro for kilico 
Model_Serena Motola
"520" which was not known by anybody,
and "574S" that modernized 574 which has been loved as a standard item.
Two pair of sneakers that symbolize the past and present of the brand
and will be a new icon model will be dropped by 〈NEW BALANCE〉 this autumn.
model_

520

The New Balance factory in Ireland that was in operation between the late 1970s to 1980s.
The model of made in Ireland discovered in there
by chance is named "520" and finally sent out to the world.
It is a retro style that has never been before
with the long suede hair used for upper and the sunburned like shade.
〈NEW BALANCE〉Sneaker ¥11,800+TAX(NEW BALANCE JAPAN CUSTOMER SERVICE +81 120-85-0997)

〈UNION LAUNCH〉Jacket ¥76,000+TAX, Knit ¥19,000, Pant ¥39,000(UNION LAUNCH +81 3-5412-1937), 〈tomas maier〉Eyewear ¥36,000+TAX(Continuer +81 3-3792-8978)
model_

574S

574 Sport, the so-called "574S" is the model, which updated 574,
an off-road running shoe representing 〈NEW BALANCE〉 to today's mood with the latest technology.
In addition to promising comfortable foot comfort with cushioning and stability combinations,
futuristic design and coloring of this pair of sneaker that creates a new brand image is attractive.
〈NEW BALANCE〉Sneaker ¥15,400+TAX(NEW BALANCE JAPAN CUSTOMER SERVICE +81 120-85-0997)

〈OLD PARK〉Knit ¥28,000+TAX(HEMT PR +81 3-6721-0882), 〈DROLE DE MONSIEUR〉Tops ¥17,000+TAX(alpha PR +81 3-5413-3546), 〈luciovanotti〉Pant ¥58,000+TAX(JOURNAL STANDARD LUXE SHIBUYA 03-5457-0844)