彼女のダンステリア Lindsay Arakawa — Social media strategist and creator on maintaining a healthy and creative relationship with social media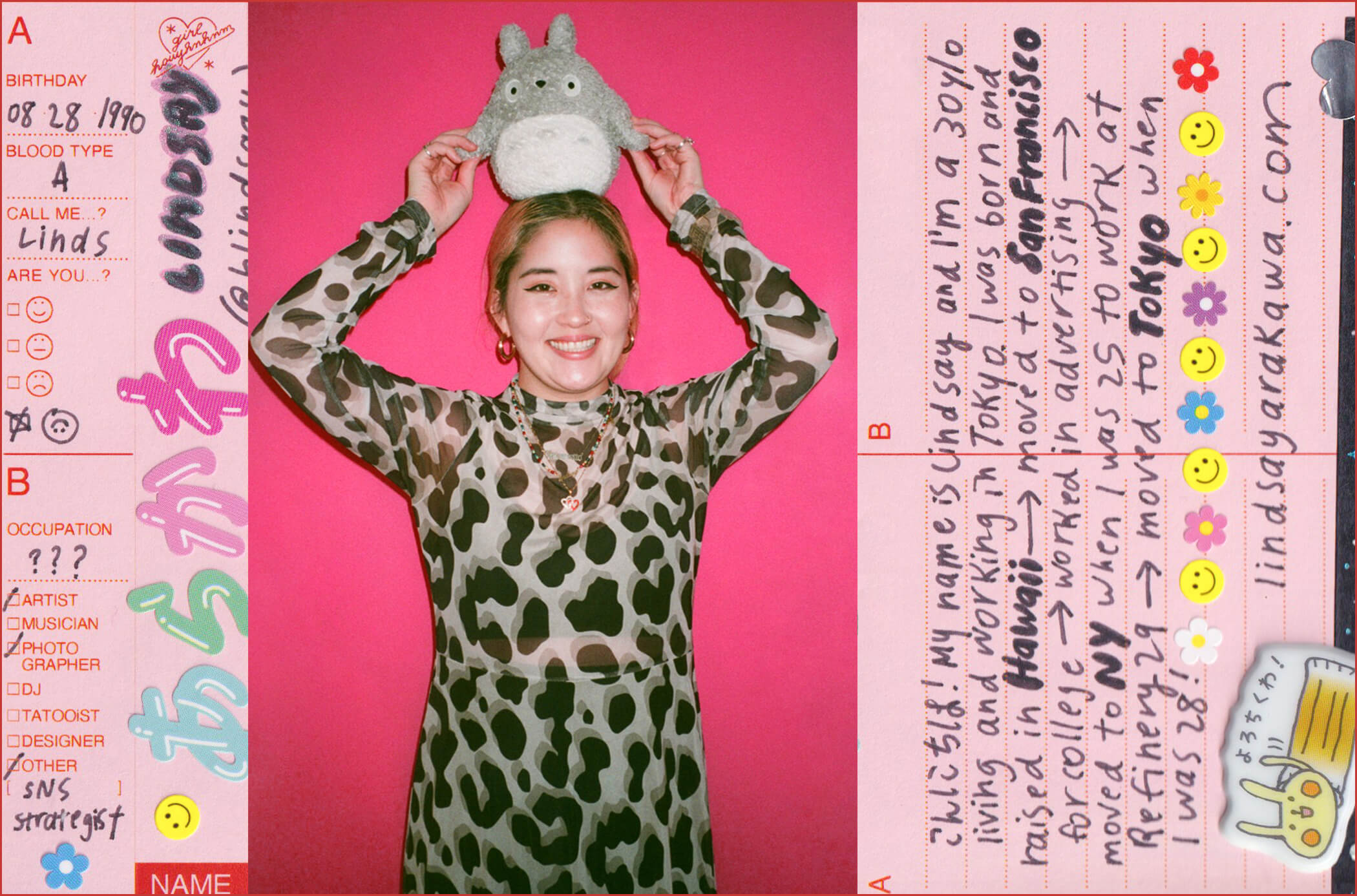 彼女のダンステリア


Lindsay Arakawa — Social media strategist and creator




on maintaining a healthy and creative relationship with social media
2020.12.11
"ガールとカルチャーがドッキング⁉︎" ("A link-up between girls and culture?") —
This is the Japanese tagline of Cyndi's iconic song, which we at GIRL HOUYHNHNM hold close to our hearts.
It may look silly at first glance, but we've grown to love it.
Through this project, we sit down with artists that have resonated
with our editors and talk about their drive for staying creative.
Womxn come up with exciting work too; it's not just the Boys' Club anymore.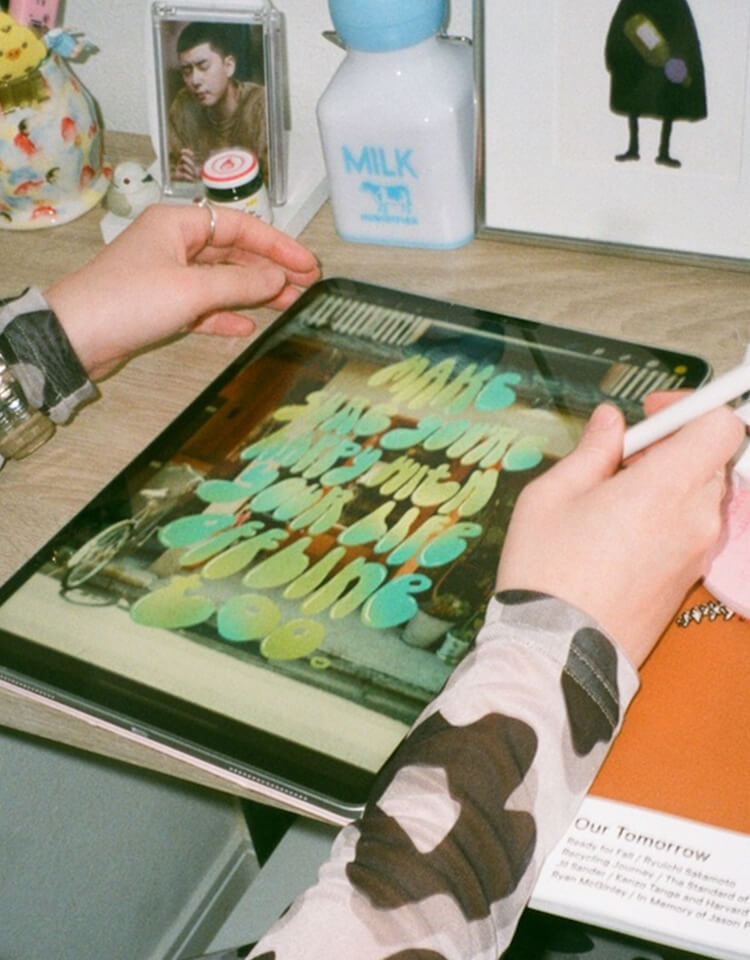 Lindsay Arakawa is a social media strategist and creator from Hawai'i. She moved to San Francisco for university and majored in Media Studies. After working for an advertising agency in the Silicon Valley area, Lindsay moved to New York to take on the role of Instagram editor at Refinery29. She is currently based in Tokyo and works extensively in digital media as a freelancer and artist. Her digital art, where she writes positive messages on top of the film photos she has taken, can be seen on her Instagram account.
Instagram @blindsaay
▶︎▶︎Click here for her liner notes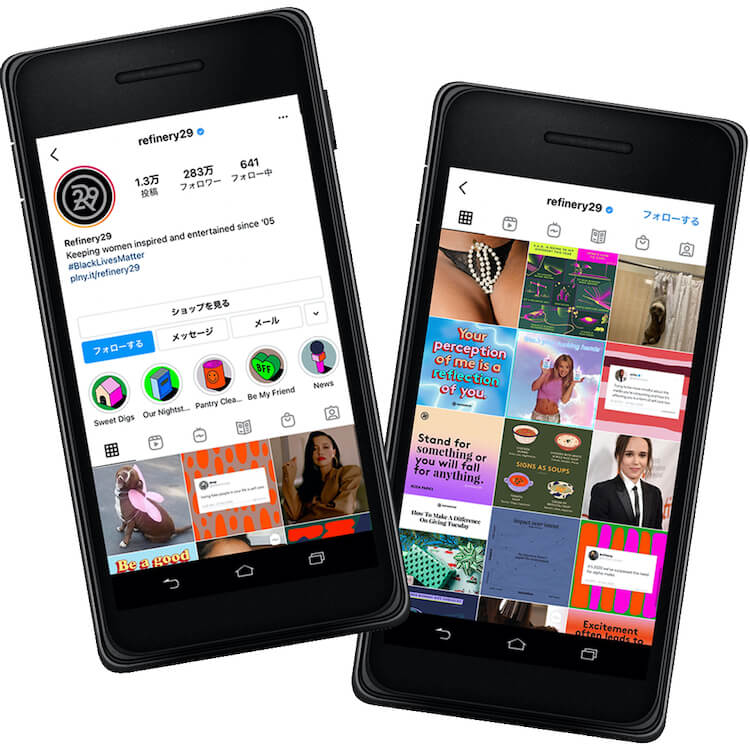 ーBefore we talk about your art, could you first briefly explain what a social media strategist is? This term is still relatively unknown here in Japan.

It's doing marketing strategy, specifically for social media platforms such as Instagram, Twitter, and TikTok. If you want to build your brand on social media (for instance, grow awareness of your brand and get more followers), a social media strategist will develop a strategy and creative direction for your brand's social media presence.

ーHow and why did you start working as a social media strategist?

I first moved to the Bay Area for college and majored in Media Studies. The Tech Boom was picking up; Twitter, Facebook, and Instagram were getting big. So, a lot of the internships were all social media-related. I was like, "Oh! I'll try to apply and see if I like it." Also, I was interested in what people were watching on different social media platforms.

ーHow did you become Refinery29's Instagram editor?

At first, I was working at a small advertising agency, but it wasn't related to fashion or art at all. I'm more of a creative person than a business person, so I wanted to focus on creative work. I found out about their recruitment through Instagram, and I applied right away.

ーYou mentioned how you're more creative than business-minded, but did you foresee the creative possibilities of Instagram back then?

Instagram at the time was so focused on aesthetics, so it felt more interesting to me than Twitter, where words were the main thing. Refinery29 was known for its visuals and being forward-thinking, so I knew they would give me more opportunities to be creative by being in that environment.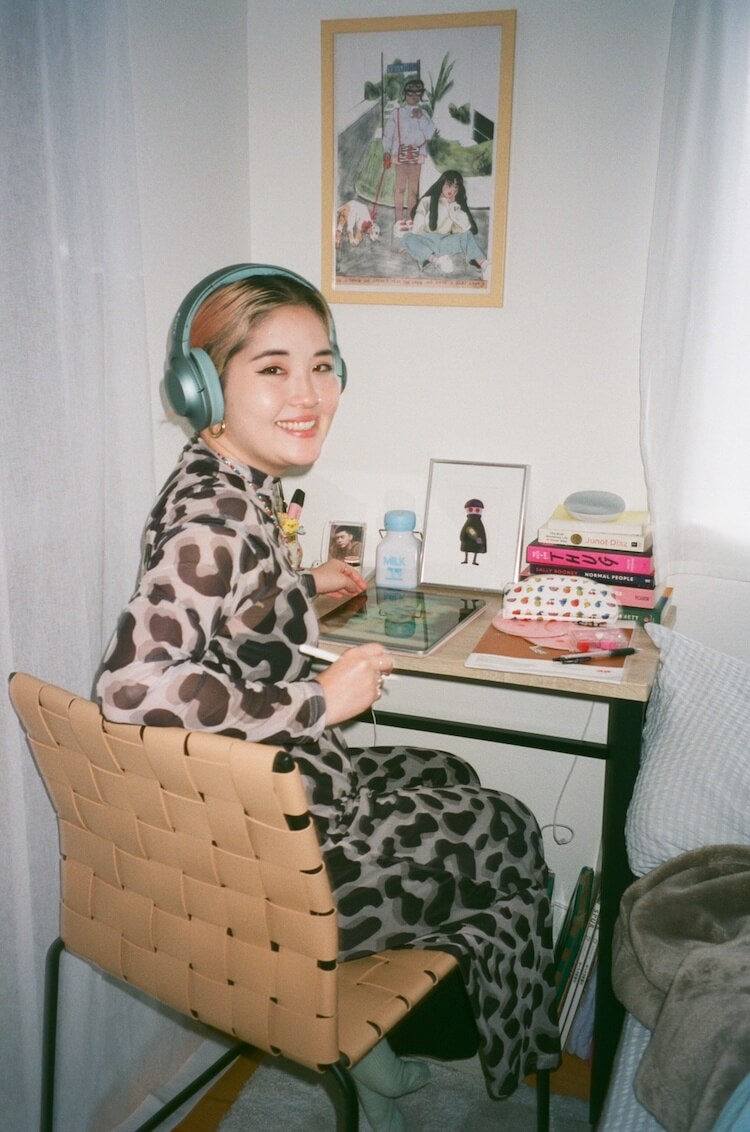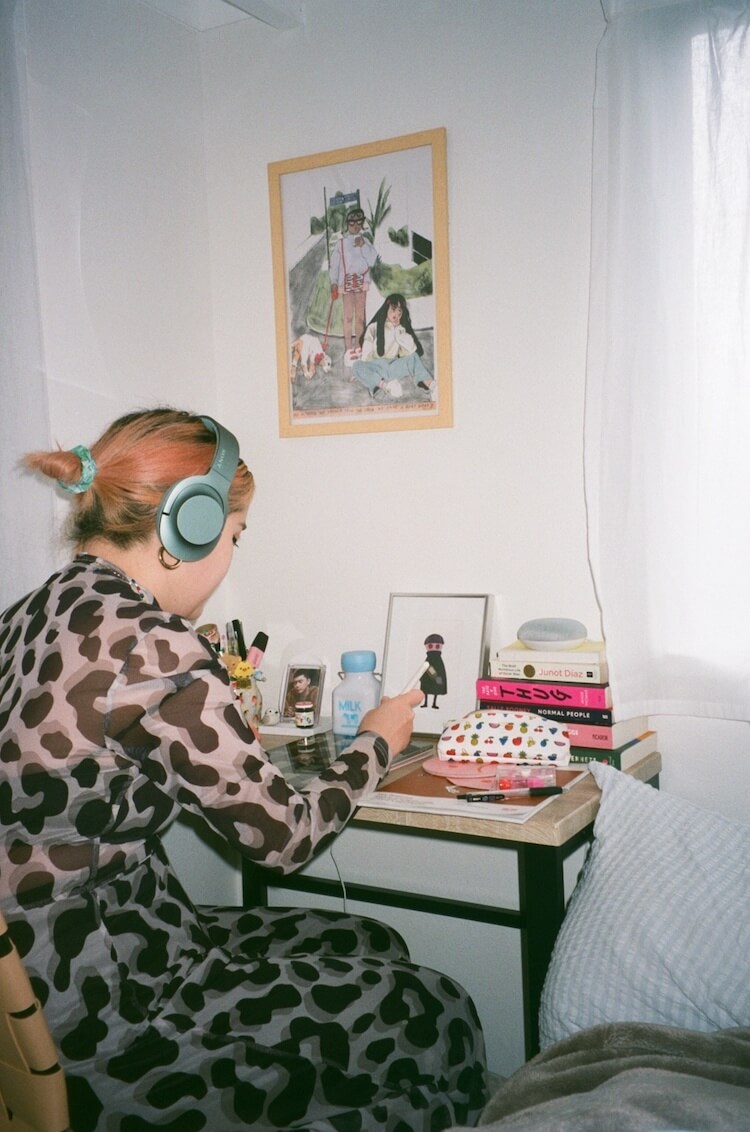 ーYou had previously worked on Refinery29's Instagram account, and you still use Instagram to showcase your art. Is there a connection there?

Right! I don't come from an art background, so I didn't intend to use Instagram for art. But I had already been using it for work, so it was a natural and serendipitous growth. Also, when I moved to New York for Refinery29, I was just always inspired.

ーIt's interesting to hear that because it's specific to people like social media strategists. Your current art style involves placing words on top of your film photography. Could you talk about how that was born?

One day, I started drawing out letters with these watercolors my friend had brought, and then I had an epiphany: "I should put this on top of the film photos I've taken for myself." That's how it began. I used to make my paintings with Posca pens, and I would merge them with the scanned photos afterward. But now, everything is done on my iPad.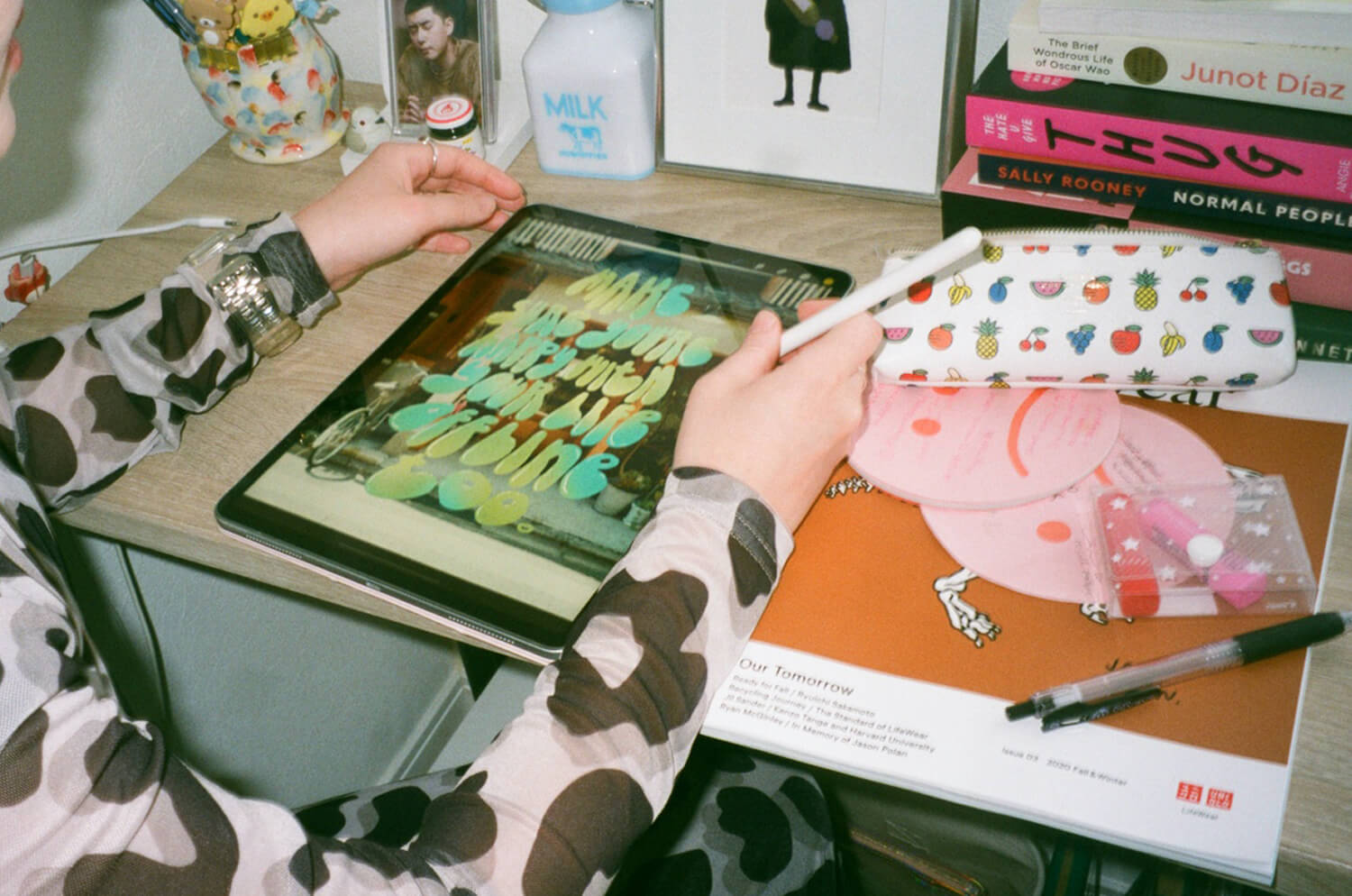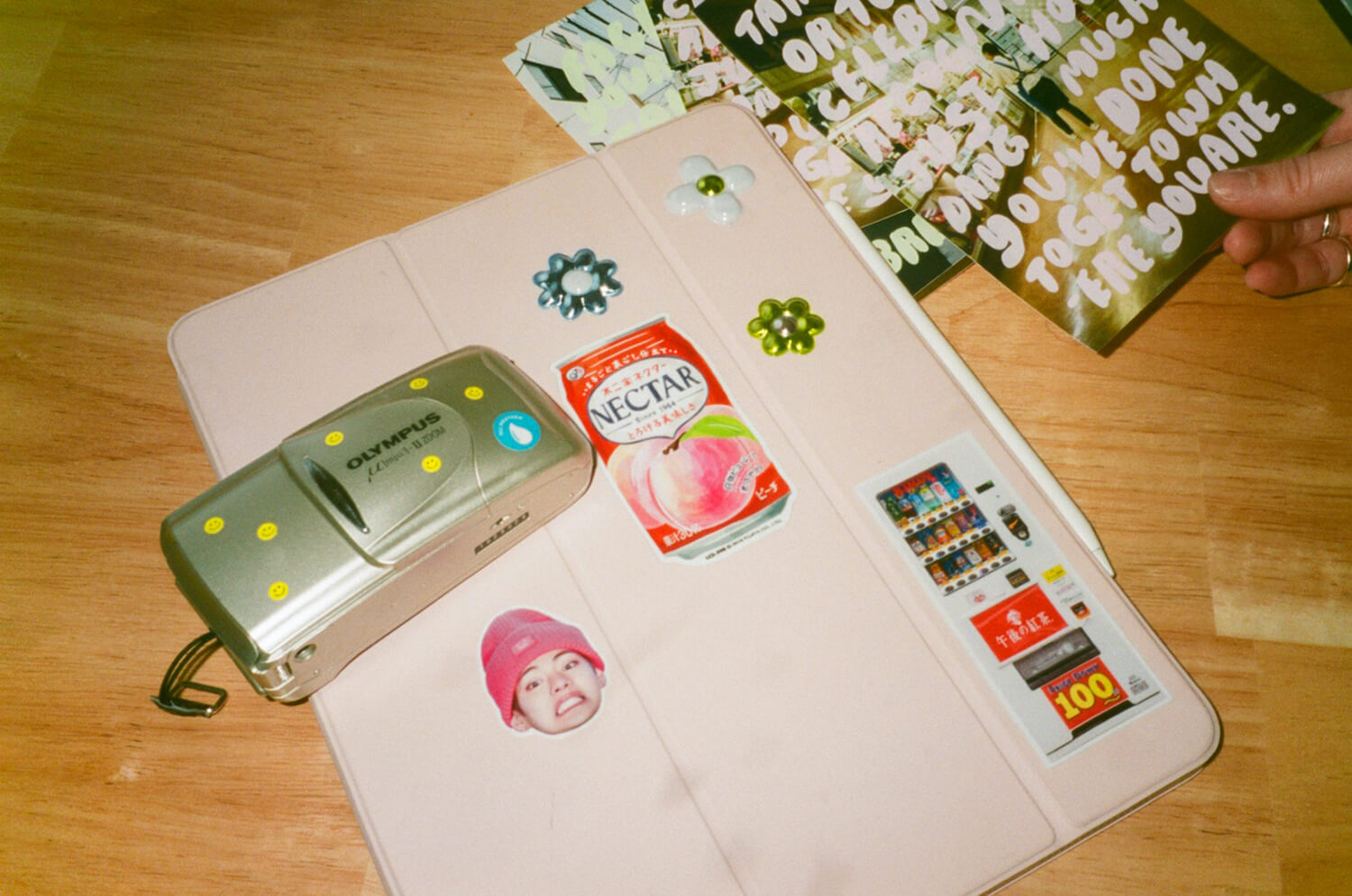 ーWhy didn't you post the photos you took on social media before you began posting your digital art pieces?

I got into taking film photography when I was a college student, but I never went to art or photography school. I was self-conscious about them, and I felt like putting something on the Internet meant showing off a bit. I actually had all the photos in a box under my bed.

ーI would have never guessed you kept that part to yourself, seeing as your task as a social media strategist was to create content to put out to the world.

I was around these people that knew everything about the art world. Compared to them, I thought my photos weren't good enough. Plus, I was still learning about who I was as a person.

ーYou as a person?

I was born and raised in Hawai'i, and when I moved to the Bay Area for college, I started questioning who I was deep down. The way people spoke and dressed was so different from where I came from. I started dressing and talking differently; I lost a sense of my identity because I was trying so hard to fit in.

ーAh, you experienced an identity crisis because of culture shock. How did you recover from that?

When I moved to New York, it was like a reset for me. I started anew. Diversity was so celebrated there, and I realized that it was okay to be unique! I thought about who I was as a person and what I liked about myself during my time there.

ーYou regained your sense of identity in New York.

I also made lifelong friends that taught me so much. I would go to museums and art galleries every week. It really opened up my eyes to a different world.
ーYour digital art is full of words of encouragement and strength. I imagine these words came to you because you overcame a tough time.

All those words reflect how I'm feeling or what I'm thinking at that moment. It's like a diary, almost. Sometimes, I write messages or political statements and song lyrics I love too.

ーDo you take the photos after you've come up with the text?

Before, I would take photos because I had a message I wanted to write later on. But then I thought, "That's bullshit" and so I stopped. Currently, I just take my camera out and take pictures of whatever I want!

ーThe way you accompany photos to your words is reminiscent of singer-songwriters adding melodies to their lyrics. It's so cool!

Thanks you! That's the most beautiful way my work has ever been described haha.

ーI know your medium of choice for your artwork is Instagram, but do you ever want to make a zine or physical prints?

I used to sell prints, but that was something I did mainly because people on Instagram were asking for a physical, tangible item. I haven't done that this year because of coronavirus. I'm also currently trying to think of other ways to share my art – sometimes I think that printing, wrapping, and delivering something might not be the best thing for the environment… but we'll see.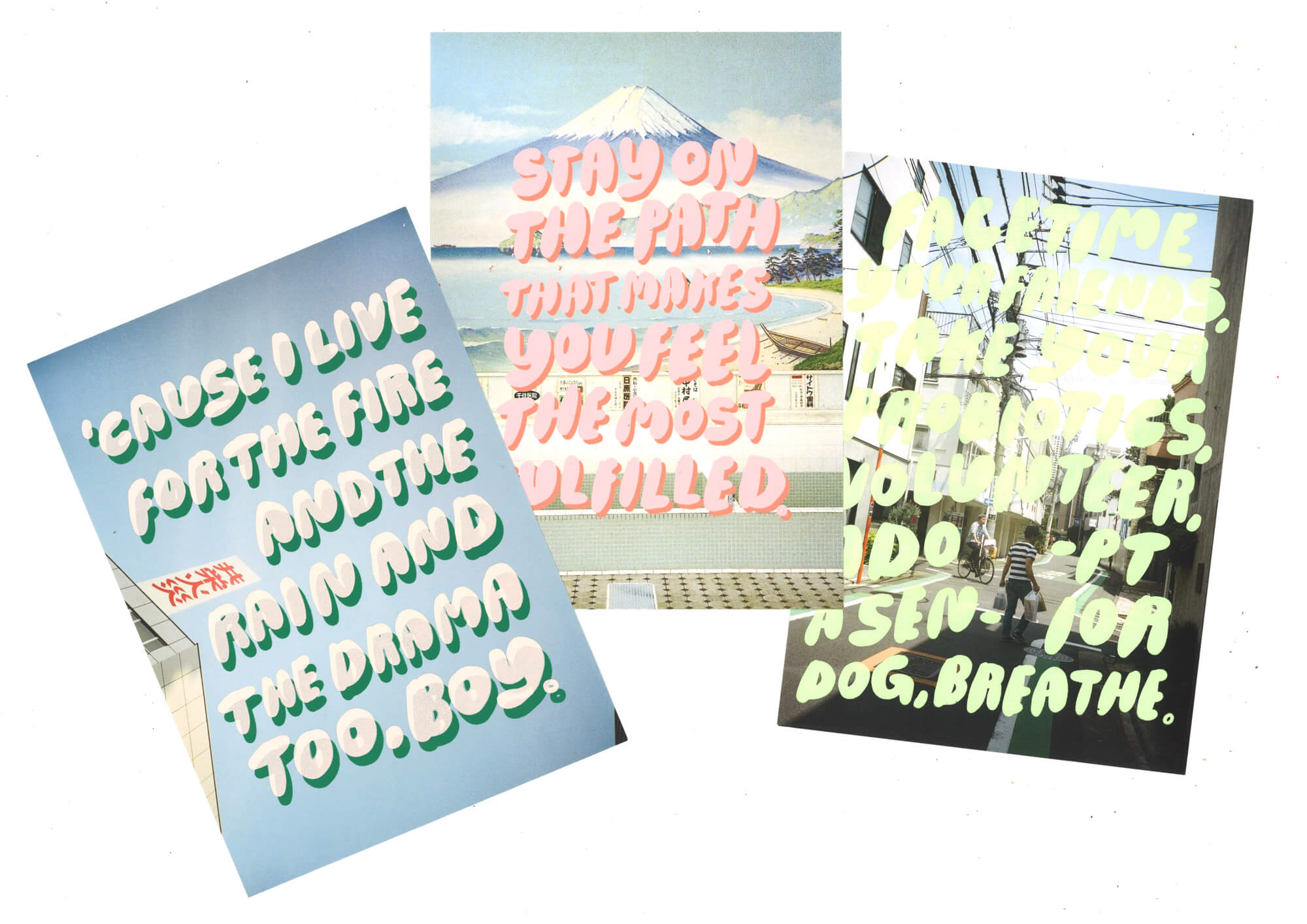 ーI see. There's value to tangible art, but from a sustainable perspective, growing a body of work in a digital format is a good option too. It fits the times we live in right now.

Yeah. If I were to create a product, I want it to be something I would use. I don't want it to be something wasteful. I need to figure out what that looks like, though.

ーA lot of artists use Instagram to exhibit their art or use it as a portfolio or archive. In your case, the medium plays an integral part in your work. It's as if you use Instagram as one tool in your toolkit.

True. It's not intentional! One thing I appreciate is how there are people who will come to my page to see my art and engage with the things I create. I am so thankful.

ーThrough your experience with working as a social media strategist and posting your artwork, what has Instagram come to mean to you today?

It's such a complicated thing. I like social media because I get to discover new things and learn more and meet new people and see what my friends are doing. But it's easy to compare yourself to others, too. People often only talk about their successes, so you have to set boundaries for yourself.

ーI understand.

I would use social media for work, meaning I needed to be available 24/7 because of it. When I came to Tokyo and started working freelance, I distanced myself from social media a bit. Now, I feel like I have a healthier relationship with it.

ーDo you have any advice regarding setting boundaries on social media?

Use the "follow hashtags" function! I purposely absorb the things that bring me joy. I started following #cutepuppies, and it makes me feel so much better (laughs). Another hot tip: be brave and mute things that mean little to you or things you don't care to see. Just because you mute someone doesn't mean you don't like them, so it's essential to be clear about what you want to see.

ーBecause we live in a society saturated with information, choosing what you need and want for yourself is a healthy way to live with social media.

Exactly.
ーLast but not least, could you talk about what you want to do down the road?

Until this point, I've worked for what I wanted and had a lot of fun. But I think I haven't really been contributing or giving back to society meaningfully. In the future, I want to do something that brings good to the community. My current (crazy) idea is to start a dog adoption agency here in Japan. It's common for people to buy dogs at pet shops, but I want to encourage more people to adopt.
In her own words — Lindsay Arakawa's liner notes:

◀︎◀︎Back to top